Katherine Johnson: Hidden Figures Nasa mathematician dies at 101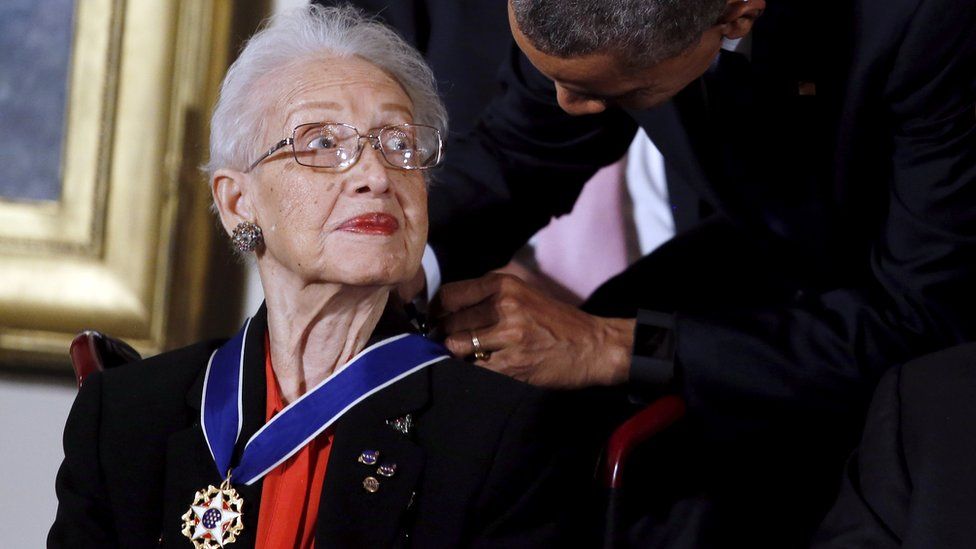 Pioneering African-American Nasa mathematician Katherine Johnson has died at the age of 101.
Nasa announced her death on Twitter, saying it was celebrating her life and honouring "her legacy of excellence that broke down racial and social barriers".
Ms Johnson calculated rocket trajectories and Earth orbits for Nasa's early space missions.
She was portrayed in the 2016 Oscar-nominated film Hidden Figures.
The film tells the story of African-American women whose maths skills helped put US astronaut John Glenn into orbit around the Earth in 1962. Ms Johnson verified the calculations made by new electronic computers before his flight.
Ms Johnson had previously calculated the trajectory for the space flight of Alan Shepard - the first American in space.
Such was her skill and reputation that Glenn had asked for her specifically and had refused to fly unless she verified the calculations. She also helped to calculate the trajectory for the 1969 Apollo 11 flight to the Moon.
Nasa administrator Jim Bridenstine described Ms Johnson as "a leader from our pioneering days".
"Ms Johnson helped our nation enlarge the frontiers of space even as she made huge strides that also opened doors for women and people of colour in the universal human quest to explore space," he said in a statement.
"Her dedication and skill as a mathematician helped put humans on the Moon and before that made it possible for our astronauts to take the first steps in space that we now follow on a journey to Mars."
Ms Johnson was awarded the Presidential Medal of Freedom in 2015. Then-US President Barack Obama later cited her in his State of the Union address as an example of the country's spirit of discovery.
Who was Katherine Johnson?
Ms Johnson was born in a small town in West Virginia in 1918 and was fascinated by numbers from a young age.
"I counted everything. I counted the steps to the road, the steps up to church, the number of dishes and silverware I washed…anything that could be counted, I did," she once said.
She excelled academically, graduating from high school at just 14 and from university at 18. Nasa notes that her academic achievements were particularly impressive "in an era when school for African-Americans normally stopped at eighth grade for those that could indulge in that luxury".
After working as a teacher and being a stay-at-home mum, Ms Johnson began working for Nasa's predecessor, the National Advisory Committee for Aeronautics (Naca), in 1953.
There, she had the job title "computer" and was tasked with calculating trajectories for early US space missions.
During the space race between the US and the former Soviet Union, Ms Johnson and her African-American colleagues worked in separate facilities to white workers, and used different toilets and dining areas. She always said she was too busy with her work to be concerned about being treated unequally.
"My dad taught us, 'You are as good as anybody in this town, but you're no better,'" she told Nasa in 2008. "I don't have a feeling of inferiority. Never had. I'm as good as anybody, but no better."
What has the reaction been?
Nasa led tributes to Ms Johnson following her death, describing her as an "American hero" whose "pioneering legacy will never be forgotten".
Margot Lee Shetterly, who wrote Hidden Figures, said it was her "life's honor" to tell Ms Johnson's story.
"Her brilliance helped us to see and celebrate other #hiddenfigures in history. You changed the narrative... Godspeed, Katherine Johnson," she wrote on Twitter.
Former US presidential candidate Hillary Clinton also paid tribute to Ms Johnson on Twitter. "Her calculations helped put Americans in space, in orbit, and, finally, on the Moon," she wrote.
Actress Taraji P. Henson, who played Ms Johnson in Hidden Figures, thanked the mathematician for sharing her "intelligence, poise, grace and beauty with the world".
"Because of your hard work little girls EVERYWHERE can dream as big as the MOON!!! Your legacy will live on…" she wrote on Twitter.
You might be interested in watching: