Amy Klobuchar ends bid to challenge Trump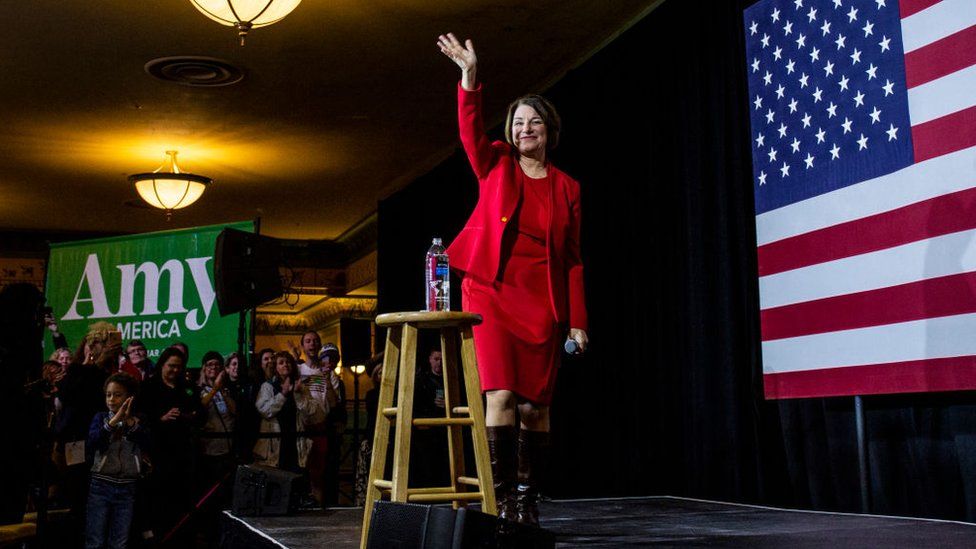 Minnesota Senator Amy Klobuchar will abandon her candidacy for the 2020 Democratic presidential nomination.
Senator Klobuchar came in a distant sixth place in Saturday's South Carolina primary.
Ms Klobuchar, 59, will join Joe Biden at his Dallas, Texas rally on Monday to endorse the former vice-president, US media report.
The news comes on the heels of fellow moderate Pete Buttigieg suspending his campaign on Sunday.
Despite some strong debate performances and a surprise surge in the early primary voting state of New Hampshire, Ms Klobuchar failed to gain broader traction.
On the campaign trail, the Minnesota senator sold herself to moderate voters as the candidate who could win swing states back for the Democrats. However, her profile was largely eclipsed by centrist rivals Mr Biden, 77, and Mr Buttigieg, 38.
The former South Bend, Indiana, mayor Mr Buttigieg also endorsed Mr Biden for the nomination in an apparent effort to consolidate moderate voters and block the progressive Bernie Sanders, who currently leads the field. Mr Buttigieg and Mr Biden campaigned together in Dallas on Monday night.
Yet another former presidential candidate, Beto O'Rourke, is set to endorse Mr Biden, according to people familiar with his plans.
Earlier on Monday, Mr Biden picked up endorsements from former Obama National Security Adviser Susan Rice, US Senators Mark Udall and Tammy Duckworth, and former Senate leader Harry Reid.
Ms Klobuchar's withdrawal comes on the eve of the so-called Super Tuesday primaries. On Tuesday, 14 US states will cast their votes to determine the Democratic presidential nominee.
With Ms Klobuchar's exit, five Democrats are left in the race to take on Republican President Donald Trump - Mr Biden, Mr Sanders, Elizabeth Warren, Michael Bloomberg and Tulsi Gabbard. With the exception of Ms Gabbard, a Hawaii congresswoman, all are septuagenarians.
Seven delegates - representatives who will cast nominating votes for a candidate at the Democratic national convention in July - Ms Klobuchar had won from previous primaries are now free to vote for someone else. A candidate must pick up 1,990 delegates, gathered up from primary contests throughout the country, to secure the nomination. Mr Sanders, the leftwing Vermont senator, currently leads the delegate count with 60 delegates, followed by Mr Biden with 54.
All aboard the Biden express
Seats on Joe Biden's campaign train are starting to fill up. Former presidential rivals Amy Klobuchar and Pete Buttigieg travelled to Dallas on Monday night, joining former presidential candidate Beto O'Rourke in appearing with, and endorsing, the former vice-president.
The faceoff between Mr Biden, the "establishment" candidate, and Mr Sanders, the outsider, is taking shape - a contrast in styles and sensibilities that gives Democrats a clear choice between two directions to take the party.
It's not quite that simple, of course, as Elizabeth Warren seems set to stick around as a progressive-left alternative, while Michael Bloomberg continues to money-bomb his way into Super Tuesday.
Still, this represents a remarkable run of good fortune for Mr Biden, who has been landing endorsements from Democratic politicians across the US the past few days.
Meanwhile, it may turn out that Mr Sanders' big win in Nevada just over a week ago didn't give the Vermont senator much of a boost. Instead, it woke up moderates and other voters not sold on his calls for a progressive revolution, prompting a rapid consolidation around an alternative.
After more than a year of campaigning, the race for the Democratic nomination is now shifting by the hour.
Announcing her candidacy in the middle of a blizzard last February, Ms Klobuchar, a former prosecutor, pitched herself as a pragmatist who could appeal to voters in America's geographic and ideological middle.
She opposed the "Medicare for All" universal healthcare schemes touted by her leftwing rivals, Mr Sanders and Ms Warren, making the case for what she called more "practical" healthcare reform.
"I always tell people," Ms Klobuchar would say on the campaign trail. "If you are tired of the nonsense and the noise in our politics, and you are tired of the extremes in our politics and you are looking for something different, then you have a home with me".
Despite winning some support from moderate Republicans who oppose Mr Trump she had failed to attract support from the black and Hispanic voters who are key Democratic blocs.