South by Southwest festival cancelled over coronavirus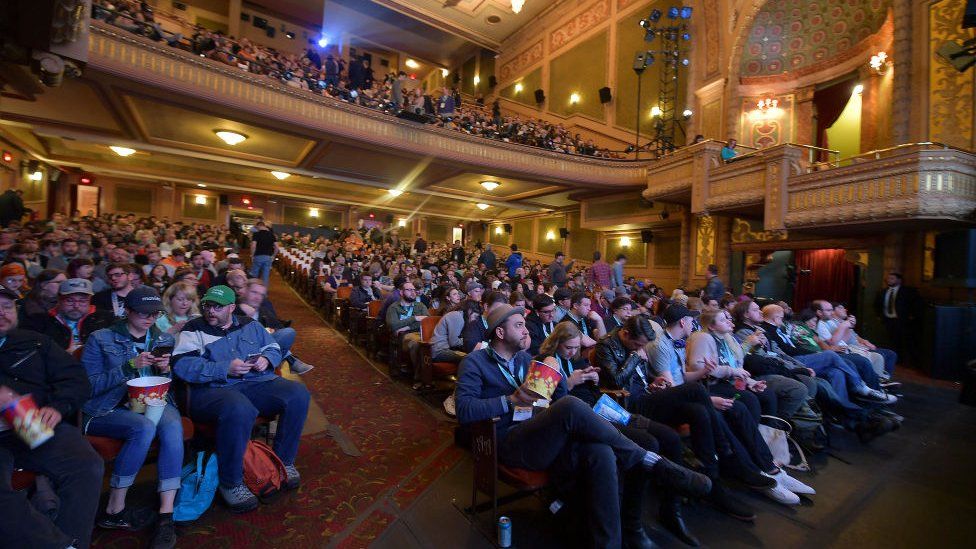 One of America's most famous music festivals, South by Southwest, has been cancelled due to coronavirus fears.
Organisers of the annual event in Austin, Texas, said they had no choice but to call it off for the first time in its 34-year history.
The move was ordered by Austin Mayor Steve Adler, who declared "a local disaster".
The US coronavirus death toll stands at 17, but over 200 people have been confirmed sickened nationwide.
All but one of the deaths have occurred in Washington state.
Despite the Austin mayor's declaration of a local disaster - a largely administrative step - none of the six coronavirus cases recorded so far in Texas are in the state capital.
The World Health Organization says nearly 100,000 people worldwide have contracted the coronavirus. More than 3,000 people have died - the majority in China.
In a statement on Friday, SXSW said it was "devastated" by the news, but respected the decision.
Event organisers said: "'The show must go on' is in our DNA, and this is the first time in 34 years that the March event will not take place.
"We are now working through the ramifications of this unprecedented situation."
Some of the event's biggest exhibitors - including Apple, Amazon, Twitter and Facebook - had already pulled out.
The 10-day event attracts leading figures from the spheres of technology, music and media to mingle in the Texas capital.
Last year SXSW drew nearly 74,000 people with over 19,000 coming from outside the US.
In 2018, visitors spent $350m (£270m) during the festival, according to a study commissioned by event organisers.
The event's organisers had been under pressure to call it off. A petition to that effect on change.org received 55,000 signatures.
Several other large tech conferences have been cancelled in recent weeks including Google's Cloud Next conference, Mobile World Congress and the Game Developers conference.
What's happening with the quarantined cruise ship?
Meanwhile, US Vice-President Mike Pence, who is co-ordinating the nation's response to the outbreak, confirmed that 21 people had tested positive for the coronavirus on a cruise ship that had been quarantined off the California coast.
He said 46 people aboard the Grand Princess had been swabbed - 19 crew and two passengers were found to be infected.
There are 3,500 people on the vessel, including more than 2,400 passengers, who have been confined to their cabins.
According to the New York Times, those aboard the vessel only learned the results of the tests while watching cable news.
The Grand Princess' captain reportedly apologised to them over the loudspeaker, saying he had received no prior notice of the news briefing.
Authorities halted the cruise liner after learning that three previous passengers had been stricken with coronavirus.
One was a 71-year-old man who died this week in a hospital near Sacramento, California.
Another is gravely ill with Covid-19 in the San Francisco area. A woman from the Canadian province of Alberta has also tested positive.
Meanwhile, two health screeners at Los Angeles international airport have tested positive for the coronavirus, Reuters news agency reports, and have been told to self-isolate until 17 March.
How is the US government responding?
At the White House briefing, officials said the CDC had shipped out 900,000 coronavirus tests and that another 200,000 would be sent out on Saturday.
A further one million tests were expected to be sent out early next week, said officials.
On Thursday, Mr Pence had acknowledged the US was short of coronavirus tests, amid fears the infection could be spreading undetected in communities nationwide.
On Friday, President Donald Trump signed an $8.3bn emergency bill designed to combat the outbreak. He urged calm, saying: "It'll go away."
Earlier, the White House briefly cancelled the president's visit to the Centers for Disease Control, after someone at the globally renowned public health institute in Atlanta, Georgia, was suspected of being infected with the disease.
But the trip was later restored to Mr Trump's schedule after the person tested negative.
Also on Friday, Mr Trump - a self-confessed germaphobe - was seen shaking hands with people as he visited a community hit by a tornado in Tennessee.
On Thursday, he told Fox News that he would continue shaking hands with voters, despite public advisories from health officials against such physical contact.
"I'll be shaking hands with people," he said, "and they want to say hello and hug you and kiss you. I don't care."
What are the latest global updates?
You might be interested in watching:
Have you or someone you know been affected by coronavirus? Share your experiences by emailing haveyoursay@bbc.co.uk.
Please include a contact number if you are willing to speak to a BBC journalist. You can also contact us in the following ways: