Coronavirus: Troops sent to New York 'containment zone'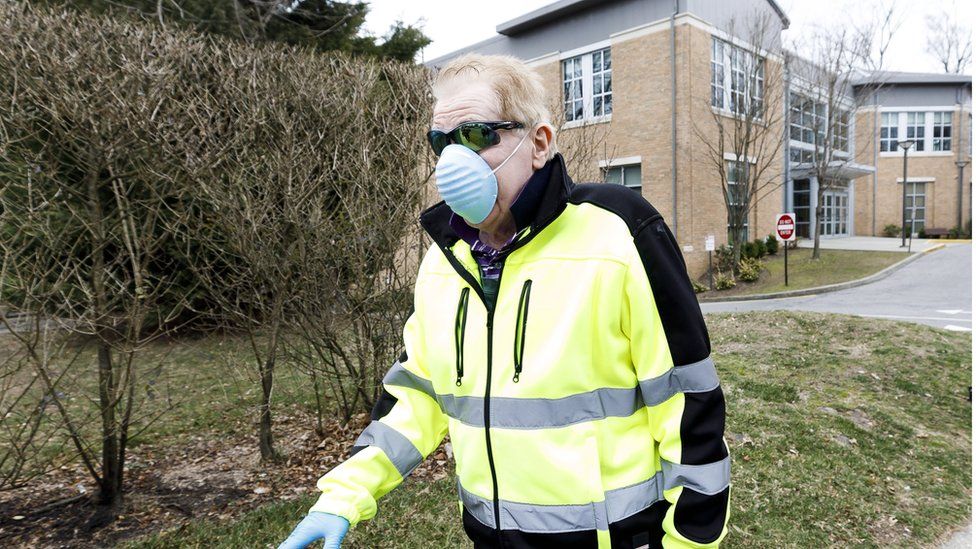 New York's governor has announced that troops will be sent into a town not far from Manhattan in an attempt to contain the spread of the coronavirus.
The National Guard will deliver food to some individuals told to isolate in New Rochelle.
Though the city is not under quarantine, a one-mile (1.6km) "containment zone" will be enforced.
The area has seen "the largest cluster" of US cases, Andrew Cuomo said as he announced the measures on Tuesday.
There are more than 1,000 confirmed cases of coronavirus in the US so far.
New York state has 173 active cases, the most in the US, and 108 of them are in Westchester County where New Rochelle is located.
What's happening in New York?
New York City has 36 confirmed cases of the virus. But New Rochelle, which has a population of just 77,000, is believed to have at least twice as many.
"[It's] a particular problem," Mr Cuomo said. "It's a phenomenon."
A synagogue is reported to be at the centre of the New Rochelle outbreak and around 1,000 people associated with the temple are now in quarantine.
Mr Cuomo announced a string of measures on Tuesday afternoon in a bid to quell the spread of the virus in the area. He said the "dramatic action" was a "matter of life and death".
Schools, gathering places and businesses in the virus hot spot will be closed for two weeks. Officials will also set up a coronavirus testing facility at a local hospital.
The National Guard will be deployed to help clean schools and public spaces as well as deliver food to the individuals quarantined.
But Mr Cuomo stressed there would be no travel restrictions in the town.
What's the bigger picture in the US?
Twenty-nine people have died in the country as a result of the virus - 24 in Washington state, two in California, two in Florida and one in New Jersey.
The director of the National Institute of Allergy and Infectious Diseases, Dr Anthony Fauci, urged Americans to start taking the risk of infection seriously.
"We would like the country to realise that as a nation, we can't be doing the kinds of things we were doing a few months ago," he said at a White House briefing.
Concerns deepened amid the sharp rise in the number of cases reported in the first week of March. Infections were disclosed in New York, Washington, New Jersey and Tennessee in quick succession.
High medical costs make the virus particularly problematic - many Americans avoid doctor's visits because of unaffordable charges. A lack of paid sick leave is another concern, as are fears about the number of available tests.
But Vice-President Mike Pence, who is in charge of the task force co-ordinating the response to the crisis, has said that "any American can be tested, no restrictions, subject to doctor's orders".
Meanwhile, President Donald Trump said he had been told he did not need a coronavirus test after appearing at a conference last month that was attended by an infected individual.
Five senior Republicans, including Mark Meadows - the president's newly appointed chief of staff - announced they would be self-quarantining after interacting with the unidentified person.
Mr Trump and some of his fellow Republicans have been accused of racism for referring to the disease as the "China Virus" and the "Wuhan virus".
The disease was widely referred to by those terms after it was first reported in China in December
But US Centers for Disease Control and Prevention Director Robert Redfield told a congressional hearing on Tuesday that it was wrong to refer to the virus as Chinese.
Trump's economic relief plans in question
Analysis by Natalie Sherman, BBC Business, New York
Economists say the coronavirus outbreak presents the greatest risk to the US economy in more than a decade, but for now it is not clear whether the tools being mobilised are up to the task.
Spurred on by plunging financial markets, the president has promised relief, proposing a payroll tax cut which would reduce the amount of money deducted from worker pay cheques to pay for social programmes.
A bit of extra cash in people's pockets could help boost confidence but economists say much more needs to be done. They have called for paid sick leave, relief for state health programmes, loan deferrals and money mailed directly to families, among other stimuli. For now, even Mr Trump's fellow Republicans seem unconvinced a payroll tax cut is the most effective response.
As Jay Shambaugh, director of the Hamilton Project at the Brookings Institution, told me: "If we don't do enough… there's going to be unnecessary pain in the economy that we know ways to prevent."
What's happening elsewhere?
Italy is one of the countries worst hit by the virus, and deaths there rose to 631 on Tuesday as the authorities placed the whole country in lockdown.
The latest increase in deaths - 168 - is the biggest the country has recorded in a single day. The total number of cases in Italy now sits at 10,149.
Also on Tuesday, French President Emmanuel Macron described the spread of the virus in Europe as an "exceptional crisis which required an exceptional response". He said France was "just at the beginning" of its outbreak.
Mr Macron was speaking after a video conference of European Union leaders in which they discussed the crisis.
"We will use all the tools at our disposal to make sure that the European economy weathers this storm," European Commission President Ursula von der Leyen said following the conference.
Turkey also confirmed its first case, saying one of its citizens had been infected in "Europe" and his family members were now under observation.