Kayleigh McEnany: What do we know about White House press secretary?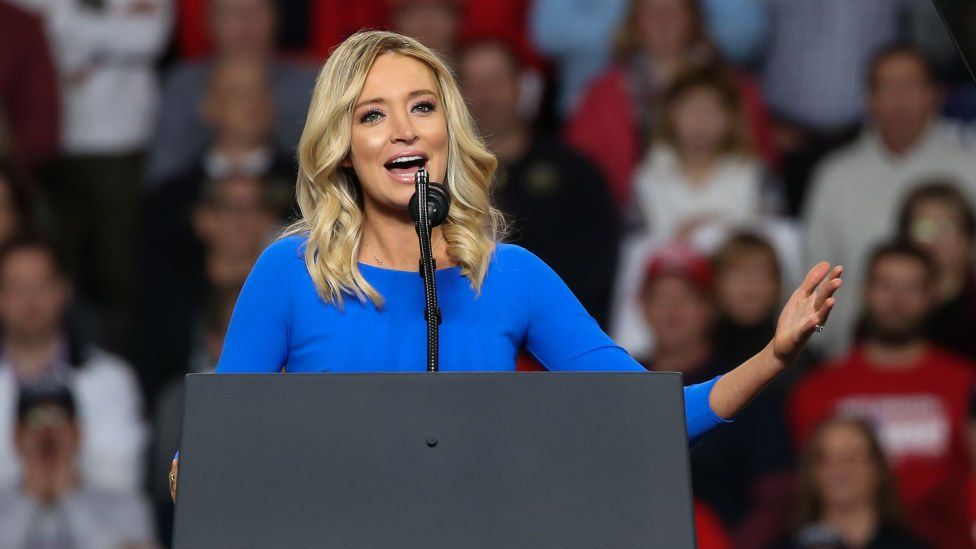 White House Press Secretary Kayleigh McEnany says she has tested positive for Covid-19. What do we know about the former Trump campaign spokeswoman?
After taking the job in April, she immediately made the White House press secretary job more visible by holding regular briefings.
Her predecessor, Stephanie Grisham, did not conduct a single press briefing during her nine-month tenure.
Before she took the role, Ms McEnany, 31, was a seasoned defender of the president.
She made frequent television appearances to promote his policies, some of which made headlines for the Harvard Law School graduate.
As the nation grappled with Covid-19, she came under fire for her early statements on the virus, including suggesting opposition Democrats were "rooting" for the pandemic to "take this President down".
In a February appearance on a Fox Business show, she said: "We will not see diseases like the coronavirus come here, we will not see terrorism come here, and isn't that refreshing when contrasting it with the awful presidency of President Obama?"
Ms McEnany also previously worked as a spokeswoman for the Republican National Committee and in 2018 published a book on the movement behind Mr Trump's 2016 election win.
She has been criticised for her past support of the "birther" conspiracy theory questioning former President Barack Obama's birthplace.
After her appointment, former President Bill Clinton's press secretary Joe Lockhart shared a 2012 tweet from McEnany where she said Mr Obama's brother was in "that hut in Kenya".
I'm sure she'll face a lot of interesting questions if she ever gets to the podium. Have we had an openly racist person like this ever behind that podium? https://t.co/Ze3wpN8KXP

— Joe Lockhart (@joelockhart) April 7, 2020
It is unclear whether Ms McEnany will continue to defend the president from behind the press secretary podium, or if she will opt for Ms Grisham's approach of communicating through tweets and interviews.
In the days after Trump's diagnosis, many staffers who work at the White House began to wear a mask consistently - a departure from how it had been before the president was infected.
Kayleigh McEnany was not one of them.
She spoke with me and others on the day of Trump's Covid-19 announcement outside of the West Wing, and she chose not to wear a mask in that moment. She was following the example of Larry Kudlow, the director of Trump's National Economic Council, who had spoken with us earlier in the day, also without a mask.
In this way, they were conveying the president's upbeat assessment of the virus and how it was nearly under control.
Both McEnany and Kudlow stood two metres from us, following guidelines on social distancing. Yet it was striking to see them go about their daily lives in a way that seemed largely unaffected by the virus. The fact that she has tested positive is a reminder of just how dangerous - and contagious - the virus is.
It is also a reminder that conveying the president's message through words and actions - whether about the virus or other matters - is a risky undertaking
Ms McEnany works alongside Alyssa Farah, the White House's director of strategic communications and Ben Williamson, senior communications adviser.
Sarah Huckabee Sanders, who filled the press secretary post before Ms Grisham, has described Ms McEnany and Ms Farah as "smart and capable women who have been loyal fighters" for Mr Trump.
"Their promotions are another example of the president empowering strong women to senior roles in his administration," she said.