George Floyd: Federal civil rights trial of three ex-officers begins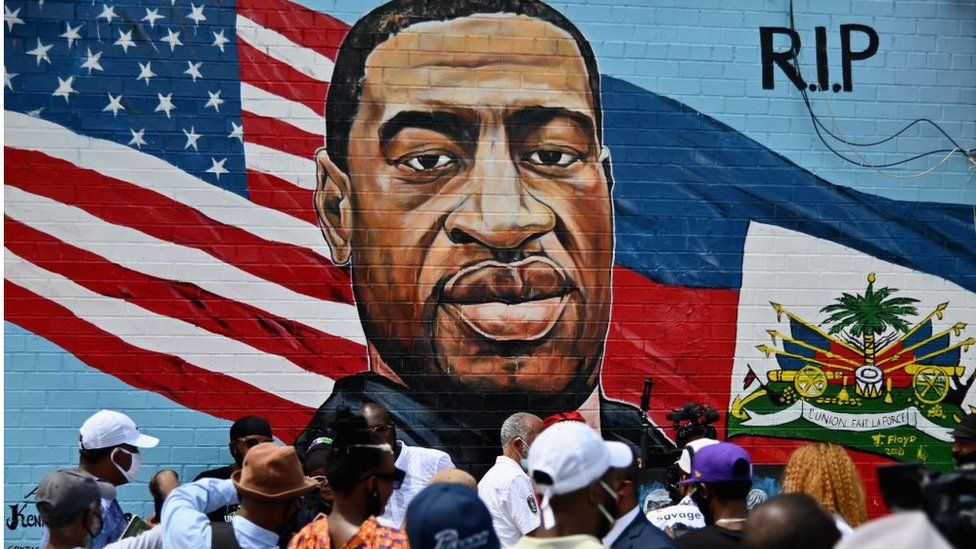 A federal civil rights trial for three US ex-police officers indicted in the murder of George Floyd has begun in Minneapolis.
J Alexander Kueng, Thomas Lane and Tou Thao helped senior officer Derek Chauvin detain Mr Floyd for allegedly handing a counterfeit bill.
Chauvin was filmed pressing his knee into the unarmed black man's neck for more than nine minutes before he died.
His death, filmed by a bystander, led to global protests in 2020.
Chauvin was convicted last June of murder and is currently serving time in state prison. In December, he pleaded guilty to federal charges of violating Mr Floyd's civil rights, averting a second trial.
Federal prosecutors allege the officers "wilfully deprived" Mr Floyd of his civil liberties during the attempted arrest and have submitted a list of 48 witnesses they could call to the stand.
Jury selection was completed in a single day on Thursday. The court expects to begin opening arguments next Monday with a full bench of 12 jurors and six alternates.
Judge Paul Magnuson questioned one juror on whether his daughter's involvement in protests in the wake of Mr Floyd's death would allow him to remain impartial. When the man said it would not affect his judgement, the judge responded that his granddaughter also "kind of got caught" up in the same thing, the newspaper reported.
The three men will also face their own state charges - for aiding and abetting Chauvin - in a separate trial later this year.
Here is what we know about the four former police officers and the charges they face.
Mr Lane, 38, was one of the first two officers called to the shop reporting a counterfeit $20 bill. At the scene, he approached Mr Floyd's car, pointed his gun at him and handcuffed him. He later allegedly held a struggling Mr Floyd's feet as Chauvin and Mr Kueng restrained him on the ground.
He has been charged with one count of depriving Mr Floyd of his civil rights using "the colour of the law", including that he ignored the arrestee's "right to be free from a police officer's deliberate indifference to his serious medical needs".
Mr Lane became a cadet at the police department in February 2019, but started working for the force just four days prior to Mr Floyd's death.
His training officer was Chauvin. A criminal complaint against Mr Lane claims he questioned Chauvin's tactics during the arrest of Mr Floyd, asking: "Should we roll him on his side?"
The ex-officer had no track record of complaints.
A criminology graduate from the University of Minnesota, Mr Lane used to work as a guard at a juvenile detention centre and volunteered to mentor Somali school children.
Mr Kueng, 27, was first on the scene with Mr Lane. He helped Chauvin and Mr Lane pin Mr Floyd to the floor. He was also the first to find Mr Floyd no longer had a pulse.
He faces two counts of using "the colour of the law" to deprive Mr Floyd of his civil rights, including that he "wilfully failed to intervene" to stop Chauvin using his knee on the arrestee's neck.
Like Mr Lane, Mr Kueng was relatively new to policing, entering the force in Minneapolis in February 2019 as a cadet.
According to a New York Times profile, Mr Kueng - whose mother is white and father is Nigerian - believed "diversity could force change in a Police Department long accused of racism".
He and Mr Lane graduated in the same recruit class and were promoted to officers in December 2019, with Chauvin as their field training officer. There were no previous complaints against him.
The death of Mr Floyd happened on his third shift.
Mr Kueng, who also speaks Russian, attended the University of Minnesota, where he studied sociology.
Mr Thao, 35, stood near the other three officers while they restrained Mr Floyd. He stood between the officers and bystanders, telling the growing crowd to keep its distance.
He also faces two counts of using "the colour of the law" to deprive Mr Floyd of his civil rights.
Mr Thao - a Hmong American - completed his police academy training in 2009 but was laid off when the force made budget cuts. He re-joined as an officer in 2012.
Up to his sacking, Mr Thao had six conduct complaints on his record. Five were closed without discipline and one was open at the time of his firing, but no details have been made public about any of the complaints.
Food service and security are among the sectors Mr Thao previously worked in.
Chauvin, 45, was filmed kneeling on Mr Floyd's neck while he was handcuffed on the floor repeatedly pleading "I can't breathe".
Chauvin was charged with second-degree murder, third-degree murder and second-degree manslaughter. He was convicted on all three counts and was sentenced last June to 22-and-a-half years in state prison. He is appealing his state murder conviction.
In December 2021, he pleaded guilty to federal civil rights charges stemming from the Floyd incident and an unrelated 2017 case of unreasonable force. Federal prosecutors have recommended a 25-year sentence.
Chauvin was the most senior officer involved in Mr Floyd's arrest, serving for almost 19 years with the Minneapolis Police Department.
Records from the Minneapolis Police Department's Internal Affairs Division reportedly show at least 15 conduct complaints against him. Most were closed without disciplinary action.
In 2006, Chauvin was recommended for a medal of valour for his role in the shooting of a man who aimed a shotgun at officers.
Prior to his career in the police, Chauvin served two stints in the US Army, as a member of the military police.