US soldier Ethan Melzer accused of planning attack on own unit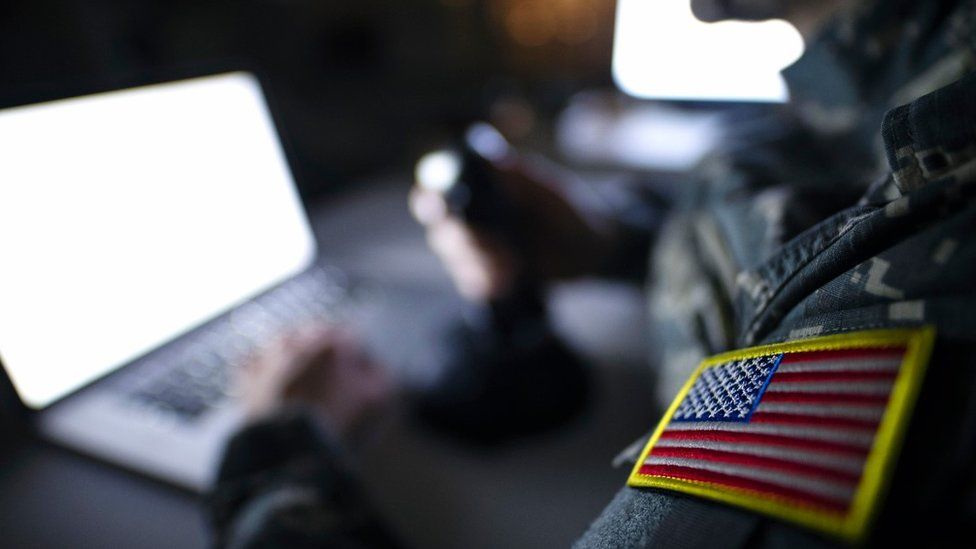 A US soldier has been charged with terrorism offences for planning a deadly ambush on his unit by sending information to a neo-Nazi group.
Ethan Melzer, 22, stands accused of sending sensitive details about his unit to the Order of Nine Angles.
The US Department of Justice calls it an "occult-based neo-Nazi and racially motivated violent extremist group".
He was allegedly planning for information to be passed to jihadists, who would then carry out an attack.
His plan was thwarted late last month by the FBI and the US army. He was arrested on 10 June.
Private Melzer, from Louisville, Kentucky, has been charged with conspiring and attempting to murder US nationals; conspiring and attempting to murder military service members; providing and attempting to provide material support to terrorists; and conspiring to murder and maim in a foreign country.
Private Melzer enlisted in the US Army in December 2018 and began his active service in June 2019.
In the fall of 2019, he was assigned to a US military facility in Europe, the indictment says. In April 2020, the army informed Private Melzer that he and his unit would be deployed to another foreign country, not named in the filing.
After Private Melzer was notified of this assignment, he used an encrypted messaging system to send notice to members of the Order of Nine Angles, including his unit's locations, movements and security plans. The information was shared "for the purpose of facilitating an attack on the unit", the indictment says.
What is the Order of Nine Angles?
Also known as the ONA, or O9A, the Order is an occult group founded in the UK, with roots dating back to the 1960s
It describes itself as Satanic and its writings are widely shared in Neo-Nazi communities
The Order calls for the overthrow of the West's Judeo-Christian order, and it encourages members to isolate themselves from society, commit crimes and embrace political extremism
New followers must spend at least six months in "insight roles," a practice of infiltrating and subverting other religious groups or organisations like the police and army
The group maintains a decentralised structure, so it is hard to estimate the true size and influence. But its ideology is having a resurgence in Europe and the US, partly due to the online proliferation of its literature.
"As alleged, Ethan Melzer, a private in the US Army, was the enemy within," said Audrey Strauss, acting US Attorney for the Southern District of New York, in a statement.
"Melzer allegedly attempted to orchestrate a murderous ambush on his own unit by unlawfully revealing its location, strength, and armaments to a neo-Nazi, anarchist, white supremacist group."
He is accused of planning to provide information intended to be conveyed to jihadist terrorists, she added. He allegedly exchanged communications regarding passing information about an anticipated deployment of his unit to a purported member of al-Qaeda.
Private Melzer wrote to O9A members that he was "risking [my] literal free life" by disclosing this information, court documents say.
I am "expecting results", he added.
Members of the Order of Nine Angles, also known as O9A, have expressed admiration for both Nazis, such as Adolf Hitler, and Islamic jihadists, such as Osama Bin Laden.
Court documents say that Private Melzer consumed propaganda distributed by the Islamic State (IS), including an IS-issued document that mentioned the "HARVEST OF THE SOLDIERS" and described attacks on US army personnel.
"Melzer declared himself to be a traitor against the United States, and described his own conduct as tantamount to treason. We agree," said FBI Assistant Director William F. Sweeney Jr.
"He turned his back on his county and his unit while aligning himself with members of the neo-Nazi group ONA. Today, he is in custody and facing a lifetime of service - behind bars - which is appropriate given the severity of the conduct we allege today."
UK anti-racism campaigners Hope Not Hate used its annual State of Hate report to call for the Order of Nine Angles to be banned.
In April, the UN Security Council's Counter-Terrorism Committee Executive Directorate released a report on extreme right-wing terrorism. The report suggested that there has been a 320% surge in terror attacks associated with such ideology in the past five years worldwide.
Last week, a US Air Force sergeant with ties to the right-wing Boogaloo Bois movement was charged with the murder of a federal security officer in California.
The Boogaloo Bois are among a number of fringe groups accused of exploiting the recent anti-racism protests to incite violence.