QAnon supporter Marjorie Taylor Greene wins Georgia Republican primary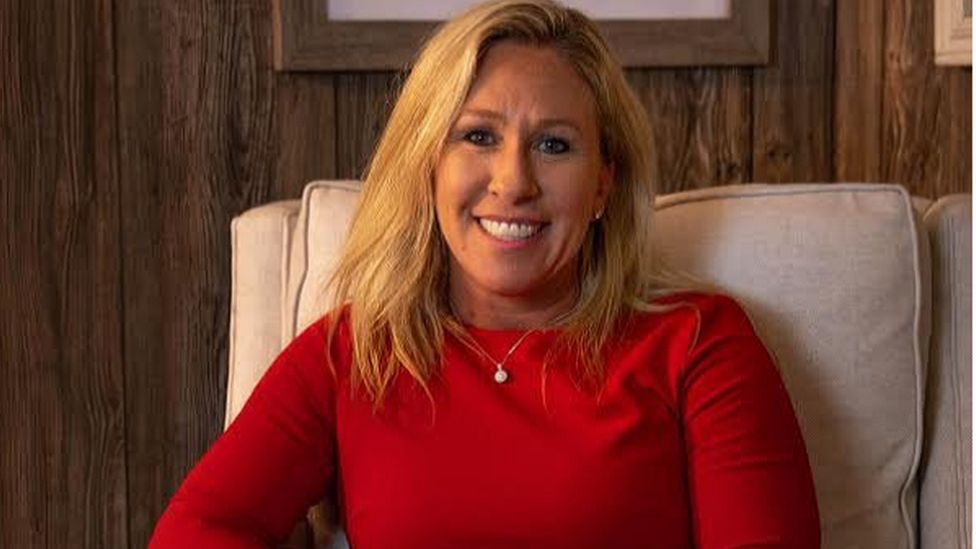 A US businesswoman who has expressed support for the QAnon conspiracy theory has won the Republican nomination for a seat in the House of Representatives.
Marjorie Taylor Greene is now expected to be elected in November to represent Georgia's heavily conservative 14th congressional district, and become QAnon's first devotee in Congress.
It comes amid a social media crackdown on the conspiracy theory.
QAnon says "deep-state" traitors are plotting against Donald Trump.
Ms Greene is part of a growing list of Republican candidates to express support for the conspiracy theory.
In another major result on Tuesday, Ilhan Omar defeated a well-funded challenger to put her on track for re-election, along with other members of the "squad" of Democratic congresswomen.
What happened in Georgia?
Ms Greene, a businesswoman who owns a construction company with her husband, beat neurosurgeon John Cowan for the Republican nomination on Tuesday.
She will face Democrat Kevin Van Ausdal in November but is widely expected to win in the conservative district.
The controversial candidate has previously expressed support for QAnon - a wide-ranging, unfounded conspiracy theory that says that Donald Trump is waging a secret war against elite Satan-worshipping paedophiles in government, business and the media.
In a YouTube video, she praised "Q" - the pseudonymous figure who started the conspiracy theory - as a "patriot".
In recent weeks, several social media sites have taken action against QAnon, with Twitter banning thousands of accounts linked to the conspiracy theory and TikTok blocking hashtags related to it from appearing in search results, among other measures.
The FBI has designated QAnon a potential domestic extremist threat.
While other candidates have also expressed support for QAnon, most stand little chance of being elected.
Aside from QAnon, Ms Greene has positioned herself as a strong supporter of Mr Trump and is pro-gun, pro-border wall and anti-abortion.
Several Republican officials spoke out against her campaign earlier this year when videos were unearthed showing her making offensive remarks about black people, Muslims and Jews.
Ms Greene celebrated the result on social media.
"The GOP [Republican Party] establishment, the media, & the radical left, spent months & millions of dollars attacking me. Tonight the people of Georgia stood up & said that we will not be intimidated or believe those lies," she wrote on Twitter.
"I'm excited to be the next Congresswoman of GA 14. God bless America."
Mr Trump on Wednesday congratulated Ms Greene, calling her a "future Republican star".
"Marjorie is strong on everything and never gives up - a real WINNER!"
The BBC is not responsible for the content of external sites.
Voter Pamela Reardon told the Associated Press news agency that she supported Ms Greene "because of her honesty".
"She's not going to be bought by anybody. I could tell that her heart was pure."
What about the Ilhan Omar result?
Democrat Ilhan Omar easily survived a challenge from a well-funded opponent on Tuesday, putting her on track for re-election as representative of Minnesota's fifth congressional district.
Ms Omar - one of the first two Muslim women to be elected to Congress in 2018 - beat attorney Antone Melton-Meaux, whose campaign raised millions of dollars.
Mr Melton-Meaux accused the Somali-born politician of prioritising her celebrity over her constituents.
But Ms Omar won more than 57% of the vote, compared with about 39% for Mr Melton-Meaux.
Taking to social media following the result on Tuesday, Ms Omar said she was looking forward to returning to Congress.
"In Minnesota, we know that organized people will always beat organized money. Tonight, our movement didn't just win. We earned a mandate for change. Despite outside efforts to defeat us, we once again broke turnout records," she wrote on Twitter.
Ms Omar's family came to the US as refugees, settling in Minneapolis in 1997. She became a citizen in 2000.
She is known as a member of the "squad" of four progressive non-white Democratic congresswomen, who were elected to the House of Representatives in 2018. All four are expected to be re-elected in November.