US Postal Service row: What is it about?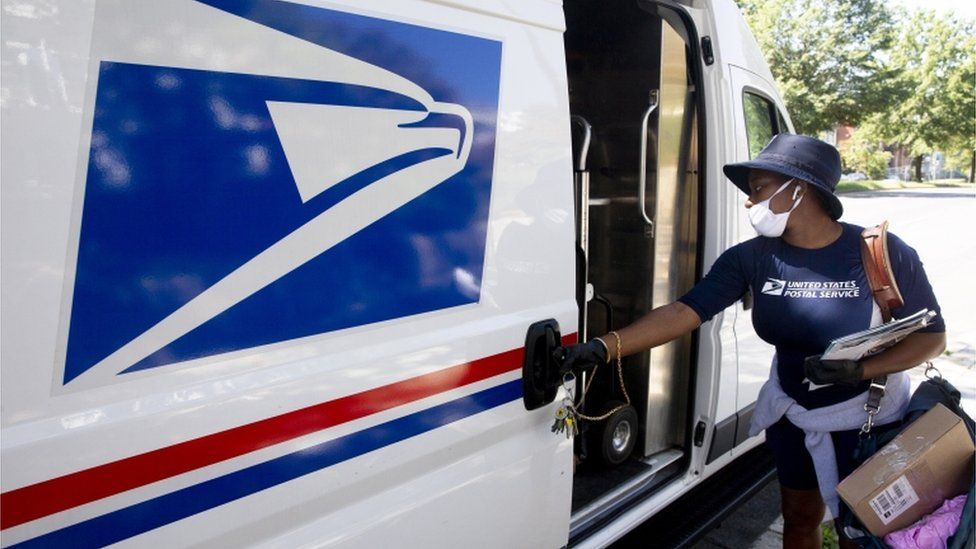 Slower mail delivery times have raised concerns about how one of the oldest and most trusted institutions in the US - the Postal Service - can handle an unprecedented influx of mail-in ballots in November's election.
Owing to the coronavirus pandemic this year, an unprecedented number of voters are expected to submit their ballot by mail.
It's up to states to determine how they arrange postal voting and there are mounting fears that some are not ready.
What are Democrats' concerns?
The US Postal Service (USPS) is a government agency. Its board of governors appoints the postmaster general - a process which is meant to distance the position from politics. But the board's members are all appointed by the president and approved by the Senate, which is currently controlled by Donald Trump's Republican party.
Louis DeJoy is a political appointee recently hired by President Trump. He has donated more than $1.2m (£920,000) to political action funds in support of the president.
Mr DeJoy has been accused by top Democrats of implementing changes to how mail is processed in a deliberate effort to "sabotage the election".
He has defended the changes, which include cuts to overtime and delivery trips, as "data-driven", but said last week he would delay them until after the election.
Skip twitter post by Donald J. Trump
For our Country to be sending 80 million UNSOLICITED BALLOTS is very unfair and a roadmap to disaster. Even recent small and easier to control elections which did this are a catastrophic disaster. Fraudulent & missing Ballots like never seen before. 20% and 30% off. STOP!

— Donald J. Trump (@realDonaldTrump) August 25, 2020
The BBC is not responsible for the content of external sites.
End of twitter post by Donald J. Trump
Republicans and Mr Trump counter that the new measures are needed to address the agency's multi-million dollar budget shortfall. Mr Trump has said the price tag for emergency funds requested by Congress to shore up mail-in voting is too expensive and will lead to voter fraud.
The US House of Representatives has now approved a bill that would inject $25bn (£19bn) into the USPS, but Senate majority leader Mitch McConnell said the upper chamber of Congress would "absolutely not pass" it.
Is there evidence of an intentional slowdown?
Jake Horton, BBC Reality Check
In May, Republican megadonor Louis DeJoy was tapped by the White House to be the first postmaster general in more than 20 years to not come from within the agency's own ranks.
Seeking to address the $160bn (£122bn) budget shortfall at the USPS, Mr DeJoy implemented several new measures in July which have come under scrutiny.
US media report that more than 600 mail sorting machines are being decommissioned - around 10% of the service's machines. The Postal Service has said it "routinely moves equipment around its network as necessary to match changing mail and package volumes".
The amount of mail has been down so far this year, but there are concerns the reduction in machines - which process millions of pieces of mail per hour - could limit the handling capacity of postal ballots in the build-up to the election.
Many polling stations in the US are often staffed by elderly volunteers who this year are expected to stay at home to avoid contracting Covid-19.
Other elections held during the pandemic, such as a much-criticised primary race in Georgia, have seen a majority of polling places closed due to lack of staff. Long queues form at those that remain open.
Some states have chosen to respond by posting a ballot to every single registered voter in the state - a practice known as universal mail-in voting.
Other states require voters to request a ballot be sent to them, while some Republican-controlled states such as Texas and Mississippi - and Democrat-controlled New York - have said fear of catching coronavirus is not a good enough justification to vote by mail.
Late last month, the USPS wrote to states to inform them that their election laws might mean that some ballots are returned too late to be counted. Some states, such as Pennsylvania, are attempting to change laws so that ballots that arrive after election day can still qualify.
Is mail voting more prone to fraud?
Mr Trump has claimed that expanded mail-in voting would lead to the "the most corrupt election" in US history.
Critics say people could vote more than once via absentee ballots and then again in person.
Why is the post office in debt?
Unlike other government agencies, the USPS does not run on taxpayer money, but relies on revenue from mail and packages, as well as other services to operate.
However, mail volume has dropped by 30% since 2006, according to NBC News. And analysis by the US Government Accountability Office (GAO) found that $78bn had been lost in recent years due to the decline as well as increased delivery costs.
A law passed in 2006 required the USPS to pre-fund pensions for all employees 75 years into the future, a move that experts say cost around $72bn.
Can they handle an influx?
Experts say the post office could easily absorb the expected influx of mail, even if every single eligible American were to vote by mail in November.
According to a New York Times analysis, about 80 million ballots might be sent through the mail this year - more than double what was sent in the 2016 election.
The Postal Service is one of the most trusted institutions in the US. Founding Father Benjamin Franklin was the first postmaster general.
Absentee voting, which President Trump himself regularly uses, was born on the battlefields of the Civil War, according to National Geographic, with soldiers sending their completed ballots in the mail back to their home states.
Mr DeJoy was called to testify before the House of Representatives committee on Monday, following his appearance before a Senate panel last week.
He acknowledged that some of the changes had caused delays but rejected claims he was trying to interfere with the election.
"We will do everything in our power and structure to deliver the ballots on time," he said in response to questions from Democrats.
The postmaster general said he did not order any of the changes that prompted concern, and he did not know who had.