Jerry Falwell Jr: Liberty University confirms resignation amid sex scandal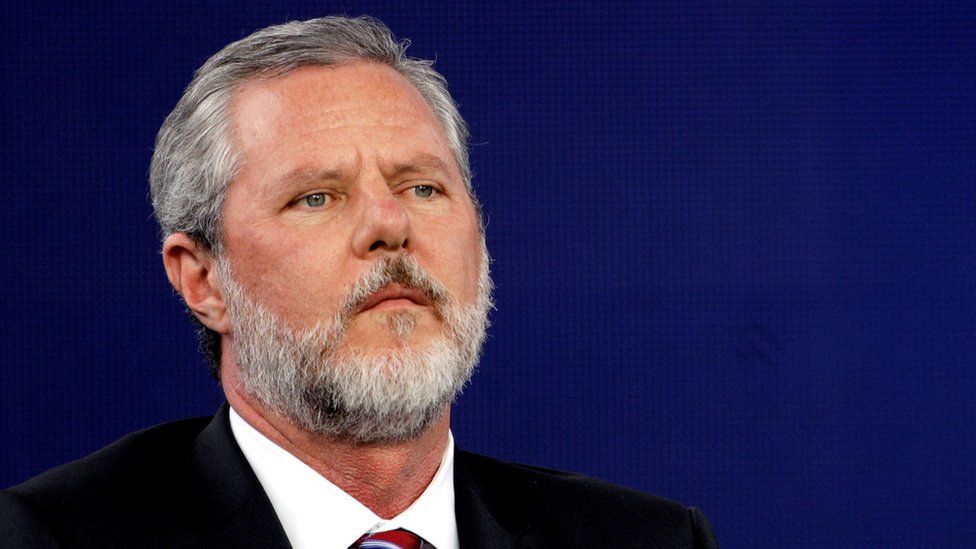 The board of a leading US evangelical college, Liberty University, has accepted the resignation of its embattled president Jerry Falwell Jr, who is embroiled in a sex scandal.
It comes after a business associate said he had had a sexual relationship with Mr Falwell and his wife.
Mr Falwell had already been put on leave after sharing a photo of himself with his trousers unzipped.
Mr Falwell is a vocal supporter of US President Donald Trump.
On Monday, he resigned from his post - a decision he later rescinded before confirming he was stepping down after all.
He took over at the college in 2007 after the death of his father, Jerry Falwell.
Mr Falwell Sr founded the private evangelical university in Virginia in the 1970s as well as the conservative Moral Majority movement.
What are the allegations?
Mr Falwell had conceded that the photo was "weird" but defended it as "all in good fun". But his actions provoked accusations of hypocrisy. Liberty University has a strict code of conduct for how students must behave, including barring premarital sex and the consumption of media with sexual content and nudity.
On Monday, further allegations emerged. Giancarlo Granda, a business partner of Mr Falwell's, told Reuters news agency that he had had a six-year sexual relationship with the evangelical leader and his wife, Becki Falwell.
A lawyer for Mr Falwell told Reuters before their article came out that his client "categorically denies everything you indicated you intend to publish about him".
On Sunday, Mr Falwell released a statement to the Washington Examiner saying his wife had had an affair and that the man involved had threatened to "deliberately embarrass my wife, family, and Liberty University".
He also spoke of the "emotional toll" the affair had had on him, and said he was seeking help.
The president's evangelical friends
Jerry Falwell and other conservative Christians endorsed Donald Trump in 2016, helping him win the White House. The overwhelming majority of white Evangelicals supported Mr Trump because of his conservative policies.
Yet Mr Falwell's fate is a reminder of the fickleness of "self-righteous people", as he described them during a conversation with a Wall Street Journal reporter. Mr Falwell was upset because of the way some of the Evangelicals, so-called "self-righteous" ones, have turned on him. As it happens, many have also rejected Mr Trump, saying they have been disturbed by his harsh policies and offensive language, among other issues.
According to Pew, 59% of white Evangelicals say they "very strongly" approve of him, a percentage that is down eight points from April. Mr Trump is trying to shore up their support before the election, and his campaign workers are doing what they can.
The scandal over one of his high-profile supporters makes their job harder.
On Monday, US media reported that Mr Falwell had resigned from Liberty University, citing officials from the institution.
But Mr Falwell later reversed course later that night, telling his attorneys not to tender the letter for immediate resignation following media reports on the scandal.
Mr Falwell spoke out to several US media outlets, telling the Wall Street Journal newspaper that he was still entitled his full compensation.
"The board put me on leave, took away my duties as prez, and that's not permitted by my contract," Mr Falwell said on Monday night. "And they put me on leave because of pressure from self-righteous people."
In a further U-turn, after hours of conflicting reports, he told US outlets ABC News and the Wall Street Journal that he had sent his resignation letter to Liberty University's board.
The executive committee and board of the evangelical college met on Tuesday to discuss the matter and decided to accept Mr Falwell's resignation.
Mr Falwell was one of the earliest evangelical supporters of the current US president, often credited with helping deliver that constituency to then-candidate Donald Trump in 2016.