Jacob Blake: What we know about Wisconsin police shooting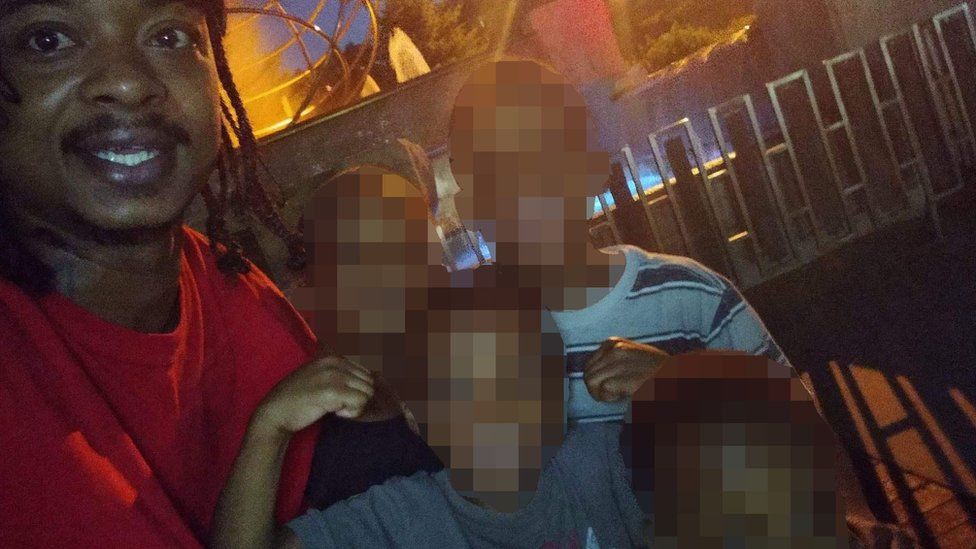 The police shooting of a black man in the state of Wisconsin has led to fresh unrest in US cities.
Jacob Blake, 29, was shot several times in the back as he entered a car where his three children were seated.
His family say he has been left paralysed from the waist down - although doctors do not know if it is permanent.
The protests turned violent two days after the incident, when two people killed and one injured in a shooting. A 17-year-old has been arrested.
The shooting of Mr Blake was captured on video - happened shortly after 17:00 on Sunday 23 August.
It was only on Wednesday that authorities gave some details about the incident.
Wisconsin's Attorney-General Josh Kaul identified the officer involved as Rusten Sheskey.
Mr Kaul said officers had been called to an address after a woman reported that "her boyfriend was present and was not supposed to be on the premises".
While there, they tried to arrest Mr Blake, initially using a taser. After Mr Blake opened his car door, Mr Sheskey - who has been in the Kenosha Police Department for seven years - fired seven shots into Mr Blake's back.
"No other officer fired their weapon," Mr Kaul said.
Mr Blake has since told investigators that he had a knife in his possession, and Mr Kaul said officers "recovered a knife from the driver's side floorboard" of his car. They found no other weapon in the vehicle.
The person who shot the video, Raysean White, told CNN that before he began filming, he saw police wrestle, punch and taser Mr Blake.
It was then that he started recording. Mr Blake is shown walking around the front of the SUV. The two officers closest to Mr Blake at this point on the video are white males.
As he opens the door and leans into the car, one officer can be seen grabbing his shirt and opening fire. Seven shots can be heard in the video, as witnesses shout and scream.
Mr White told AP news agency that he heard police officers shout "Drop the knife!" before gunfire erupted, but said he didn't see a knife in Mr Blake's hands.
Police said that officers had provided immediate aid to Mr Blake, who was taken to hospital afterwards.
Lawyers for Mr Blake have said he had been trying to "de-escalate a domestic incident" when police drew their weapons.
Kenosha Police do not have body cameras, although they do have microphones.
How has the family responded?
Two days on from the shooting, Mr Blake's family gave an emotional statement to the media.
"They shot my son seven times, seven times, like he didn't matter," his father, Jacob Blake Snr said.
Mr Blake's lawyer said that, because of his injuries, he has needed nearly all of his colon and small intestine removed, and suffered damage to his kidney, liver and arm.
The family have demanded the arrest of the officer who shot Mr Blake, and said other officers involved should be fired.
"People question why we have to say Black Lives Matter: this is why," said lawyer Ben Crump.
Mr Blake's mother, Julia Jackson, appealed for an end to violent unrest, which she said "doesn't reflect my son or my family".
The officers involved have been placed on administrative leave while investigations continue. A petition calling for them to be charged has garnered tens of thousands of signatures.
And what about the protests?
After Mr Blake was shot on Sunday, hundreds of people rallied outside police headquarters in Kenosha. Cars were set alight, armed robberies were reported and a night-time curfew was put in place.
The unrest continued for two nights. On the Tuesday, a small group of protesters threw fireworks and water bottles at police, who responded with rubber bullets and tear gas.
Police said that law enforcement was spread very thinly, and individuals and groups were exercising a form of vigilantism.
Tuesday night's shooting was believed to have involved protesters and armed men guarding a petrol station.
On social media, footage showed a man with a rifle being chased by a crowd before he fell to the ground and appeared to fire at them. Other videos show armed civilians, many dressed in military fatigues, outside businesses they said they were protecting.
On Wednesday, Kenosha Police Chief Daniel Miskinis confirmed that a 17-year-old from Antioch, Illinois, had been arrested over the deaths of a 26- and a 36-year-old during Tuesday's protests. The injured individual is also 26, and is expected to recover.
The suspect has been named as Kyle Rittenhouse.
President Donald Trump said on Wednesday he was sending "federal law enforcement and the National Guard" to Kenosha.
On Wednesday he announced reinforcements of 500 personnel, agreed with Wisconsin Governor Tony Evers, doubling the number already sent.
Mr Blake was raised in Evanston, near Chicago.
His uncle, Justin, told the Chicago Tribune newspaper that he moved to Kenosha several years ago for a job and for his family.
"It was a safer location. He could work and try to save and build a better life," said Justin.
His family have a long history of community activism. Mr Blake's grandfather, also called Jacob, was a pastor at a church in Evanston, and a local leader in the civil rights movement. He was also a prolific campaigner for affordable housing and led his congregation in constructing a housing block in the city.
Justin Blake said Mr Blake continued this tradition of public service and volunteered with Black Urban Recycling - a charity that collects aluminium cans and recycles them to raise money for a community centre in Chicago.
Court records show there was an active arrest warrant against Mr Blake, related to charges of sexual assault, trespassing, domestic abuse and disorderly conduct. But it is unclear if police were aware of this at the time of his shooting.
What is the wider context?
Mr Blake's shooting comes as the US grapples with the treatment of African-Americans at the hands US law enforcement, as well as wider questions about racism in society.
Debate has reignited this year after another black man, George Floyd, was killed by Minneapolis police in May.
Mr Floyd's death sparked protests around the country, and abroad, and has led to calls for extensive police reform in America.