Jessica Krug: George Washington University professor says she lied about being black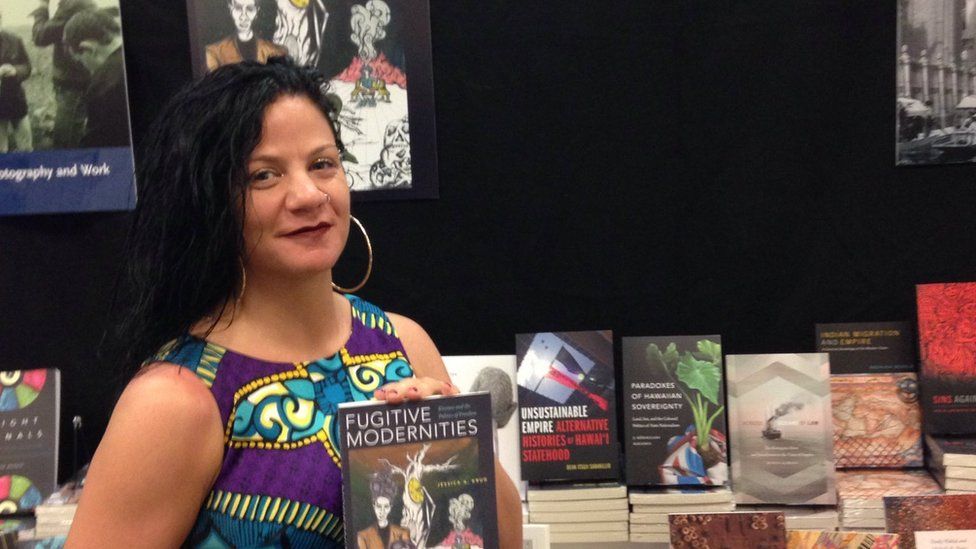 A US academic whose work focuses on Africa and the African diaspora has said she lied about being black.
Jessica Krug, an associate professor at George Washington University (GWU), admitted that she was in fact a white Jewish woman from Kansas City.
"I have built my life on a violent anti-Black lie," a blog post written under Ms Krug's name read.
The university said it was investigating the blog post but would not comment further.
Ms Krug's case, which has drawn surprise and condemnation from those who know her, bears strong parallels to Rachel Dolezal, a white race activist who claimed to be black.
Ms Dolezal first made headlines in 2015 when her parents outed her as white.
The former civil rights activist and African studies instructor had kept up the pretence of being African American for years, but said she "identified as black".
"To an escalating degree over my adult life, I have eschewed my lived experience as a white Jewish child," she wrote.
She described this behaviour as "the very epitome of violence, of thievery and appropriation, of the myriad ways in which non-Black people continue to use and abuse Black identities and cultures", adding that she had continued the pretence even in her personal relationships.
She blamed her lies on mental health issues and trauma experienced in her early years, although she said this was not an excuse for her actions.
Her academic work, including the 2018 book "Fugitive Modernities: Kisama and the Politics of Freedom", focuses on the politics and culture of African and African diaspora societies.
According to media reports, Ms Krug also used the name Jessica La Bombalera as an activist.
In one video posted earlier this year, she berated white New Yorkers for failing to "yield their time for Black and Brown indigenous New Yorkers".
GWU, where Ms Krug teaches courses in African, Caribbean and diaspora history, says it is "aware" of Ms Krug's Medium post and is "looking into the situation".
What reaction has there been to Ms Krug's admission?
Ms Krug's confession has been met with astonishment and anger, with fellow academics, students and friends making their feelings known online and in interviews.
Ms Krug's post did not give a reason for her decision to admit her deception, nor its timing. However, screenwriter Hari Ziyad said her admission came "because she had been found out".
"Jess Krug... is someone I called a friend up until this morning when she gave me a call admitting to everything written here. She didn't do it out of benevolence," he wrote on Twitter.
Black Latino scholars had recently started to confront Ms Krug and ask questions about her background, according to Yomaira Figueroa, an associate professor of diaspora studies at Michigan State University.
"There was no witch hunt, but there was a need to draw the line," she wrote in a Twitter thread. "Krug got ahead of the story because she was caught."
Yarimar Bonilla, professor of anthropology and Puerto Rican studies at Hunter College, wrote on Twitter that she had been "fooled" by Ms Krug but always suspected "something was off with her".
"In that sense, she did gaslight us," Ms Bonilla wrote. "Not only into thinking she was a WOC [woman of colour] but also into thinking we were somehow both politically and intellectually inferior."
A student at GWU, 21-year-old Aria Sakona, said she was "shocked" and "perplexed" by the academic's admission. She said she was due to start Ms Krug's class on Latin American history on Monday.
"It just breaks my heart that these students came in, very bright-eyed and eager, to learn about Latin heritage and the history," Ms Sakona told the Washington Post. "We all placed a lot of trust in her."
You may also be interested in: