US-Mexico border: Parents of 545 separated children still not found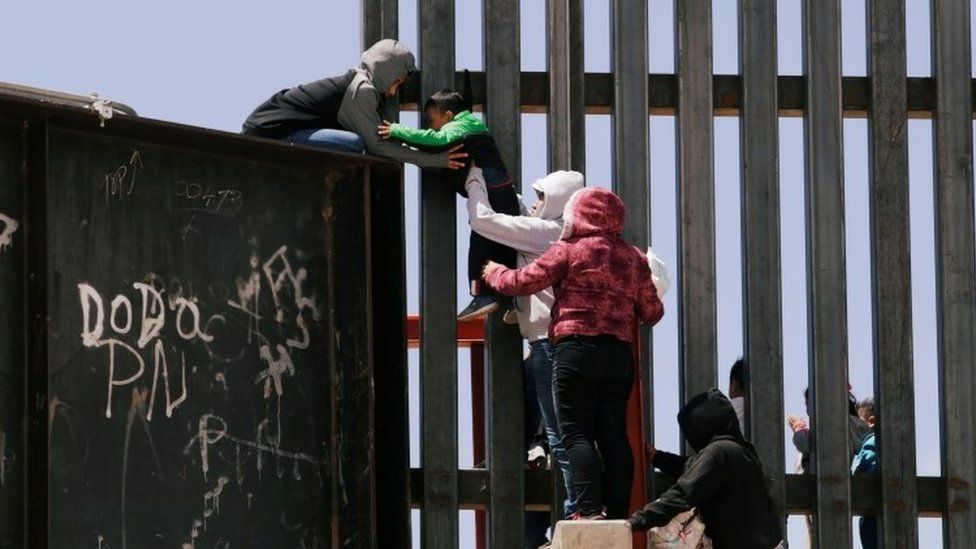 Parents of 545 children separated from their families at the border as part of the Trump administration's "zero tolerance" policy cannot be found, the American Civil Liberties Union says.
About two-thirds of the parents have been deported back to their country of origin, according to a court filing.
Thousands of families were separated under the 2018 policy, until the White House backed down amid an outcry.
The coronavirus pandemic has delayed searches for the still missing parents.
The crackdown on migrants crossing the US-Mexico border was first announced in April 2018, but it was later revealed that the administration had begun family separations a year earlier, as part of a secret pilot programme.
As soon as the zero-tolerance migration policy was announced, pictures and audio emerged of children sleeping in cages and crying for their parents, provoking widespread criticism from within the US and around the globe.
In June 2018, in response to a suit filed by the American Civil Liberties Union (ACLU), a US judge ordered that migrant children and their parents be reunited within 30 days, and thousands of families were reunified within weeks.
But those separated by the 2017 pilot programme were not covered by this initial court order, and reunification of this group was only ordered last year. Of this group of 1,030 separated children, 485 have had their parents found.
The ACLU and a team of lawyers have been tasked with finding these parents, described as "unreachable" in court documents filed on Tuesday by the ACLU and the US Justice Department.
The group has conducted "time consuming and arduous on-the-ground searches for parents in their respective countries of origin", this week's filing says, efforts that have been obstructed by the coronavirus.
"These families must be reunited and the administration must be held accountable," said Lee Gelernt of the ACLU's Immigrants' Rights Project and lead attorney in the family separation case, in a statement. Separating children from their parents is "one of the greatest stains" on the Trump administration, he said.
At the time, President Donald Trump initially defended the practice, saying he "didn't want" to take children from their parents, but "when you prosecute the parents for coming in illegally - which should happen - you have to take the children away".
His decision to walk back the policy months later was reportedly influenced by pictures of children in detention facilities.
Mr Gelernt said the ALCU will continue looking for the families until each one is found. "These are children who have been separated for years, some of whom were just babies when taken from their parents," he said.
The court-mandated report on the search process was filed ahead of a status conference scheduled for Thursday before a federal judge in California.