Stacey Abrams: The woman behind Biden's biggest surprise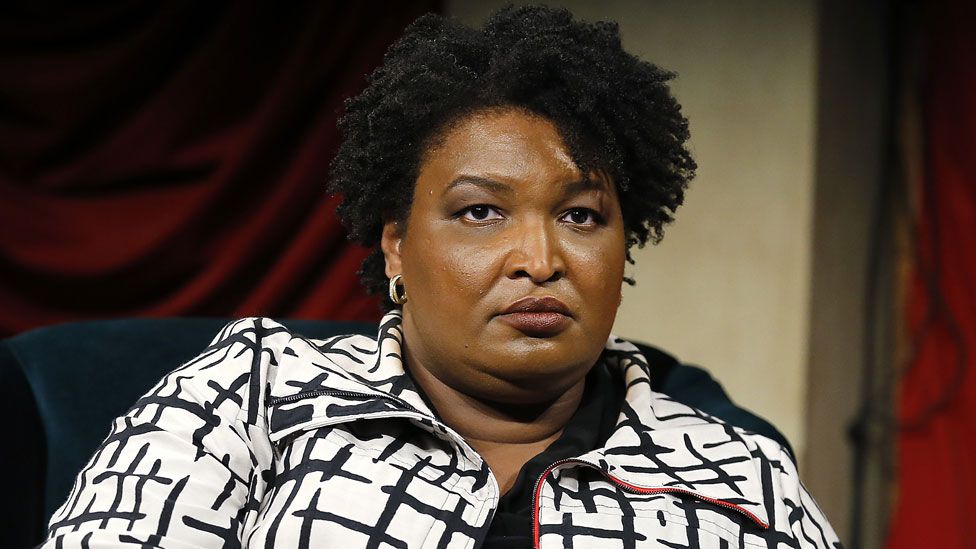 Kamala Harris will make history when she becomes vice-president in January - but another black woman played a pivotal role helping the Biden-Harris ticket win the White House.
As she celebrated winning the US election alongside Joe Biden, the first black and Asian American woman to be vice-president-elect made sure to recognise a particular group for her campaign's success: minority women.
Senator Harris acknowledged that minority women - especially black women - are "too often, overlooked but so often prove that they are the backbone of our democracy".
At their home just outside of Atlanta, Georgia, members of the Hunt family cried while watching Ms. Harris' speech.
"Georgia is blue right now, which is life changing for the state and the residents, especially black residents who live here," said 27-year-old Kristin Hunt.
"That is due to Stacey Abrams and a lot of black women who are on the ground and grassroots organisations registering people to vote and proving why our vote matters."
Joe Biden's path to the White House has hinged on crucial support from African Americans. Black voters delivered Biden's primary victory in South Carolina, which gave him momentum to earn the party's nomination.
He would go on to win Pennsylvania - and ultimately the election - thanks in large part to overwhelming support from black voters in cities like Philadelphia and Pittsburgh. Almost nine in 10 black voters backed the Democrat, according to exit polls, although Donald Trump did increase his share compared to 2016.
But when you ask folks in these cities who really helped Biden win the election many will credit black women in their communities.
Women like Kruzshander Scott, an organiser in Jacksonville, Florida, who told me she had received threats and was given extra security in the final weeks of the election as she worked to turn out voters in her historically black community.
Or Brittany Smalls, a Philadelphia voting rights activist who said she's dedicated her life to educating and empowering voters in her neighbourhood because she knows their votes matter.
And in Georgia, praise for Stacey Abrams is almost universal among Democrats. Linda Grant, who served as a poll monitor for her party this election, said Ms Abrams' name is often invoked as a verb to mean "get things done."
But not too long ago, Georgia Democrats hoped to call Ms Abrams by another title: Governor. In 2018, she made history as the first African American woman to mount a bid for governor in the United States. Her Republican challenger was Georgia's long-time Secretary of State, Brian Kemp.
During his six years in office, Mr Kemp cancelled voter registrations for more than a million Georgia residents due to "inactivity" or error. But what his office saw as maintaining voting records, others, like Ms Abrams, decried as disenfranchisement.
Mr Kemp would go on to win the race for governor by just over 50,000 votes. In her speech following his victory (she did not concede), Ms Abrams announced the launch of a new operation aimed at countering the voter purges she believed cost her the election.
"We are a mighty nation because we embedded in our national experiment the chance to fix what is broken," she said that night.
Two years later, ahead of the 2020 election, Ms Abrams and a network of organisations had registered more than 800,000 voters in Georgia alone. And although there will be a recount, Ms Abrams and her army of volunteers have been widely praised for helping Democrats hold a narrow lead in Georgia's presidential contest for the first time in more than two decades.
In January, those same voters could prove to be pivotal once again, as both of Georgia's senate seats head to a crucial runoff election that could determine which party gains control of the US Senate. If Georgia Democrats hand Biden a victory, the president-elect could owe Ms Abrams and her volunteers a debt of gratitude.
"She could have just sat back and been like, 'Man, I lost,'" Ms Hunt tells me. "But she turned it into a W (a win) and she went into it, pushing forward and trying to do better for herself and our community."
Kristin's Aunt, Teresa Wilson, agreed, adding Ms Abrams' efforts will forever change how black voters in the state view their power.
"For her to go out and put boots on the ground and get all these people registered to vote has made a huge difference for Georgia and for the nation," she said.
"I think we've been taken for granted for every election. Now, the nation and the world sees that our vote matters."