Boy Scouts of America: Almost 100,000 make sexual abuse compensation claims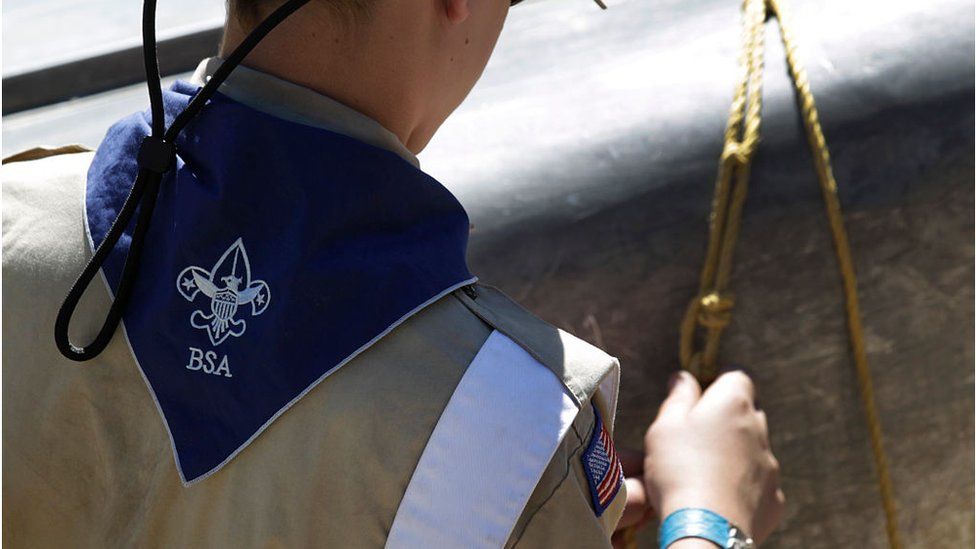 Almost 100,000 alleged victims of sexual abuse within the Boy Scouts of America (BSA) have come forward to claim compensation from the group.
A lawyer for the plaintiffs called it the biggest-ever US sexual abuse case. The claims were filed ahead of a deadline on Monday evening.
Internal files published in 2012 revealed decades of abuse.
BSA - which filed for bankruptcy earlier this year - has apologised to victims, saying it was "devastated".
Negotiations will now begin between the alleged victims, the BSA and their insurers.
The organisation still has a considerable membership - more than two million youth participants ranging in age from five to 21. But this is about half of what it was in the 1970s, a decline that aligns with mounting scrutiny of the organisation.
The proceedings in a federal bankruptcy court will eventually lead to the creation of a fund to settle abuse cases that are upheld.
"It's by far the largest sexual abuse scandal in the US," attorney Paul Moses told the AFP news agency on Monday.
In terms of current reported numbers, it dwarfs similar complaints made against the Catholic Church in the country.
In a recent statement, BSA said it had been "moved by the bravery" of those who had come forward.
"We intentionally developed an open, accessible process to reach survivors and help them take an essential step toward receiving compensation. The response we have seen from survivors has been gut-wrenching," the group added.
In 2012, the Los Angeles Times newspaper uncovered about 5,000 files detailing allegations against scout masters and troop leaders who had been deemed "ineligible volunteers".
Most incidents had not been reported to police, and the BSA tasked themselves with removing those accused.
In 2010, Mr Moses won $20 million (£15 million) for a former boy scout abused by his leader.