Trudeau unveils Canada's net-zero by 2050 plans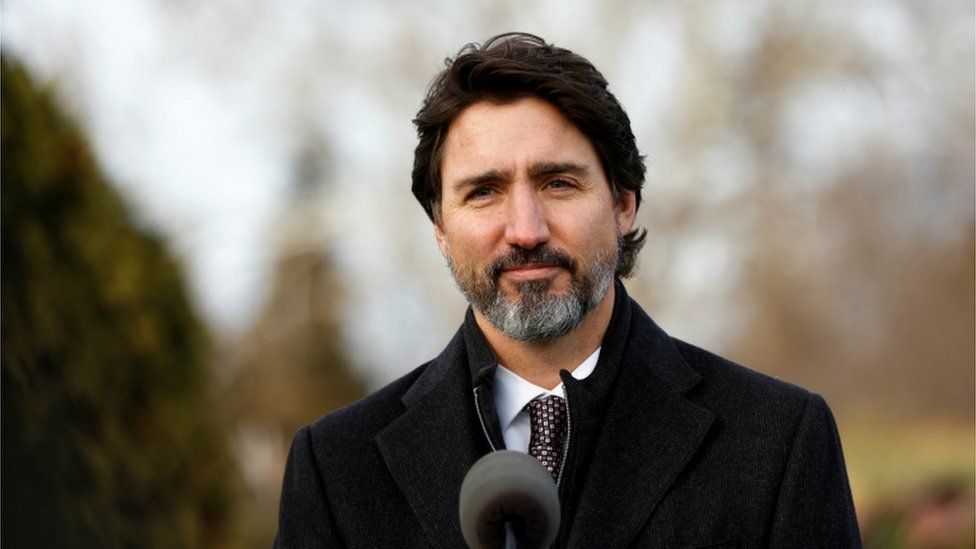 Prime Minister Justin Trudeau has unveiled his plans for achieving net-zero emissions in Canada by 2050.
His party has tabled a bill that would require the government to create new targets, and a plan on how it will achieve those targets, every five years between 2030-2050.
It would also have to regularly report on its progress towards those goals.
Critics say Canada has missed its stated environmental targets for over a decade, and this new bill has no teeth.
Canada is one of nearly 200 countries that has signed onto the Paris climate agreement. Signatories promise to achieve net-zero emissions beginning at some point between 2050 and 2100.
Net-zero means that all emissions produced are absorbed through plants and trees or buried through carbon-capture technology.
Countries must also report on their progress every five years, under the agreement.
Greenhouse gases have hit record lows because of the pandemic-induced economic slowdown. US emissions dropped by 9.2% this year, one recent study suggests.
Mr Trudeau's bill, which was tabled in parliament on Thursday, formalises this reporting requirement, and forces the government to set regular goals.
The bill does not provide any kind of enforcement mechanism, or attach any additional spending to achieve its goals. The bill also does not detail how the country will meet its five-year targets, it simply says the government will be required to come up with a plan.
"Canada is a magnificent country, but it didn't happen by accident and won't continue without effort," Mr Trudeau said.
Mr Trudeau made climate action a goal during his 2019 election campaign.
Canada has failed to meet its environmental targets in the past.
In 2011, then-Prime Minister Stephen Harper pulled Canada out of the Kyoto Protocol. The country had fallen well behind its targets, and was facing billions in penalties if it remained.
Under the Paris Agreement, Canada is supposed to reduce its emissions by 30% by 2030, compared to 2005 levels. The country will miss its 2020 target, and is on track to miss its 2025 target.
During Thursday's announcement, Mr Trudeau reiterated his pledge to "meet and exceed" those targets by 2030.
Mr Trudeau 's Liberal Party hold a minority in parliament, and the bill would need support from at least one other party in order to become law.
Critics in opposing parties say the bill fails to make any real headway.
Conservative MP, and environment critic, Dan Albas pointed out Mr Trudeau's repeated failures to meet targets.
"While the Liberals talk a big game when it comes to the environment, their track record tells a very different story," he said.
Green Party leader Annamie Paul said the bill was "smoke and mirrors", and said that without penalties the government will be able to ignore future targets.
"There are no targets and no specific actions designed to put Canada on a pathway to net zero. In short, there is no plan," she said.
How does Trudeau's plan compare to Biden's?
Climate change is an issue being tackled on both sides of the border.
The US officially exited the Paris climate agreement on 4 November, almost three years after President Donald Trump announced he would withdraw the country from the international accord. President-elect Joe Biden has promised to rejoin the day he enters office.
He has also promised to make US electricity production carbon-free by 2035 and to have the country achieve net zero emissions by 2050.
Mr Biden has proposed spending $2tr over four years to upgrade millions of buildings to make them more energy efficient, and investing in green energy.
One big thing that Mr Biden and Mr Trudeau differ on is pipelines, specifically, the Keystone XL pipeline that runs from Alberta to Nebraska.
During his campaign, Mr Biden pledged to cancel the pipeline, like former president, Barack Obama, did before him. Mr Trump revived the project, which is supported by Mr Trudeau and popular in Canada's oil-producing western provinces.