Covid: Fauci warns of 'surge in cases' post Thanksgiving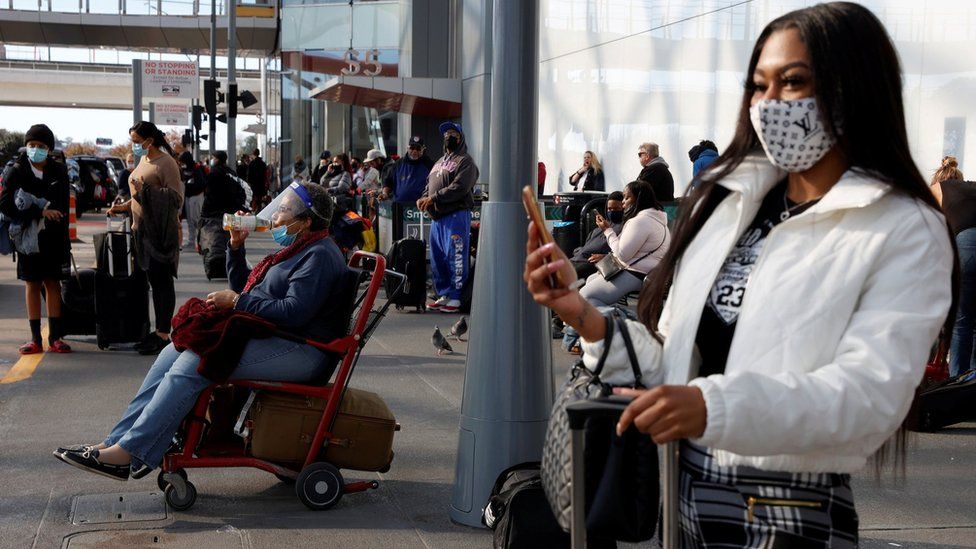 The US could see "surge upon surge" of coronavirus cases as people return home from the Thanksgiving holiday, a top US disease expert has warned.
Speaking on Sunday, Dr Anthony Fauci said it was "not too late" for those yet to travel to help curb the virus by wearing masks and socially distancing.
Thanksgiving typically heralds the busiest week for travel in the US.
The US has recorded more than 13 million coronavirus cases and more than 266,000 people have died.
Last year, an estimated 26 million people passed through US airports in the week surrounding the holiday.
Health experts had called for people to spend Thanksgiving at home, but this week US airports marked their busiest period since mid-March.
Anywhere from 800,000 to more than one million travellers passed through US airport checkpoints on any day during the past week, according to Transport Security Administration statistics.
"There is almost certainly going to be an uptick because of what has happened with the travel," Dr Fauci told CNN's State of the Union.
In another television appearance, he recommended Thanksgiving travellers to quarantine for a period of time "if it's possible".
Dr Deborah Birx, White House coronavirus response coordinator, echoed Dr Fauci's concerns, telling CBS News that people who had travelled for the holiday should avoid seeing relatives over the age of 65.
"Now we're entering this post-Thanksgiving surge with three, four and 10 times as much disease across the country," she said. "We are deeply worried".
Meanwhile, in New York City Mayor Bill de Blasio says schools can reopen in December, weeks after they were shut for a second time. Parents had complained that bars and restaurants were able to operate, but not schools.
And in California, Los Angeles county is imposing a new three-week lockdown from Monday, which will ban most public gatherings and limit the number of people allowed in shops at any one time.
This coming week, the Centres for Disease Control and Prevention is set to discuss the rollout of the vaccine with the Advisory Committee on Immunization Practices.
Dr Fauci said the vaccine offered a "light at the end of the tunnel".