Fort Hood: Soldiers fired and suspended after Vanessa Guillen probe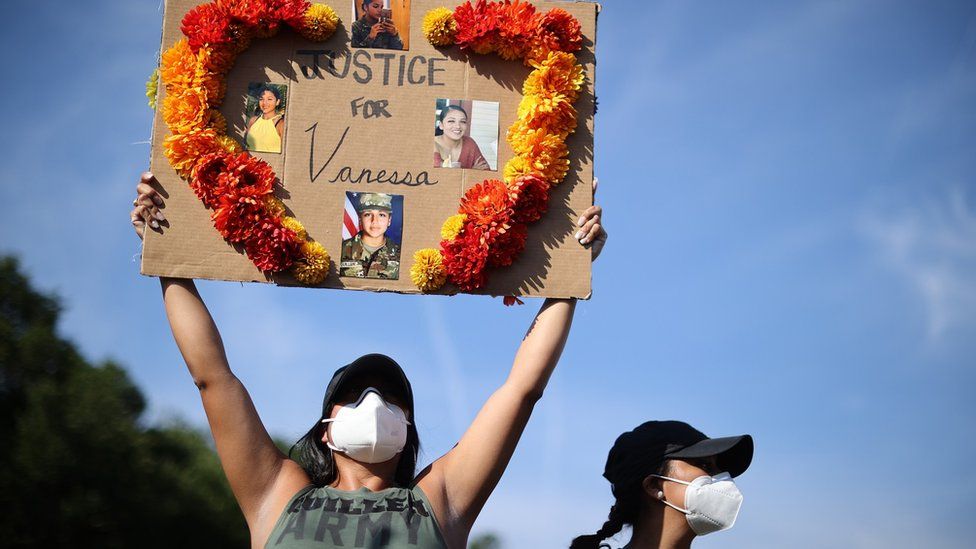 The US Army has fired or suspended 14 commanders and lower-level leaders at the Fort Hood base in Texas over a pattern of violence there, including murder, sexual assaults and harassment.
An investigation into problems at the base was launched following the killing of soldier Vanessa Guillen this year.
Army Secretary Ryan McCarthy said the "issues at Fort Hood are directly related to leadership failures".
The army has also ordered a new policy on dealing with missing soldiers.
The firings and suspensions announced on Tuesday include major generals Scott Efflandt and Jeffery Broadwater.
Mr McCarthy said Ms Guillen's murder "shocked our conscience and brought attention to deeper problems" at Fort Hood and in the US Army more widely.
It "forced us to take a critical look at our systems, our policies, and ourselves", he told reporters.
Ms Guillen's family allege that she had been harassed by Mr Robinson, but officials say they have no report to indicate she was sexually harassed or assaulted.
The case is still under investigation.
The action by the US Army on Tuesday follows a year that saw 25 soldiers assigned to Fort Hood die as a result of suicide, homicide or accidents, according to the Associated Press news agency.
A statement from the US Army said "when a senior leader loses trust and confidence in a subordinate commander or leader, it is appropriate and necessary to relieve that person."
Mr McCarthy also announced on Tuesday a new policy aimed at ensuring that the army "maximises efforts to find missing soldiers".
The policy requires commanders to classify missing soldiers as "absent-unknown" for up to 48 hours, while doing everything they can to locate the soldier and determine if their absence is voluntary before declaring them Awol, or absent without leave.