US fraternities busted for 'large-scale' drug ring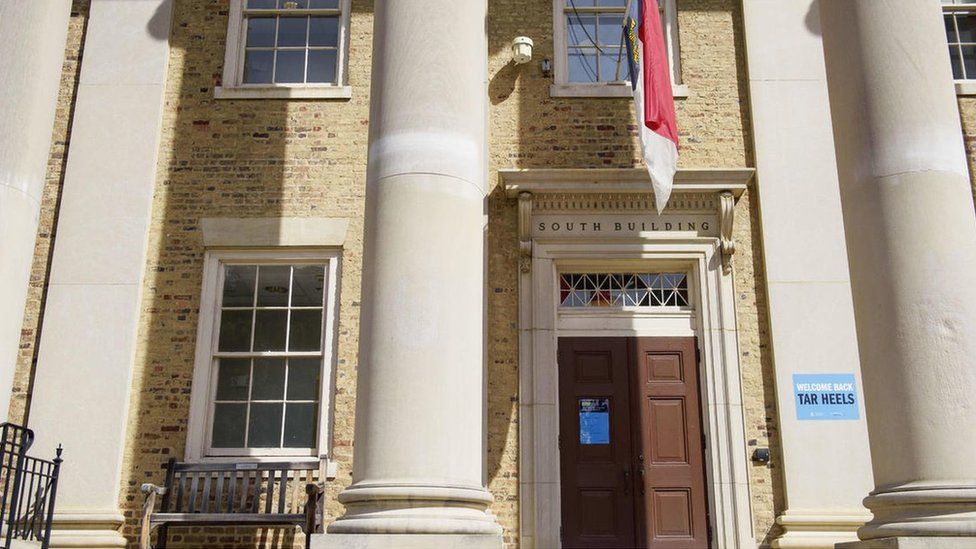 US prosecutors have charged 21 people, including current and former university students, with operating a cross-country drug ring within fraternities.
Officials in North Carolina allege that the fraternities, which are male student social clubs, trafficked huge quantities of drugs from California.
Prosecutors say the group "poisoned" other students at events and parties with a large variety of illegal drugs.
The group allegedly used encrypted apps to funnel over $1.5m (£1.1m) in profit.
"This is not the situation where you have single users, where you have a 19-year-old sipping a beer or you have someone who is taking a puff of a joint on the back porch of a frat house," said US Attorney Matthew GT Martin at a news conference on Thursday.
"These are 21 hardened drug dealers."
Those arrested range in age from 21 to 35, prosecutors said. At least 11 of them had enrolled in North Carolina universities including Duke University, the University of North Carolina at Chapel Hill and Appalachian State University. Seven have already pleaded guilty to some of the charges.
Officials say many of the drug deals were conducted behind closed doors in fraternity houses - "frat houses" - and involved the sale of cannabis, cocaine, LSD, ecstasy, mushrooms, steroids, human growth hormones and other street drugs.
"There were sales going on inside these houses, dealers set up inside these houses, poisoning fellow members of their fraternity, fuelling a culture," Mr Martin added. "That's why I say today is about saving lives because this reckless culture has endangered lives."
Among the charges they face are conspiracy to distribute cocaine, conspiracy to distribute marijuana and and distribution of a controlled substance within 1,000 feet (305m) of a public or private college or university.
The investigation began in 2018, with prosecutors later finding that drug sales were being conducted within the Gamma Delta, Kappa Sigma and Beta Theta Pi fraternity groups.
According to officials, 22 Phi Gamma Delta "pledges" - younger students seeking initiation into the group - pooled their money together one year to buy an ounce of cocaine for a spring break vacation.
The charging document alleges that between March 2017 and March 2019, the supplier in California shipped two kilos of cocaine and 200lbs of marijuana each week to the group in North Carolina.
All three of the universities involved have vowed to assist investigators. The three fraternities have all released statements promising to hold accountable any members who were involved.