Pink seesaws at US-Mexico wall win design award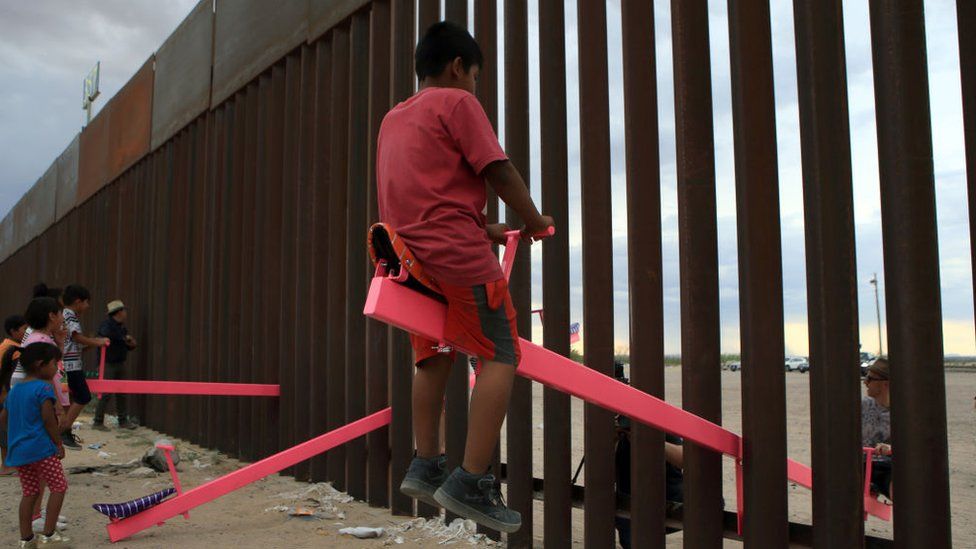 While a wall is usually designed to keep people apart, this see-saw installation managed to bring people on both sides of the Mexico-US border together.
And now the Teeter Totter Wall has won the 2020 Beazley Design of the Year award, which is run by London's Design Museum.
The seesaws were placed through sections of the wall and allowed people in both countries to play together.
They were installed by Ronald Rael and Virginia San Fratello at the Anapra zone in Ciudad Juarez in Mexico. Even though they were only in place for 20 minutes, video footage of people using them went viral.
The creators spent 10 years on the project and said they wanted to talk about the border issue in "a very frank way but using humour".
Tim Marlow, chief executive and director of the Design Museum, which awarded the installation the prize, said: "The Teeter-Totter Wall encouraged new ways of human connection. It remains an inventive and poignant reminder of how human beings can transcend the forces that seek to divide us."
More on the US-Mexico border wall