Biden inauguration: Global media consider 'colossal challenge'
By BBC Monitoring
Essential Media Insight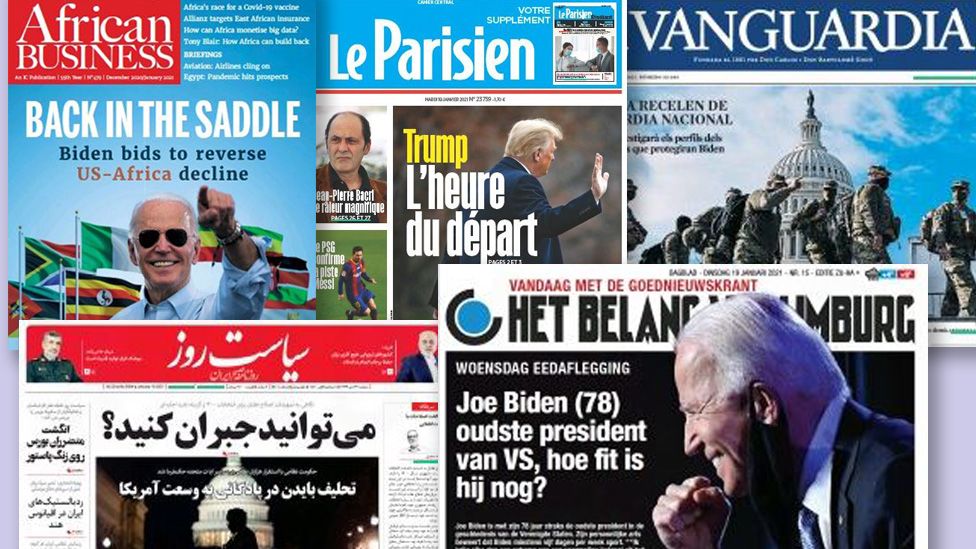 As Joe Biden prepares to move into the White House, countries around the world have been setting out their hopes - and reservations - about what the new administration will bring.
While much of the Russian media focused on the "unprecedented security measures" in the US capital, some outlets are trying to predict what Biden's presidency holds for Russian-US relations. 
"Overall, ahead of Joe Biden taking office, anti-Russian rhetoric in the US has significantly increased," observes news channel Rossiya 24.
"The future administration already intends to introduce tougher sanctions against Moscow," it says.
Pro-Kremlin daily Izvestia notes that "the prospects for Russian-US relations under the new US leader do not encourage optimism so far." 
'Cast out the time bombs'
China's state-run media have called for Biden to reverse the "Cold War" policies of Donald Trump, while directing much of their ire at outgoing Secretary of State Mike Pompeo.
Under the headline "New US administration should view Pompeo as a lunatic", the Global Times expresses the hope that the Biden team is "determined enough to cast out all the time bombs set by Pompeo". 
Biden faces a host of domestic issues that need his immediate attention, but Washington's allies will be eager to see how he addresses Iran's rapidly accelerating nuclear programme.
Trump imposed a slew of sanctions against Iran since he withdrew the US from the 2015 Iran nuclear deal. 
Supreme Leader Ali Khamenei has instructed the government to "pursue" the lifting of sanctions but said that its priority should be to "neutralise" them.
Meanwhile, President Hassan Rouhani hasn't minced his words on Trump's departure, describing the outgoing president as a "stupid terrorist". 
Much of the media focus in Lebanon - where Iran wields considerable power via its militant ally Hezbollah - has been dedicated to US-Iran relations. 
Lebanon's pro-Hezbollah Al-Akhbar newspaper takes a characteristically combative tone, saying that Biden "appears bent on building on the legacy of his predecessor's aggressive policies". 
"Today, Biden takes a challenge to unite the country broken by Trump," reads the headline in Spain's La Vanguardia. 
El Pais has posted a similar headline on its front page: "Biden facing a colossal challenge".
Germany's public broadcaster Deutsche Welle says that Biden could quickly change Trump's decisions affecting Yemen, Iraq and North Africa.
But Die Zeit predicts that US domestic issues, such as "overcoming political turmoil", would take priority over foreign policy goals. 
Die Welt expresses hope that the new US administration would restore trust in Nato and counter Russia, saying: "Unlike Trump, Biden sees Russia's President Vladimir Putin not as a friend, but as an opponent. Putin knows that."
Pundits in Ukraine think that the new administration will show more interest in Ukraine than its predecessor. At the end of 2020, Foreign Minister Dmytro Kuleba said he expected Ukraine's relations with its major ally to "rock and roll".
Since Biden's election victory was confirmed, Turkish officials have voiced hope about turning a "new page" in ties with Washington. 
Foreign Minister Mevlut Cavusoglu has said the "most important issue" is the situation in Syria, where the US has partnered with the Syrian Kurdish People's Protection Units, which Ankara sees as an extension of the outlawed Kurdistan Workers' Party.
Across the Arab world, editorials have been mulling the prospects of a shift in Washington's policies towards the region, especially with regards to the Palestinian-Israeli conflict.
Writing in Lebanon's Al-Joumhouria, Toni Essa predicted a growth in the influence of Israel under Biden: "At the start of his four-year term, it is likely that a new Middle East is about to be born, as a result of huge transformations."
India's The Economic Times reports that Biden's likely overhaul of US immigration policy will help Indians in the "Green Card queue".
Meanwhile, Latin American leaders know that Biden will initially be busy putting his own house in order following the divisive US election.  
But regional analyst Marcelo Cantelmi, writing in Argentine daily Clarin, expresses the fear that Latin America could be "absent" from Biden's top priorities as he seeks to untangle what Cantelmi called the "toxic legacy" of Trump.
African media are also reflecting on the end of Trump's presidency. 
Kenya's Swahili newspaper Taifa Leo carries the headline: "Trump leaves a shameful and damaged America", while a column in Nigeria's Premium Times describes Trump as "entitled, arrogant, callous and rude".
How can I watch the inauguration?
We will bring you all the latest developments, with analysis from reporting teams in Washington at the Capitol and on the National Mall.
•Online: Follow the latest updates and live video on the BBC News website and @BBCNorthAmerica. You can also stay up to date on our BBC News Facebook account and on Instagram
•Television: The BBC's Katty Kay in Washington DC presents live coverage of the key events around the inauguration on BBC One from 16:00-18:00 GMT and on BBC News Channel (UK only) and BBC World (Outside UK only) from 15:30-19:00 GMT