Marjorie Taylor Greene: Congresswoman faces expulsion threat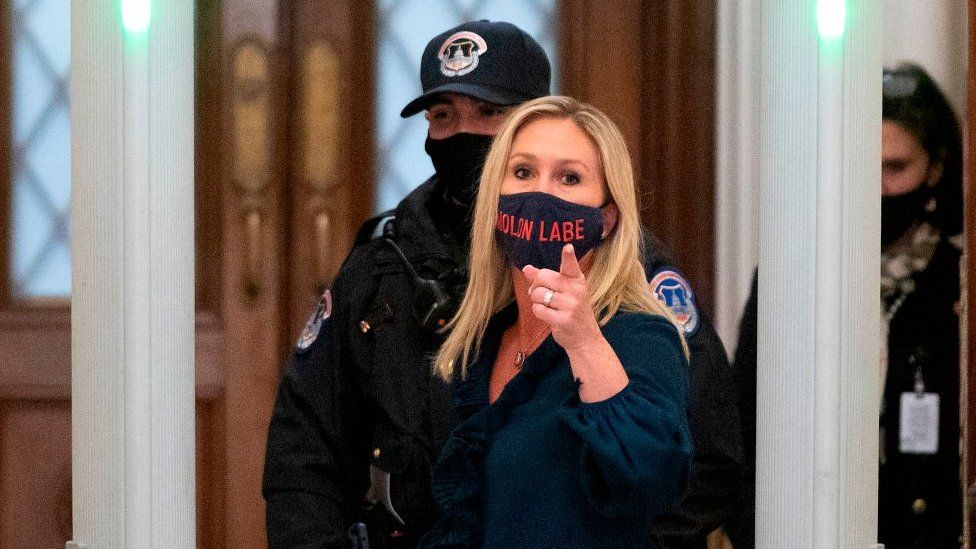 Democrats have introduced a resolution to strip a pro-Trump Republican lawmaker of her committee assignments over her past posts on social media.
Marjorie Taylor Greene has embraced conspiracy theories, including that school shootings and 9/11 were staged.
The group of Democrats that filed the resolution called it a "line-in-the-sand moment for the Republican Party".
The Georgia congresswoman last month introduced a measure attempting to impeach US President Joe Biden.
She tweeted on Monday: "If Democrats remove me from my committees, I can assure them that the precedent they are setting will be used extensively against members on their side once we regain the majority after the 2022 elections.
"And we will regain the majority, make no mistake about that."
Elected to Congress in November, Mrs Greene was assigned to the Education and Labour Committee and the Budget Committee by House Republican leader Kevin McCarthy.
How are Democrats trying to punish Greene?
Democrats contend that, because of her past remarks, she has "forfeited her right" to join these panels, particularly the education committee.
Congresswoman Debbie Wasserman Schultz, a Florida Democrat who is leading the resolution, said: "If Republicans won't police their own, the House must step in."
The resolution was co-sponsored by two other Democrats: Ted Deutch of Florida and Jahana Hayes of Connecticut.
On Monday, House Democratic Majority Leader Steny Hoyer delivered an ultimatum to Mr McCarthy, calling on him to remove Mrs Greene from the two committees within 72 hours or Democrats would bring the issue to the House floor.
In addition, California Democrat Jimmy Gomez now has 61 of his colleagues co-sponsoring a longshot resolution to expel Mrs Greene from Congress itself, accusing her of "extremism".
Even some of Mrs Greene's fellow Republicans have repudiated her.
Senate minority leader Mitch McConnell on Monday condemned the conspiracy theories she has espoused as "loony lies" and "cancer for the Republican party".
Have lawmakers previously been expelled?
In 2019, Mr McCarthy removed Iowa congressman Steve King from two committees he sat on after an interview in which he questioned why white supremacy was considered offensive.
However, he has not indicated whether he will do so again in the case of Mrs Greene, instead saying - through a spokesperson - that he "plans to have a conversation with her" about the social media posts.
It is unclear if Republicans will take any action against their colleague for comments she made as a private citizen.
Expelling a lawmaker from Congress altogether requires a two-thirds majority, a high bar. Only five members have ever been expelled from the House, according to the Congressional Research Service.
Mrs Greene is not the only lawmaker to have made incendiary remarks.
On the other side of the political spectrum, left-wing Minnesota congresswoman Ilhan Omar caused uproar in 2019 with tweets that were widely construed as anti-Semitic.
Democrats in the House voted to condemn anti-Semitism, though their resolution did not name Ms Omar. She apologised for having implied US lawmakers only support Israel because of lobby money, and no action was taken against her.
Who is Marjorie Taylor Greene?
Mrs Greene filed articles of impeachment last month against President Biden, accusing him of corruption and abuse of power. She also alleged that he let his son, Hunter Biden, "siphon cash from America's greatest enemies Russian and China".
Her sympathies for the fringe group Q-Anon were public knowledge when she first ran for a congressional seat in north-west Georgia last year.
A staunch supporter of former US President Donald Trump, she has previously suggested that 2016 Democratic White House nominee Hillary Clinton was involved in a child mutilation and paedophilia ring.
Her social media accounts have "liked" comments calling for the murder of Democratic politicians.
In 2018 Mrs Greene suggested the September 11, 2001 attacks were part of a government conspiracy.
That same year, she theorised baselessly that California wildfires might have been ignited by a space laser controlled by a cabal, including the Rothschild banking firm.
She once said black people "are held slaves to the Democratic Party" and that white males are the most repressed group in the US. She has also claimed that several high-profile school shootings were staged.
In a recently unearthed video recorded a few weeks after the February 2018 mass shooting at Marjory Stoneman Douglas High School in Parkland, Florida, Mrs Greene followed gun-control activist David Hogg, a survivor of the attack, as he visited senators at the US Capitol, peppering him with questions about why he wanted to confiscate her firearms.
The Republican party's strategy for handling Marjorie Taylor Greene appears to hope that she eventually fades into the back benches of the House of Representatives, where most junior members of Congress languish for years.
The Democrats, however, seem unwilling to let that happen.
Their threat to strip Mrs Greene of her committee assignments is just the latest attempt by the Democratic House majority to force Republican minority leader Kevin McCarthy's hand. The strategy is clear - either make Republicans own Mrs Greene's extremist conspiracy theories to their political detriment, or distance themselves from her, risking a rift with the party's Trumpist base.
Some Democrats may be uneasy with the vote to sanction Mrs Greene, though, given the precedent it would set. A future Republican majority in the House could very easily try a similar move against Democrats it believes deserve punishment.
The anger among Democrats over Mrs Greene's conspiracy-mongering - particularly around high-profile school shootings - is very real, however.
It will be difficult for Mr McCarthy to act now and appear to give in to Democratic demands, particularly if Mrs Greene has former President Trump's backing.
It sets up a high-stakes showdown in the House at a time when partisan tensions in the chamber are already high.