Ferret becomes first North American endangered species to be cloned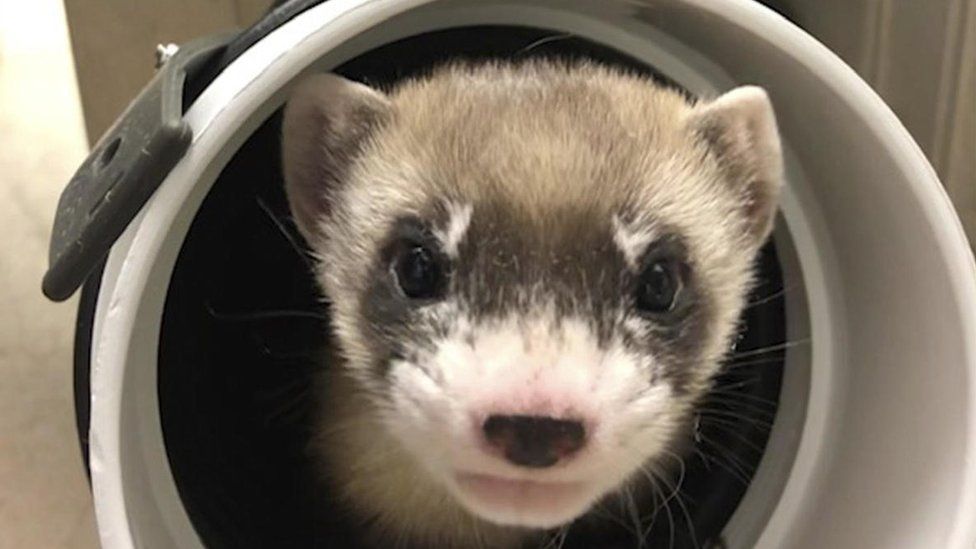 US scientists have successfully cloned a highly-endangered black-footed ferret using DNA from an identical animal that has been frozen since 1988.
The birth of the ferret, named Elizabeth Ann, was announced by the US Fish and Wildlife Service. The cloning is a first for a US endangered species.
Once thought to be extinct, all black-footed ferrets are descended from seven ancestors that were found in 1981.
Scientists say the clone will help increase the population's gene pool.
Elizabeth Ann's birth on 10 December was announced as a "bold step forward" by the US Fish and Wildlife Service (USFWS) on Thursday.
She was cloned from the DNA of an animal named Willa.
Willa was not one of the original seven ancestors. Before those ferrets were found in 1981 on a ranch in the state of Wyoming, it was believed that the species had gone extinct forever.
Willa, who has no living descendants, was captured in the wild and researchers hope that her clone will increase genetic diversity and help the severely-threatened species recover.
"Although this research is preliminary, it is the first cloning of a native endangered species in North America, and it provides a promising tool for continued efforts to conserve the black-footed ferret," said Noreen Walsh, director of the USFWS Mountain-Prairie Region.
Elizabeth Ann will not be released into the wild. She will instead live at the Colorado facility where she was born so that researchers can study her.
The ferret was created by pet cloning company ViaGen Pets & Equine, which successfully transferred the embryo into a surrogate ferret.
Last summer, the company cloned an endangered Mongolian wild horse using the same process. The Przewalski horse, which was cloned from the 40-year old DNA of a wild stallion, was named Kurt.
The black-footed ferret is North America's only ferret species and is among the most endangered mammals in North America.
Tens of thousands of minks - a close relative of the ferret - have died after catching the coronavirus from humans. Million of minks have been culled in Europe to prevent the spread of the virus.