LeBron vs Zlatan: Who won the politics bout?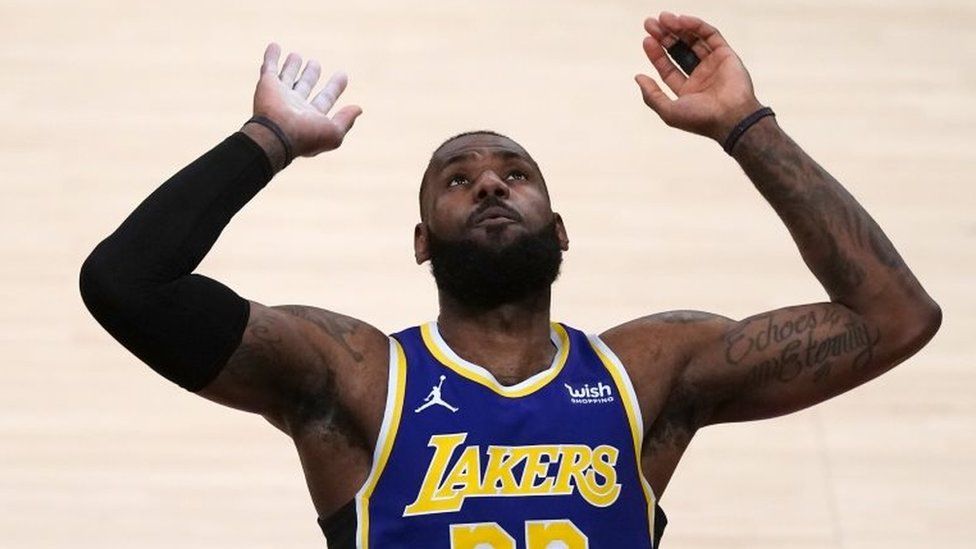 Basketball superstar LeBron James has come out fighting after Swedish football legend Zlatan Ibrahimovic told him to stay out of politics.
Ibrahimovic said in a TV interview sports figures like James should not get involved as "it doesn't look good".
James fired back: "I will never shut up about things that are wrong."
Pointing out Ibrahimovic's own past complaints about racism in Sweden, James said: "I'm kinda the wrong guy to actually go at... I do my homework."
The two are megastars in their respective sports.
Ibrahimovic, in an interview with UEFA and Discovery+ in Sweden, criticised the political activism of sports stars.
"Do what you're good at. Do the category that you do. I play football because I'm the best at playing football, I'm no politician. If I'd been a politician, I would be doing politics.
"This is the first mistake famous people do when they become famous and come into a certain status. For me it is better to avoid certain topics and do what you're best at doing, because otherwise it doesn't look good."
James's response after his LA Lakers beat the Portland Trail Blazers on Friday night was unequivocal.
"I would never shut up about things that are wrong," he said.
"I preach about my people and I preach about equality, social injustice, racism, systematic voter suppression, things that go on in our community.
"There's no way I would ever just stick to sports, because I understand how powerful this platform and my voice is."
James also appeared confused at Ibrahimovic's statements, as the football star has regularly spoken out against racism.
James said: "He's the guy who said in Sweden, he was talking about the same things, because his last name wasn't a [traditional Swedish] last name, he felt like there was some racism going on when he was out on the pitch."
Ibrahimovic did indeed in 2018 tell French broadcaster Canal+ he did not receive the same treatment as other Swedish athletes, saying: "This is about racism. I don't say there is racism, but I say there is undercover racism."
He was similarly outspoken talking to the BBC in December:
But he has also had to defend himself, particularly after certain comments to Romelu Lukaku in a heated exchange in January's derby with Inter Milan.
For his part James has faced criticism for his political activism before.
He clashed with then President Donald Trump over the act of kneeling to protest against systemic racism.
Fox News journalist Laura Ingraham told him to "shut up and dribble".
Zlatan Ibrahimovic, 39, is an ex-Sweden international who has played in the top division of seven countries in a career that started more than two decades ago.
He has won more than 30 trophies, scored more than 500 career goals and is still going strong in the top leagues at 39 - now back with AC Milan.
Before that he was with the Galaxy in Los Angeles - James's current home town.
LeBron James, 36, is widely considered one of the greatest players in NBA history.
He has won the NBA title with three different franchises - the Cleveland Cavaliers, Miami Heat and Los Angeles Lakers - and has been the finals MVP for all of them.