Alexei Navalny: US imposes sanctions on Russians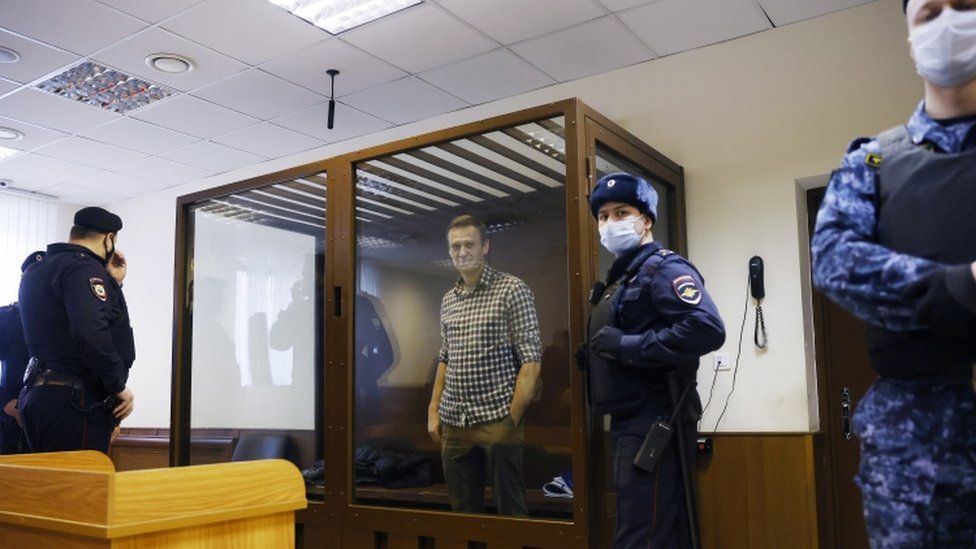 The US has imposed sanctions on senior Russian officials over the poisoning of opposition leader Alexei Navalny.
The measures, which target Russia's top spy and six others, are being co-ordinated with similar moves by the European Union.
US officials said intelligence had concluded that the Moscow government was behind the near-fatal nerve agent attack on Navalny last year.
He is the most high-profile critic of President Vladimir Putin.
Moscow denies involvement in his poisoning and disputes the conclusion, by Western weapons experts, that Navalny was poisoned with a Novichok agent during a flight in Siberia.
The term Novichok - "newcomer" in Russian - applies to a group of nerve agents developed in a lab by the Soviet Union during the Cold War. They paralyse muscles and can lead to death by asphyxiation.
What measures has the US taken?
Sanctions are being imposed on seven senior Russian officials and 14 entities involved in chemical and biological production, administration officials said.
"Russia's attempt to kill Mr Navalny follows an alarming pattern of chemical weapons use by Russia," one official said.
Under the sanctions, the assets of the officials in the US are frozen.
Those targeted include Alexander Bortnikov, who heads the FSB, Russia's main intelligence agency, as well as deputy Defence Ministers Alexei Krivoruchko and Pavel Popov.
The sanctions are the first imposed on Russia by the administration of President Joe Biden. He has taken a tougher stance than his predecessor Donald Trump towards President Putin.
After phoning his Russian counterpart last month, Mr Biden said he had made it clear the days of the US "rolling over in the face of Russia's aggressive actions, interfering with our elections, cyber-attacks, poisoning citizens are over".
What about the European Union?
In a co-ordinated move, the EU announced on Tuesday that it had targeted four Russian government officials.
They are Alexandr Kalashnikov, the head of the Russian prison system, Alexandr Bastrykin, chairman of the Investigative Committee, Chief Prosecutor Igor Krasnov, and Viktor Zolotov, who heads of the National Guard.
The sanctions include travel bans and asset freezes.
The BBC's Kevin Connolly in Brussels says they are a compromise between the Baltic states, which see Russia as a dangerous neighbour, and countries - notably Germany - which rely on Russian gas imports.
The move follows an earlier series of EU sanctions. In October the bloc imposed travel bans and asset freezes on six Russian officials, including Mr Bortnikov, accused of involvement in the poisoning.
A chemical weapons research centre was also targeted. Russia responded with tit-for-tat sanctions.
This is the first step by the Biden administration to respond to what it calls Russia's "malign" activity. It is a sharp turn away from the approach of the former president, Donald Trump, who was reluctant to confront the Russian leader Vladimir Putin.
US officials said they were seeking neither an escalation nor a reset with Russia. The goal is to have a "predictable and stable" relationship that leaves space for co-operation on areas such as nuclear proliferation - but also to be clear that there are costs for behaviour that crosses boundaries "respected by responsible nations".
The US is also seeking to work with European allies. The officials said the US was catching up with measures the EU had taken earlier and mirroring others it was taking now.
Further sanctions could be levied in three other areas under review. These include allegations that Russia interfered in the 2020 presidential election, carried out a cyber-hack of US government networks, and paid bounties to Taliban linked militants for killing US soldiers in Afghanistan.
The Russian government responded even before the US and EU moves were confirmed.
Early on Tuesday Foreign Minister Sergei Lavrov reiterated his claim that the West was "hiding the facts that could help to understand what had happened" to Navalny and was unfairly punishing Russia.
"We have repeatedly expressed our position in regards to illegitimate unilateral sanctions that... are used by the colleagues from the United States and those who take an example from them, the European Union," he said.
His government would respond in kind to any sanctions, he added.
An anti-corruption campaigner, he has long been the most prominent face of Russian opposition to Mr Putin's rule.
The 44-year-old blogger has millions of followers on social media. He managed to get some of his supporters elected to councils in Siberia in 2020.
Navalny was poisoned and fell into a coma during a flight to Siberia last August. He was airlifted to Germany, where he recovered. In January he decided to return to Russia and was arrested on arrival.
A court last month found that Navalny had violated the terms of an earlier sentence for embezzlement by not turning up to the probation office while he was being treated in Germany.
His suspended sentence was turned into an actual prison term of two-and-a-half years. Last week he was sent from detention in Moscow to a penal colony to serve out the sentence.
Navalny and his supporters say all charges against him are politically motivated. President Biden and EU leaders have called for his immediate release.