Who was George Floyd and what happened to Derek Chauvin?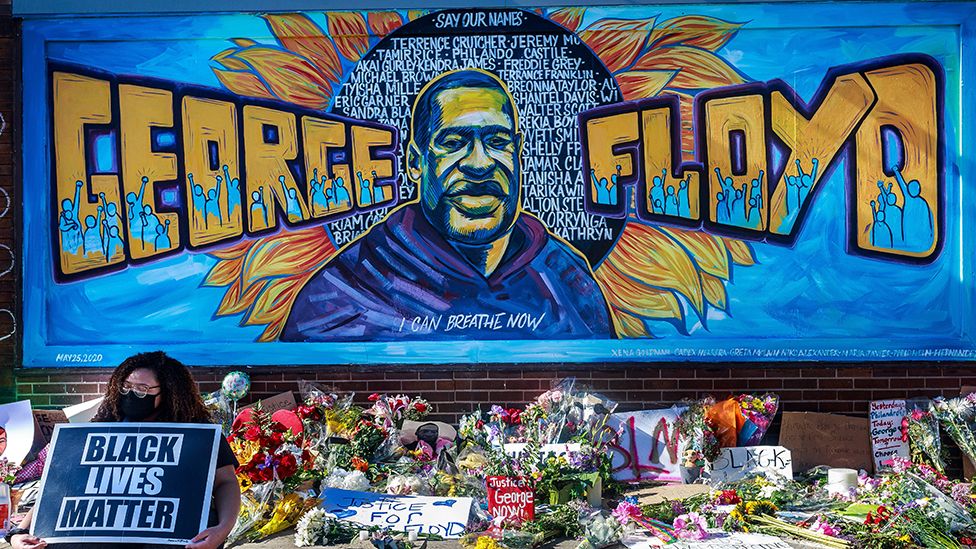 A year has passed since George Floyd - an unarmed African American man - was murdered during an arrest by white officer Derek Chauvin.
Videos of the incident - which showed Chauvin kneeling on Mr Floyd's neck for several minutes - triggered protests across the US and around the world over police brutality and racism in law enforcement.
What happened to George Floyd?
The 46-year-old bought a pack of cigarettes at a convenience store in South Minneapolis on the evening of 25 May 2020.
A shop assistant believed he had used a counterfeit $20 bill and called the police after Mr Floyd refused to return the cigarettes or pay again.
Officers arrived and handcuffed him but when they tried to put him into the squad car, he resisted. A struggle ended with Mr Floyd face down on the street.
That's when onlookers began filming.
Chauvin, 44, placed his left knee on Mr Floyd's neck and shoulder, and kept it there for more than nine minutes, according to prosecutors. Two other officers helped pin him down, while another prevented witnesses from intervening.
More than 20 times Mr Floyd said he could not breathe. The video shows him going limp and being carried away by police.
He was pronounced dead in hospital an hour later.
Chauvin was the most senior officer involved in Mr Floyd's arrest and faced the most serious charges of the four.
The 19-year Minneapolis Police Department veteran's record of policing included both commendations and complaints about conduct.
In 2006, Chauvin was recommended for a medal of valour for his role in the shooting of a man who aimed a shotgun at officers.
There were at least 15 conduct complaints against him prior to the killing of Mr Floyd. Most were closed without discipline.
The day after his arrest, a lawyer for his wife Kellie said she had filed for divorce.
What happened at Derek Chauvin's trial?
The highly-charged trial, which began on 29 March, lasted three weeks and left Minneapolis on edge.
A twelve-member jury heard from 45 witnesses and saw several hours of video footage.
Several eyewitnesses broke down in tears as they watched graphic footage of the incident and described feeling "helpless" as events unfolded.
Mr Floyd's girlfriend of three years and his younger sibling also took the stand.
Expert witnesses on behalf of the state testified that Mr Floyd died from a lack of oxygen due to the manner of restraint employed by Chauvin and his colleagues.
Chauvin himself chose not to testify, invoking his right to not incriminate himself with his responses.
Jurors took less than a day to reach their unanimous verdict, finding Chauvin guilty on all three charges: second-degree murder, third-degree murder and manslaughter.
Sentencing will take place in June, and Mr Chauvin could spend decades in jail.
His lawyers have requested a new trial, but the motion is not likely to be granted.
The other three police officers will come before the courts in August.
How did the US react to George Floyd's murder?
The four police officers at the scene were fired the following day, as crowds took to the streets of Minneapolis to protest.
The station where they worked was set ablaze and demonstrations quickly spread to other cities.
By the sixth night, there were protests in 75 cities across the US - some violent - and a national debate about police brutality against African-Americans was reignited.
An anti-racism movement created in 2013 after the killing of teenager Trayvon Martin, Black Lives Matter, was re-energised.
Even very white, small towns in rural parts of the US held protests to remember Mr Floyd and take a stand against racial injustice.
Reforms were introduced by lawmakers to change the way some police forces make arrests and detain suspects.
But the conversation soon widened from policing to issues such as workplace equality, unconscious bias and the legacy of slavery.
After the verdict, the Floyd family's lawyer, Ben Crump, said the conviction marked a "turning point in history" for the US.
It is rare that police officers in the US are charged, let alone convicted, for use of lethal force.
President Joe Biden and Vice-President Kamala Harris called the Floyd family after the verdict. Mr Biden was heard saying that "at least now there is some justice".
In nationally televised remarks shortly afterwards, Mr Biden said: "Systemic racism is a stain on the whole nation's soul."
What happened outside the US?
Anti-racism protests were held in countries across the world in response to the death.
Many focused on their own victims of alleged police violence.
In Australia, the focus was on the indigenous community, while in the UK, a statue of a 17th Century slave trader was torn down and thrown into Bristol harbour.
Many corporate brands also expressed support for Black Lives Matter, while many athletes now "take the knee" in solidarity before events.