Covid: How ethnicity and wealth affect US vaccine rollout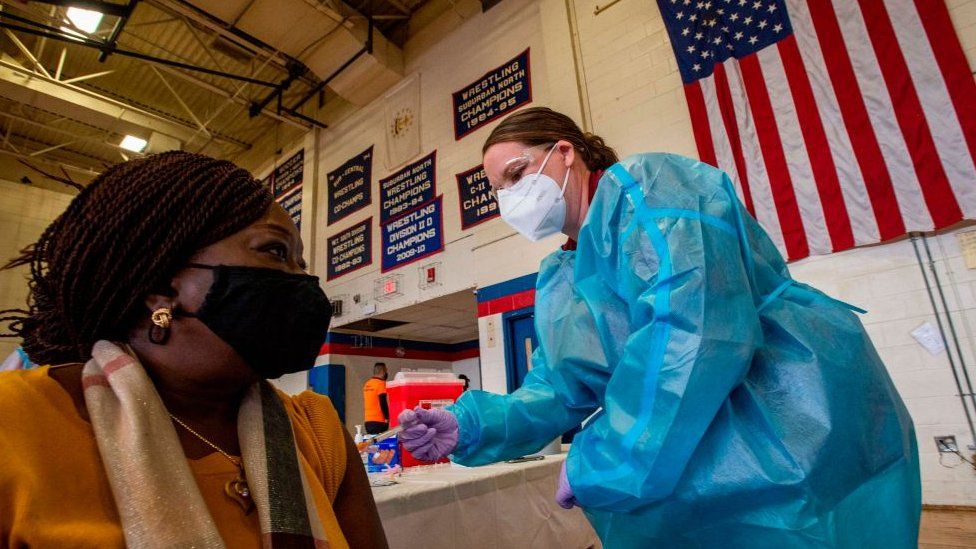 The US vaccination rollout among people belonging to ethnic minorities is significantly behind that of white Americans - and wealthier areas are often getting jabs first, according to the latest data.
We have looked into the numbers and the possible reasons behind the disparities.
What do the figures show?
Of those who have received their first dose, 7.6% are black and 8.7% are Hispanic, despite these groups comprising more than 13% and 18% of the US population respectively.
But it is important to bear in mind only about half of those vaccinated have their ethnicity recorded.
And the black and Hispanic populations are younger so less likely to be in the age groups prioritised in the initial phases of the vaccination programme.
But alongside other reports, it is clear vaccinations for people belonging to minorities are lagging behind the white population.
A Kaiser Family Foundation (KFF) study of states reporting vaccination data by ethnicity shows white people are being vaccinated at almost twice the rate of black Americans on average, and significantly more than that in some states.
"What we are seeing right now is a pretty consistent trend across the states that shows gaps in vaccinations for black and Hispanic people, although the size of those gaps varies," the KFF's Racial Equity and Health Policy Program director, Samantha Artiga, says.
White people are more than twice as likely to have been vaccinated as Hispanic Americans, on average, but nearly five times in Georgia and over four times in several other states.
"In many communities of colour, there is historical distrust of government - and even some healthcare systems," American Public Health Association executive director Dr Georges Benjamin says.
There is a history of unethical medical experimentation on black Americans.
For several decades from the 1930s, syphilis was left untreated in hundreds of black American without their knowledge, as part of an experiment, in what became known as the Tuskegee scandal, for example.
A poll in December showed black people in particular were far more likely than white people to fear vaccination, although this has improved in surveys since.
There are other problems with trust when it comes to Hispanic Americans, who, Dr Benjamin says, are sometimes concerned about their immigration status or feel they may be profiled.
"In most cases [when being vaccinated], you have to put your name down and show an ID," he says.
"And if don't have an ID, that may put you at risk - that certainly plays a role in distrust."
"Particularly at this early stage of the vaccine rollout, a lot of these gaps reflect differential access to the vaccines," Ms Artiga says.
"It is dependent on access to high-speed internet to sign up to online appointments, having transportation to a vaccination clinic, having flexibility in one's work and caregiving schedule."
This means people in wealthier neighbourhoods with more resources are often vaccinated first.
And people belonging to ethnic minorities in the US are typically poorer, with the poverty rate among Hispanic or black Americans more than twice that of their white counterparts, according to the latest data.
Dr Benjamin says: "We've always known there's been a strong correlation with wealth and health - and this plays out with Covid vaccinations."
Taking New York City as an example, we can see areas with a higher average household income have received more jabs.
What action is being taken?
The Biden administration has promised $250m (£180m) for outreach initiatives to encourage vaccination among underserved populations.
More vaccine clinics - and doses - are now becoming available in some poorer areas.
And the hesitancy gap affecting people belonging to ethnic minorities appears to be narrowing.