MLB: All-Star Game leaves Georgia to protest against voting law
By Cody Godwin
BBC News, San Francisco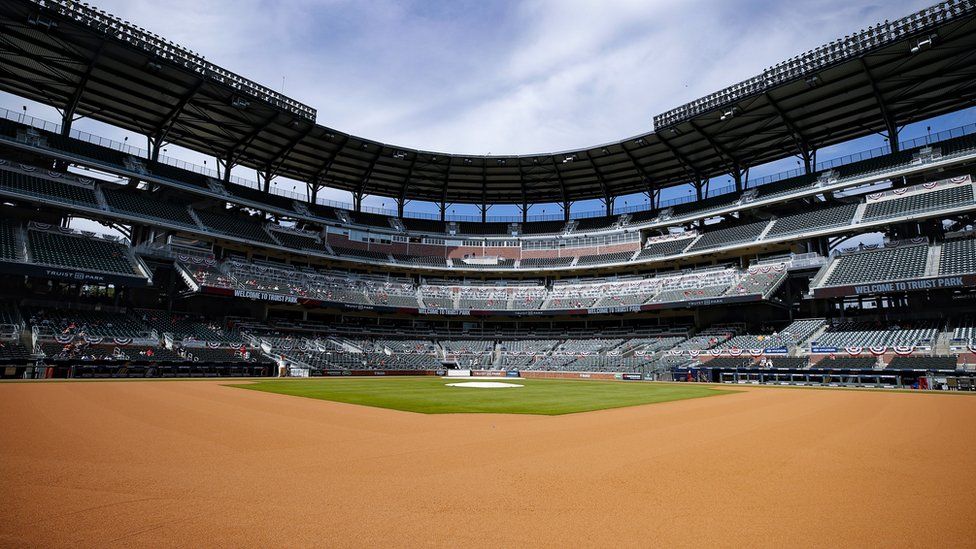 The US professional baseball league has said it will pull the 2021 All-Star Game and the Draft out of Georgia in protest of a restrictive voting law in the state.
Major League Baseball "fundamentally supports voting rights for all Americans and opposes restrictions to the ballot box," the Commissioner of Baseball Robert D Manfred, Jr said.
A new host city has not been announced.
The new law has received criticism from voting rights advocates.
It restricts ballot access by placing limits on absentee voting, shortens periods for run-off elections and forbids the practice of giving food or water to voters waiting to cast ballots, among other things.
Georgia's Governor, Republican Brian Kemp, signed the bill into law last week.
Following the league's announcement, he accused it of caving in to "fear, political opportunism, and liberal lies" and placed blame on "cancel culture and woke political activists".
"We will continue to stand up for secure, accessible, fair elections," he said on Twitter.
I will not back down. Georgians will not be bullied. We will continue to stand up for secure, accessible, fair elections.

— Governor Brian P. Kemp (@GovKemp) April 2, 2021
The game was scheduled to play on 13 July at Truist Park in Cobb County, just outside of Atlanta.
The Braves, Georgia's Major League Baseball (MLB) team, said they are "deeply disappointed" by the decision.
"Businesses, employees, and fans in Georgia are the victims of this decision," they said in a statement.
The All-Star Game is an annual event that is played at different ballparks around the country and is estimated to generate anywhere from $37m to $190m for the local economy.
The 2020 All-Star Game was cancelled due to the pandemic.
Atlanta Mayor, Democrat Keisha Lance Bottoms, tweeted in support of the MLB's decision and said she believed it would be the "[first] of many dominoes to fall" in the aftermath of the state's new voting laws.
Just as elections have consequences, so do the actions of those who are elected. Unfortunately, the removal of the @MLB All Star game from GA is likely the 1st of many dominoes to fall, until the unnecessary barriers put in place to restrict access to the ballot box are removed.

— Keisha Lance Bottoms (@KeishaBottoms) April 2, 2021
New ID requirements for requesting mail-in ballots, instead of only requiring a signature
Ban the practice of giving food or water to voters in line at polling stations
Limit the number of "drop boxes" in which people can place their absentee votes
Shorten the early-voting period for all runoff elections
Earlier this week, President Biden told ESPN he would support the MLB moving the game out of the state and called Georgia's new law "Jim Crow on steroids," referring to the 19th and 20th Century laws that enforced racial segregation in the South.
NEW: Joe Biden tells ESPN he would "strongly support" Major League Baseball moving the All Star Game out of Atlanta in response to the new voter suppression law enacted by Georgia lawmakers.

Biden called the law: "Jim Crow on steroids." pic.twitter.com/m55l2AdN7Y

— More Perfect Union (@MorePerfectUS) April 1, 2021
Democratic Senator Raphael Warnock, who was elected after a run-off vote earlier this year, called the decision an "unfortunate consequence" of the new law.
"It is my hope that businesses, athletes, and entertainers can protest this law not by leaving Georgia but by coming here and fighting voter suppression head on, and hand-in-hand with the community" he said.
Cody Godwin is a reporter based in San Francisco. For more news, follow her on Twitter at @MsCodyGodwin