Indigenous schools: Trudeau tells Catholic Church to take responsibility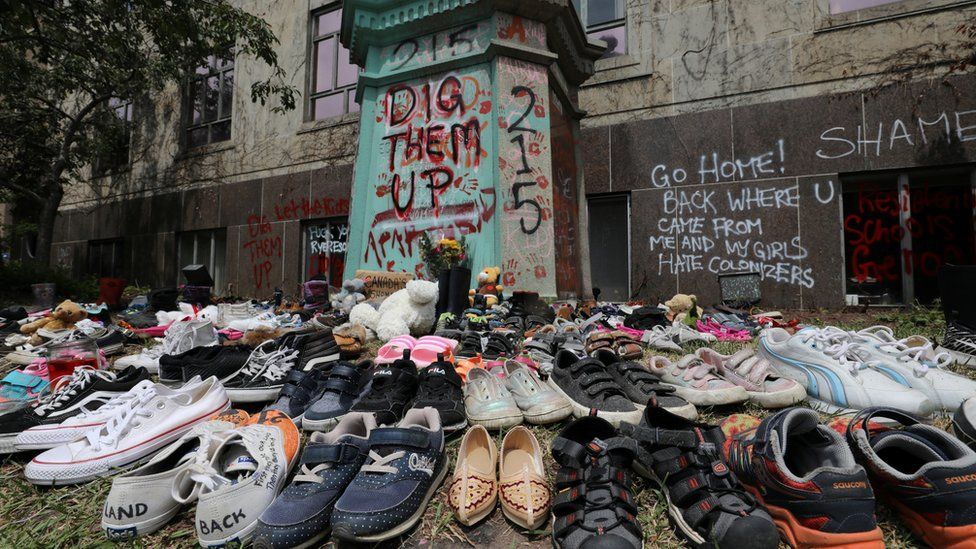 Canadian Prime Minister Justin Trudeau has urged the Catholic Church to "take responsibility" for its role in indigenous residential schools.
The remains of 215 children were found buried in one school last month, prompting nationwide outrage.
Mr Trudeau said requests for the Church to release its records on the schools had been met with "resistance".
The government-run boarding schools were set up for the forced assimilation of indigenous children.
They were part of official policy, which aimed to destroy indigenous cultures and languages.
The children whose bodies were found in May were pupils of the Kamloops Indian Residential School in British Columbia, which closed in 1978.
The graves were discovered during an ongoing investigation by the Tk'emlúps te Secwépemc First Nation in western Canada into the deaths of residential school students.
Some of the children were as young as three.
"As a Catholic, I am deeply disappointed by the position that the Catholic Church has taken now and over the past many years," Mr Trudeau told reporters.
He described visiting the Vatican in May 2017 and seeking a formal apology from Pope Francis for the abuse of pupils.
He also asked for access to Church records to help account for more than 4,100 pupils believed to have died from disease or malnutrition, he said, adding that they are "still seeing resistance from the Church".
Asked if the government was considering taking legal action to gain access to the records, Mr Trudeau said: "I think, if it is necessary, we will take stronger measures."
But he added: "Before we have to start taking the Catholic Church to court, I am very hopeful that religious leaders will understand that this is something they need to participate in."
The Kamloops Indian Residential School was opened under Roman Catholic administration in 1890, and had as many as 500 pupils when enrolment peaked in the 1950s.
Many children were sent to live at the school hundreds of miles from their families.
The central government took over administration of the school in 1969. Between then and 1978, it was used as a residence for students attending local day schools.
Mr Trudeau urged Canadian Catholics to "reach out [to their] local parishes, to bishops and cardinals, and make it clear that we expect the Church to step up and take responsibility for its role in this and be there to help in the grieving and the healing, including with records".
"It's something a number of other churches... have done. It's something we are all still waiting for the Catholic Church to do," he said.
"We need to have truth before we can talk about justice, healing and reconciliation."
More on residential schools in Canada: