FBI drops demand for newspaper readers' data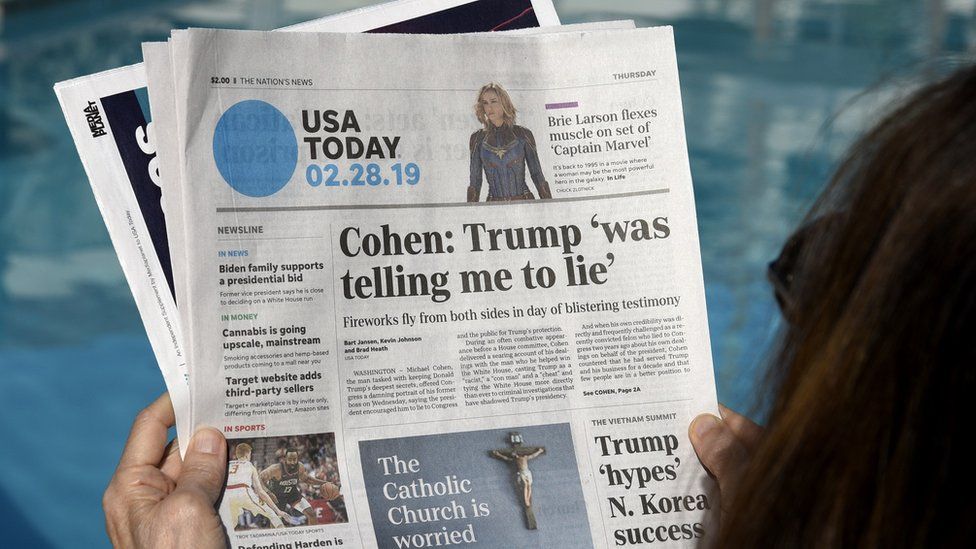 The US Federal Bureau of Investigation has dropped an attempt to obtain data about readers of an online newspaper article as part of an investigation.
USA Today's owner resisted the demand to hand over records of who had read a report on the killing of two FBI agents during an operation in Florida.
It asked a judge to quash the demand, citing freedom of the press.
The FBI told the BBC it no longer needed the data because of "intervening investigative developments".
The subpoena had sought the IP addresses and phone numbers for readers of the story between 00:03 and 00:38 GMT on 3 February. IP addresses can be used to find a computer's location and owner.
"The information sought through this subpoena relates to a federal criminal investigation being conducted by the FBI," the order had read.
The FBI also told BBC News it "did not seek any communications records of journalists".
Gannett asked a court to cancel the subpoena, saying it breached the first amendment of the US constitution, which protects the free press from government interference.
"Being forced to tell the government who reads what on our websites is a clear violation of the first amendment," said Maribel Perez Wadsworth, USA Today's publisher.
"The FBI's subpoena asks for private information about readers of our journalism."
Ms Wadsworth said the FBI's order broke the justice department's guidelines on the "narrow circumstances" in which the government can subpoena reporters.
Although Gannett's lawyers had tried to contact the FBI, the agency had not provided it with an explanation for the subpoena, she added.
Gannett's lawyers said the order was unconstitutional, and invaded the rights of both the news organisation and its readers, citing a Supreme Court judgement that said: "A requirement that a publisher disclose the identity of those who buy his books, pamphlets or papers is indeed the beginning of surveillance of the press".
In a separate development, the justice department announced on Saturday that it would no longer secretly obtain reporters' records during leak investigations.
"In a change to its longstanding practice", justice department spokesman Anthony Coley said, the department would "not seek compulsory legal process in leak investigations to obtain source information from members of the news media doing their jobs".
Both Democratic and Republican administrations have used subpoenas and court orders to obtain journalists' records in an effort to identify the sources of leaks.
In 2013, federal investigators secretly seized two months of phone records for Associated Press journalists, which prompted criticism of Mr Trump's Democratic predecessor, Barack Obama.