Life in lockdown: The pandemic through our eyes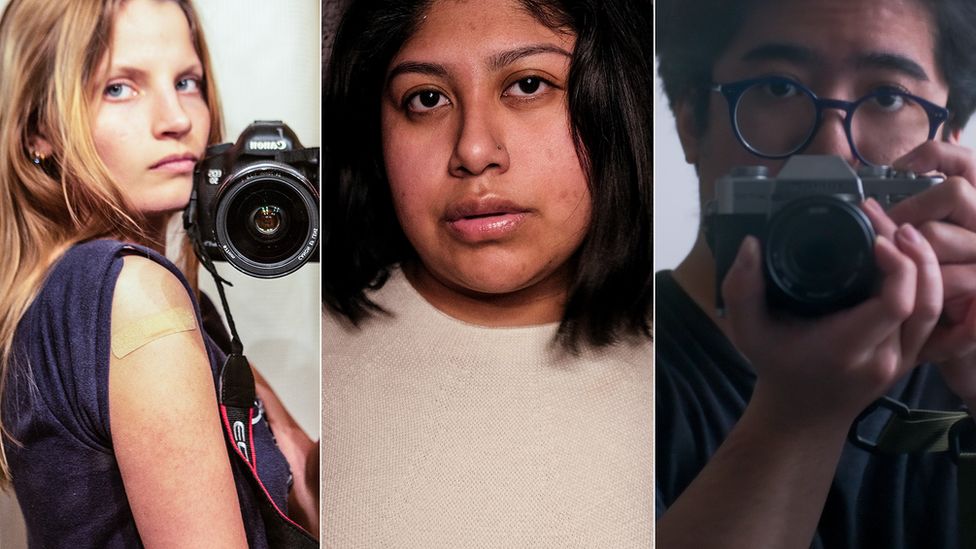 A year ago, the BBC reached out to three young photographers to document their lives under lockdown during the early days of the pandemic.
As the US begins to reopen, and more and more people get vaccinated, we check in with them to see how the past year has gone, what their lives look like now, and how their perspectives have changed.
Ana Carmona, 19: 'Being a college student right now is a double-edged sword'
Last spring, just after the pandemic began, I got accepted to Cornell University and I have been studying there ever since the autumn semester.
As the daughter of undocumented immigrants, it has been an adjustment process. I face a lot of culture shock, imposter syndrome and just a lot of isolation and loneliness. I went from living at home in New York City, sharing a one-bedroom apartment with my parents and three siblings, to living away from home for the first time on campus. And all during a pandemic!
For a while I was feeling a little lost. I feel like a year ago I sort of knew where I was going, I sort of knew what I was doing. I was motivated and inspired. But everything around here this winter felt so gloomy, dark, and lonely, and the mood was definitely grey.
I honestly didn't know how to deal with that because I've never dealt with that before. I am not built for the Ithaca weather. I would literally go outside in sneakers and it would be snowing and I would regret it so bad.
I've been noticing that I can be in a space with so many people but I can still feel alone.
I think I share that with a lot of people, specifically during Covid, when we were all so isolated and alone for such a long time that we all had to learn how to be alone and comfortable with our own presence. That's something that I'm still learning, especially being in college.
I think I love my dorm more this spring than I did when I first moved in. It's still the same space, but lately I've been spending more time there. I've been trying to get more comfortable with it, because I think that it's the only place I feel like myself.
I'm the type of person that, after a while, people overwhelm me. And I need my space.
Being a college student at the moment is really a double-edged sword.
I feel like things change so fast for everybody, and I don't know, there are still days when there's frustration, fear, anger, sadness. But there are also days when I'm able to have fun. Something that I didn't realise before is that I've never had my own space and time.
I think when future-me looks back at these photos, I will most definitely be shook about the fact that I did this during Covid, because it was not easy and I had so many breakdowns - it was a very difficult journey to navigate and I'm still learning to navigate it.
But one of the other things I will love to tell myself is to accept and embrace change and that it's okay.
Madeleine Hordinski, 23: 'This feels like a new era'
In the last year, I have started a new chapter in my life. In August, I moved into a new apartment with my boyfriend. And in December, I graduated from college.
Obviously, this is a really challenging time for anyone who has just graduated because there aren't a lot of jobs available right now, but I think it's especially hard for people in the arts and in journalism because we've seen a lot of jobs disappearing recently and not coming back.
After graduating from college and applying for a ton of jobs, I found myself with a lot of free time as I was waiting to hear back. So instead of focusing on my future I shifted my focus to my past. I decided I wanted to learn more about my family history.
I think I've gained a fresh perspective on life and death. I think because so many people around the world have lost loved ones during this time, it's had a profound impact on so many of us in different ways.
For me, I've thought a lot about my grandfather who died three years ago and what it would be like to lose someone I love during this time.
So in the last few months I've really been thinking about how I can safely document the grandparents I still have.
When I moved into this apartment with my boyfriend, we definitely had to change our Covid safety routine. When we saw my family, which was only once or twice a week, we wore masks around each other and we distanced, which was quite the transition from us being together all the time.
My family has experienced extreme highs and extreme lows during the pandemic.
One of our really good family friends passed away because of Covid, and right after he passed, one of our other close friends had a baby. And these highs and lows are totally just a part of life. And right now they also seem to characterise the era that we're in.
For my sister, a lot has changed. She graduated from a local high school and now she's started college at Ohio University. But she's online, and so she's still living at home.
I got my second [vaccine] shot on 21 April, and it feels really wonderful not having to worry about giving Covid to anyone. And at this point, all of the people that I'm close with in Cincinnati have at least one shot, if not both, so this feels like a new era of Covid.
In March, I found out that I was selected as a Los Angeles Times intern, and I honestly couldn't think of anything else I'd rather be doing. I've always wanted to work for the Times, so this all feels very surreal. I can't wait to start in a few weeks.
This year has shown me how important it is to spend time with the people you love. Life is unpredictable and we never know what's next.
Miguel Carrion, 22: 'Hope has kind of been in short supply'
A year ago, I spent the summer in quarantine. I was doing nothing aside from binging Netflix shows and spending way too much time on video games.
Now that California is completely reopened and my family, friends, and myself are all fully vaccinated, I'm definitely going to be spending as much time as I can outside. Whether it be going out to eat, hitting the driving range, or maybe even having a picnic in the park with several IPAs.
For so long it was just, you wake up, go on your computer, go on Zoom, log in, and that's pretty much all it was. Throughout most of the pandemic and shelter-in-place orders, I mostly stayed inside the house and the only window to the outside world I had was through social media.
Staying at home all the time, I've been pretty out of shape, I'll be honest. I realised I needed to at least go for a walk or start getting some exercise somehow. I tried to do that just to get the body moving and make sure I wasn't lazy all the time, just laying on the couch watching Netflix and snacking on ramen.
The best part about my days this past year were probably my photojournalism classes, which gave me an excuse to go outside for assignments when I needed to take portraits of people.
I had a reason to text one of my friends and say, "Hey, do you want to go on a photo shoot really quick?" We'd go in separate cars to the same location. That's pretty much what it's been like, that's the only way I could go out and see some of my friends during Covid.
In a way, it was exhausting not just physically but mentally, to just be at home and constantly having to go to class online. You just have to be on high alert all the time when you're outside because you never know who has [Covid] and you just can't assume it's going to be always safe wherever you go.
I guess I'm not alone when I say that for the past year, hope has kind of been in short supply.
But it was encouraging to see a lot of people show up to support the Asian-American community after an ongoing rise of attacks against elderly Asian Americans. Seeing the solidarity within the community was just very encouraging. That's just one of the things where I can find hope these days.
Another source of finding hope has been seeing the tide of the pandemic shift - watching my friends and relatives post pictures of their vaccinations on social media, and then me and my parents getting vaccinated ourselves in April.
We're now able to manoeuvre in the outside world with more peace of mind. I've been able to see my friends much more often and finally got a chance to drink and have a good time.
I finished finals and now I'm free to work more on photography and get to the stack of books that I've been meaning to read. It's been a long year, but also it felt like being in quarantine for so long made everything kind of a blur in terms of how time works.
If there's something to remember 10 years from now, it's that we lived through an unprecedented time in which the world stopped because of a global pandemic.
I don't think any of us have lived through something like this.