Wally Funk: The 82-year-old on Jeff Bezos's Blue Origin flight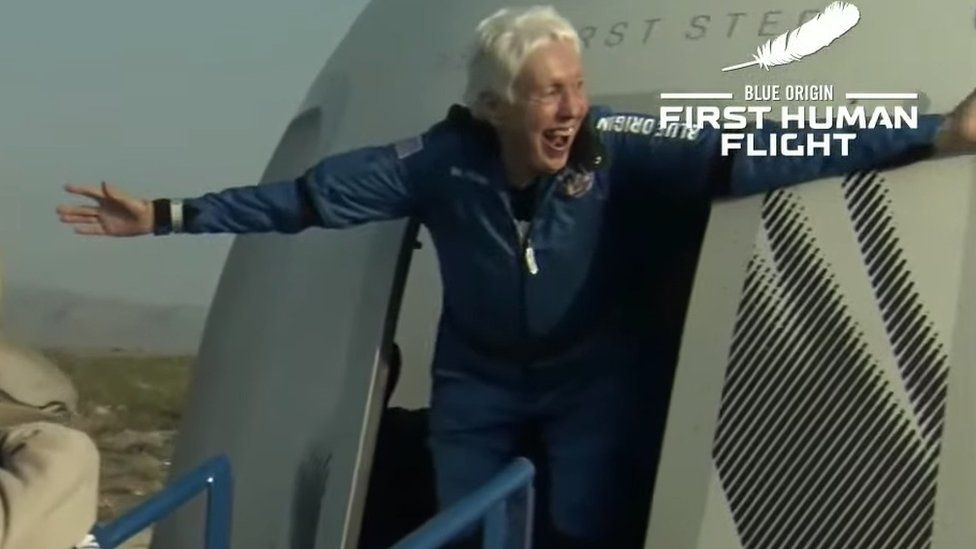 Barrier-breaking female aviator Wally Funk has become the oldest-ever person to fly in space.
"I didn't think I'd ever get to go up," said Ms Funk, who has spent the past six decades trying to reach space.
She trained to be an astronaut in the 1960s, but was overlooked for a space flight because she was a woman.
The quartet were launched skyward on New Shepard, a rocket developed by Mr Bezos's firm, Blue Origin, from the Texan desert.
The craft travelled at nearly three times the speed of sound, reaching a height of nearly 100km (62 miles) above the Earth's surface.
The capsule then returned to Earth using parachutes on a trip that lasted little more than 10 minutes.
As she exited the vessel, Ms Funk gleefully spread her arms wide as a small crowd cheered.
Born in New Mexico in 1939, Wally Funk says she has had a life-long love of aviation, taking her first flying lesson aged nine.
Since then, she has logged 19,600 flight hours across her career and taught some 3,000 people to fly.
At 21, Funk volunteered in 1961 for the Women in Space programme where she underwent rigorous physical and mental testing in the hope of becoming an astronaut.
But the scheme was later abruptly cancelled and she and the other women - collectively known as the Mercury 13 - never made it to space with Nasa.
She nevertheless became the first female air safety investigator for the National Transportation Safety Board, and the first female flight instructor at a US military base.
Mr Bezos had invited Ms Funk as an "honoured guest" on the flight earlier this month, sharing video on Instagram of him telling her the news.
"No one has waited longer," Mr Bezos said as he told Ms Funk she had been chosen for the trip.
"I can't tell people watching how fabulous I feel to have been picked by Blue Origin to go on this trip" Ms Funk said in the video, adding she expected to "love every second" of the journey.
Throughout the flight, Ms Funk could be heard whooping and saying "wow".
After the rocket landed, the four were greeted with cheers and champagne from family and friends.
A grinning Ms Funk embraced the Amazon founder and thanked him for inviting her on the trip.