Simone Biles: What are the twisties in gymnastics?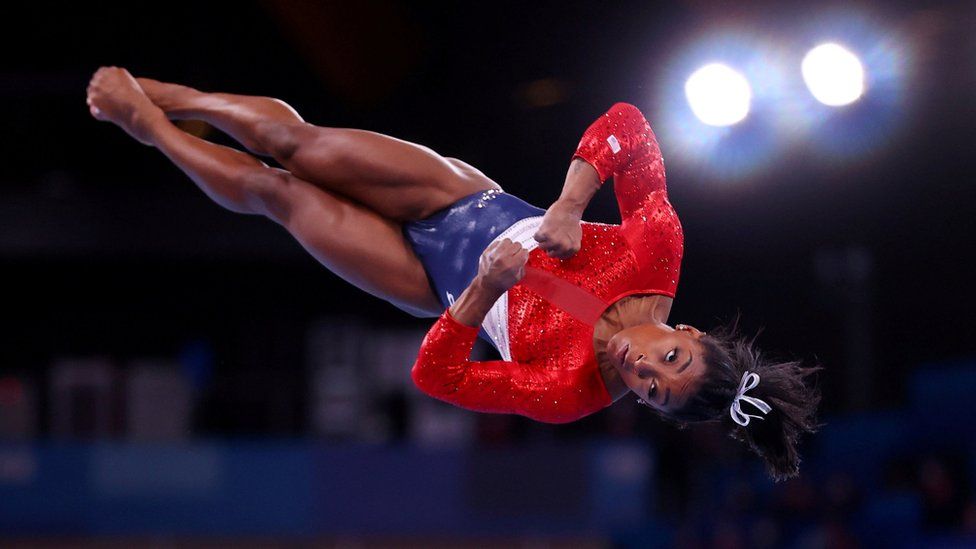 US gymnast Simone Biles, who pulled out of two Olympic finals on Tuesday citing her mental health, told journalists earlier that day that she was "having a little bit of the twisties".
It's a term that sparked immediate discussion among gymnasts who recognised right away how dangerous a situation this must have been. But for the rest of the world, it's an unfamiliar term.
So what are the "twisties"?
Gymnasts have described the twisties as a kind of mental block.
In some sports a sudden mental block - like the "yips" in golf - may cost you a missed putt, or a lost game.
In gymnastics, it can cause a person to lose their sense of space and dimension as they're in the air, causing them to lose control of their body and do extra twists or flips that they hadn't intended. In the worst cases, they can find themselves suddenly unable to land safely.
The twisties can happen to a gymnast even if they've done the same manoeuvre for years without problems.
Biles - one of the sport's all-time greatest athletes - appeared to become disorientated while performing a vault on Tuesday and stumbled as she landed.
It was a moment that struck an instant chord with those who suspected what she might be going through.
British gymnast Claudia Fragapane competed at the Rio Olympics in 2016.
She fell on the uneven bars and the balance beam in the qualification rounds and then in April this year she again had a fall following a mental block, suffered a head injury and missed the cut for the individual all-around final in Tokyo.
She told the BBC she could "understand exactly how Simone was feeling".
"She has got a lot of weight on her shoulders. Everyone thinks that she is just going to be absolutely out of this world and perfect and she's not human. But actually she is human, and I think the pressure just got too much.
"It's really dangerous if you doubt yourself a little bit, or you find it really hard, you can really really hurt yourself. I've been in her shoes and I ended up hurting myself."
Fragapane said that as Olympic qualification loomed in April, she was "very up and down with [her] moods" - knowing that it could be her last time to try to go to another Olympics.
She was in the middle of the competition and made some mistakes, the gymnast said. "Then I started to get a little bit worried and thought I have to give it my all for my last piece".
Fragapane said that under pressure, for some reason, instead of performing a single somersault, she found herself trying to do a double from a slow run up.
She landed on her head and neck, wound up in hospital with concussion but says she could have been paralysed.
Skip twitter post by Emily Giambalvo
Simone Biles, relating to gymnasts worldwide here: "They saw it a little bit in practice. Having a little bit of the twisties."

The twisties. The absolute worst.

— Emily Giambalvo (@EmilyGiam) July 27, 2021
The BBC is not responsible for the content of external sites.
End of twitter post by Emily Giambalvo
Christina Myers, a former gymnast and now a gymnastics coach from Birmingham, Alabama, told BBC News that the twisties happen "when your brain and body disconnect".
"Imagine skydiving and your parachute won't open," she said. "Your body starts adding extra twists and flips to the skill you're supposed to be doing, and it can affect even the skills that feel as routine as walking to an elite gymnast...
"Your brain wants nothing more than to perform the intended skill correctly, but your body feels like it suddenly has a mind of its own."
She added that "because the twisties are mainly psychological, the harder you try to push through, the harder the twisties push back".
For her generation of gymnasts, she said, mental pain was not seen as a valid reason for taking a break from the sport.
Trying to push through the twisties "led to a spinal stress fracture - an overuse injury made worse by trying to push through", ultimately forcing her to stop competing.
Another ex-gymnast, Catherine Burns, compared it to being on a motorway and suddenly losing your muscle memory of how to drive.
"You're moving way too fast, you're totally lost, you're trying to think but you know you don't usually have to think to do these manoeuvres, you just feel them and do them," she tweeted. "It's not only scary and unnerving, it's incredibly dangerous even if you're doing basic gymnastics."
The twisties can also lead to serious injury.
Former gymnast Jacoby Miles wrote on Instagram after one particularly bad bout of the twisties mid-air, she broke her neck on landing.
"It only took one time of getting lost... in the air for me to break my neck and leave me paralysed, most likely for life," she wrote.
"I'm so so glad [Biles] decided to not continue until she's mentally recovered."