Covid third wave: Americans 'scared and angry' as pandemic worsens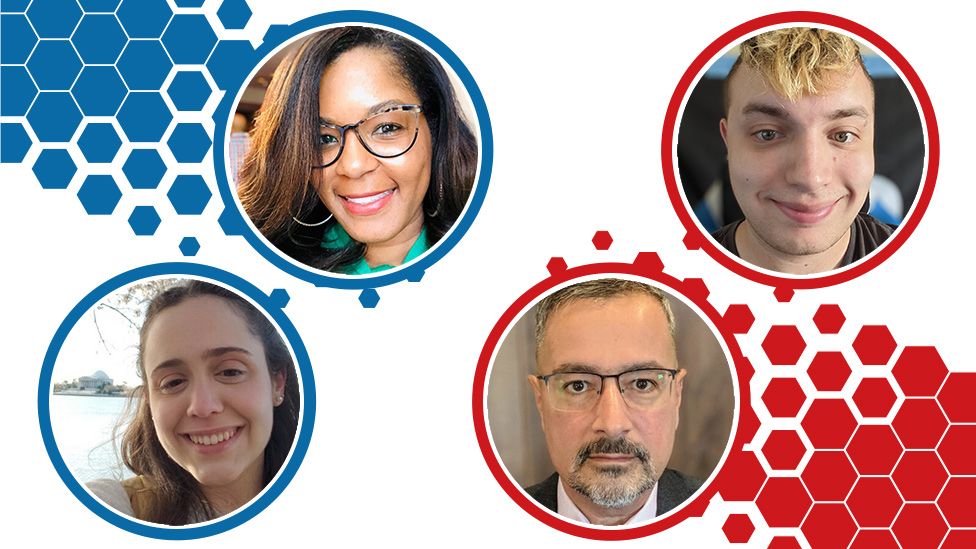 Americans are feeling a sense of whiplash as leaders scramble to account for a surge in Covid cases and a rise in hospital admissions.
The country's vaccination rate was once the envy of the world and restrictions were lifted in the spring, well ahead of many other nations.
But now, with only half of the population vaccinated and the Delta variant surging, the summer of freedom feels like it's coming to a premature end.
The Centers for Disease Control and Prevention (CDC) has announced that masks should again be worn indoors - for both the vaccinated and unvaccinated.
Many Americans are now looking ahead to the colder weather and schools re-opening with more hesitancy, fear and frustration. Here's what they said.
Virginia has reported 1,000 Covid cases for the second day in a row, following three months without a day over 1,000 reported cases.
The state is doing better than many other US states with vaccinations - with 54.78% of the population vaccinated. According to state officials, almost all patients in hospital for Covid are unvaccinated.
In one word, I'm pissed [angry]. The pandemic has been politicised and mismanaged.
I have not gotten the vaccine because I am waiting to see what the outcomes are. It is not something that has been studied and I'm afraid we don't know the full effects. Everyone I know that's been vaccinated has been sick for a few days afterwards - I don't have that luxury. I work for myself - so I can't be sick.
I've been taking precautions since day one to make sure I don't get Covid. I wear my mask, I rarely go outside, and when I do, I take precautions. When I am invited to outdoor events, I warn everyone I am unvaccinated and remove myself if they are uncomfortable.
In my opinion, there is a level of privilege that has been attached to the vaccine. Those that have had it seem to have forgotten that this is still transmittable, and the CDC did too when they initially rolled back the mask guidance. It seems like there is more emphasis on returning to "normal" than ensuring the safety and security of the most vulnerable in our country.
I'm glad they are recommending that people wear masks again - I want Virginia to impose even more restrictions.
The number of Covid patients taken to hospital has soared after the state of Nevada reached a 15% test positivity rate. A vast majority of recent deaths have occurred in Clark County, home to tourist hotspot Las Vegas.
The Nevada governor imposed a new mandate Tuesday that requires everyone to wear masks indoors, which the southern Nevada casino industry have said they support.
The state has a vaccination rate of 45.71%.
I'm feeling extremely nervous. I live in Las Vegas, Nevada, where our entire economy is tourism.
Many tourists at the casinos and restaurants just blatantly refuse to wear masks.
In June, I felt like we were getting close to having the pandemic over so I stopped wearing a mask, but then I started to hear the Delta variant was coming in from tourists.
I've started wearing my mask more again, even before the CDC guidelines, as cases have started rising here.
Even though I'm fully vaccinated, I don't want to catch it and spread it to my 90-year-old grandfather and friends with medical issues.
In one word, I'm feeling frustrated. I think they should just make the vaccine mandatory unless you have a legitimate medical condition preventing you from getting one.
It should be everyone's patriotic duty to get the vaccine.
Louisiana has eight times more Covid cases than it did four weeks ago. On 27 July, the southern state saw the largest single day increase of people taken to hospital due to Covid since 2020 March - with 1,390 in hospital.
The governor has encouraged all Louisianans to mask up indoors and get vaccinated to "protect against the Delta variant". Currently, 36.56% of the state's population is fully vaccinated.
My fear about the pandemic started to go away this summer. Personally, I'm vaccinated. The main people in my family are getting vaccinated - that gives me a little peace of mind.
But it's scaring me that there are so many people not getting vaccinated and not taking precautions to stay safe from Delta variant.
Louisiana is one of the top places in the country for hospitalisations. It's unfortunate but not surprising - I know a lot of people who don't believe in the vaccine.
In the South people don't really wear masks. I even started to stop wearing masks and returning to my life as it was before the pandemic.
But now, with the rise in cases and new guidance, I'm afraid.
I think I'm going to start wearing a mask when I go out now, but I don't think it will change how much I go out.
My university is requiring vaccines for everyone, so I feel perfectly safe going back to campus. All my close friends are vaccinated, and we have always been cautious. I still expect this fall to be fun and feel more free.
The state of Arizona has re-instituted a recommendation for wearing masks indoors - despite vaccination status.
This includes students under the age of 18, who are preparing to go back to school in the coming weeks. Currently, 47.25% of the state is vaccinated.
Life is back to normal for most in Arizona, and has been for some time.
I just received the first of two vaccination shots this week. I was in no rush to receive the vaccine and doubted I would take the vaccine.
However, after reading from multiple sources that the vaccine mitigates the effects of the Delta variant; given its rapid spread; and the fact that I will eventually have to start travelling for business purposes, including internationally, I decided to get the vaccine.
My feelings and behaviours have not changed as cases have risen since the raw data indicates that the vast majority of Covid-related deaths occur in the elderly, infirm, and those with underlying health issues.
Our esteemed leaders have completely and thoroughly mismanaged the response to this pandemic. The CDC, in my opinion, has received a somewhat tarnished reputation as a result of this pandemic.
Whereas once it was the global standard for epidemiology and other health matters, its politicisation and repeated flip-flopping on procedures causes me to read what it says with some initial scepticism.
In one word - I am exhausted by this pandemic. And I'll throw in angry and indignant, too.