Scarlett Johansson sues Disney over streaming of Black Widow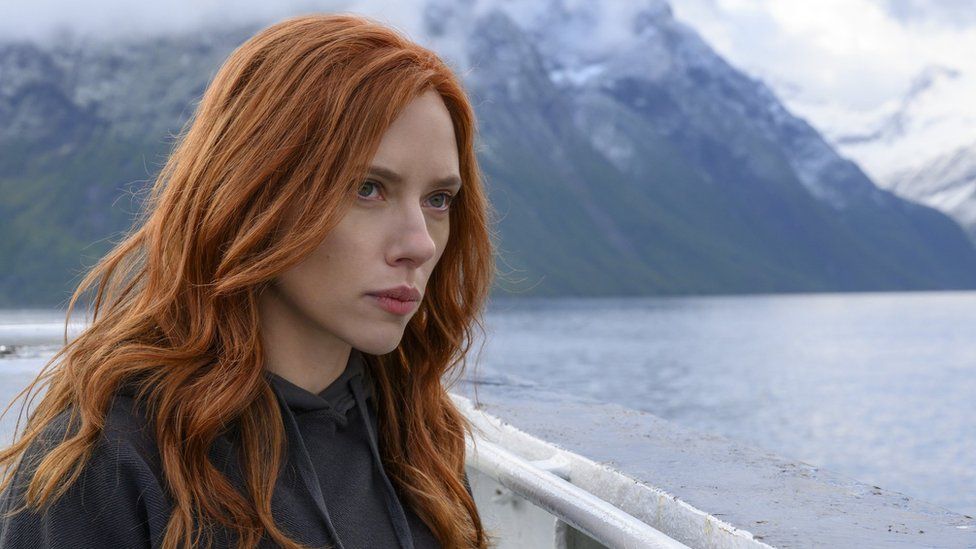 Scarlett Johansson is suing Disney for breach of contract after it streamed her superhero film Black Widow at the same time as its cinema release.
The film set a box office record for the Covid-19 pandemic, grossing $218m (£157m) in its first weekend.
But box office receipts then fell sharply and Ms Johansson argues she was deprived of potential earnings.
In response, Disney said it had "fully complied" with her contract and that her case had "no merit whatsoever".
Ms Johansson said she was promised by Marvel Studios, which is owned by Disney, that Black Widow would be a "theatrical release".
She said she had understood this to mean a "window" of time would pass before it would be streamed - a period that has traditionally lasted 90 days.
During the pandemic a number of Hollywood studios opted to bypass cinemas, many of which had been closed, and release their films online instead.
Now that most cinemas have reopened, Disney, along with fellow giant Warner Bros, has chosen to maintain a dual release strategy for their major films.
On its first weekend, Black Widow took some $80m in ticket sales in North America and $78m internationally, plus at least $60m in Disney+ Premier Access rentals.
Sources close to the actor, whose salary was based on the box office performance of the film, project that she lost $50m, according to media reports.
Disney countered by claiming that the dual release strategy had "significantly enhanced [Johansson's] ability to earn additional compensation on top of the $20m she has received to date".
In a strongly worded statement, it said her legal action was "especially sad and distressing in its callous disregard for the horrific and prolonged global effects of the Covid-19 pandemic".
Johansson's agent fired back, accusing Disney of "shamelessly" trying to smear her character.
"Scarlett has been Disney's partner on nine movies, which have earned Disney and its shareholders billions," wrote Bryan Lourd in a statement.
"The company included her salary in their press statement in an attempt to weaponise her success as an artist and businesswoman, as if that were something she should be ashamed of.
"Disney's direct attack on her character and all else they implied is beneath the company that many of us in the creative community have worked with successfully for decades."
Before the pandemic, Hollywood film fans would typically have to watch new releases exclusively at the cinema or wait three months to have them streamed to their devices.
Major studios have recently been mixing cinema releases and streaming in different ways as cinemas battle to win back viewers wary of catching Covid in confined spaces.
Yet the move has not proved popular with some of the film industry's leading talents, among them Tenet and The Dark Knight director Christopher Nolan.
"Warner Bros had an incredible machine for getting a film-maker's work out everywhere, both in theatres and in the home, and they are dismantling it as we speak," he told the Hollywood Reporter.
"Their decision makes no economic sense and even the most casual Wall Street investor can see the difference between disruption and dysfunction."
Matt Mueller, editor of industry publication Screen Daily, said he expected the dispute would be resolved behind closed doors before it reached a courtroom.
"It's surprising that Disney let it get to this stage, given Warner Bros was able to negotiate with the talent that it irked when it made the decision to go day-and-date between cinemas and HBO Max for its 2021 titles," he told BBC News.
"I think other stars will look at how Scarlett's case proceeds, while studios with complementary streaming platforms will already be looking at what contractual steps they need to take to ward off further actions."
Whatever the outcome of Johansson's case, Mueller doubts it will make Disney change its dual release strategy.
"Disney's ultimate boss is its shareholders and they want Disney+ to be hugely successful," he continued.
"But it might make the top talent think twice if they don't think they can score the mega-paydays that theatrical releases have been able to generate for stars in the past."
You may also be interested in: