Capitol riot: Officer who shot Ashli Babbitt reveals identity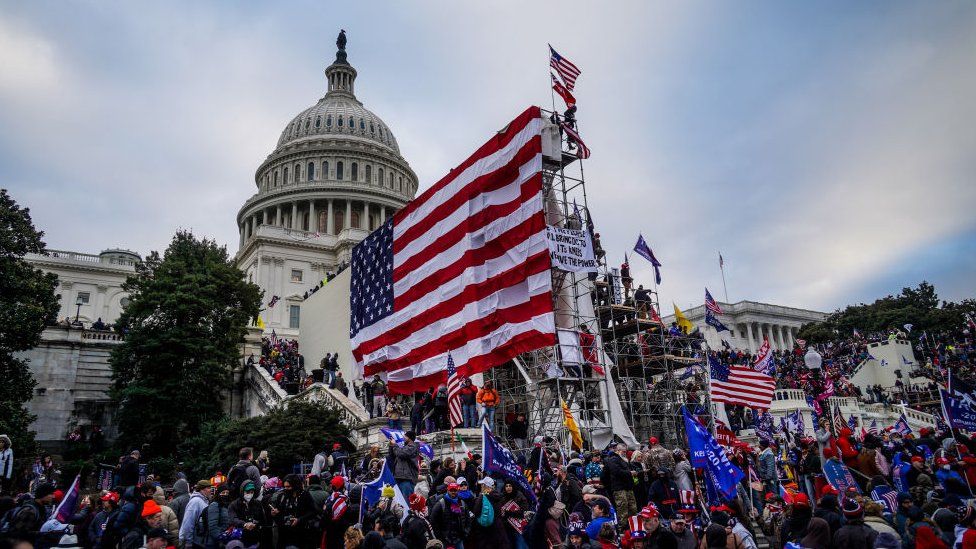 The police officer who fatally shot Ashli Babbitt, who was among those breaching the US Capitol in January, has revealed his identify for the first time. Michael Byrd, a 28-year veteran of the Capitol police, said he only shot the 35-year-old as a last resort while protecting members of Congress and their staff.
"I know that day I saved countless lives," Mr Byrd said in an interview with US broadcaster NBC on Thursday.
Internal investigations have cleared him of any wrongdoing in the shooting.
He said the 6 January shooting took place while he was protecting between 60 and 80 members of the House of Representatives in a Capitol Hill chamber.
At the time, a mob of Donald Trump supporters were storming the building as lawmakers gathered to validate Joe Biden's presidential election victory. Officers had barricaded the lobby's doors with furniture as rioters came closer. "We were essentially trapped," Mr Byrd said. "There was no way to retreat."
Ms Babbitt was part of a group that forced entry into the chamber of the House of Representatives while it was still in session. Video of the incident shows her being shot in the shoulder after attempting to climb through a door. She later died in hospital. Mr Byrd added that he issued repeated warnings for the crowd to get back. "Their failure to comply required me to take the appropriate action to save the lives of members of Congress and myself and my fellow officers," he said. Ms Babbitt's family had previously demanded access to files from a probe into the incident. Her death has served as a rallying cry among segments of the US right, some of whom consider her a martyr. Mr Byrd said he has been in hiding for months after receiving death threats.
Also on Thursday, seven US Capitol Police officers filed a lawsuit against the former president, his ally Roger Stone and several extremist groups. The lawsuit accuses Mr Trump and some of his supporters of spreading lies and white supremacist ideology to attempt to overturn the results of the 2020 election. In a court filing, attorneys for the police officers said that the actions of Mr Trump and his allies led to them being "violently assaulted, spat-on, tear-gassed, bear-sprayed, subjected to racial slurs and epithets, and put in fears for their lives".
A lawyer for Mr Trump did not immediately respond to a request for comment. Mr Trump has previously denied responsibility for the Capitol riot as has Mr Stone.