US judge reprimands Trump election fraud lawyers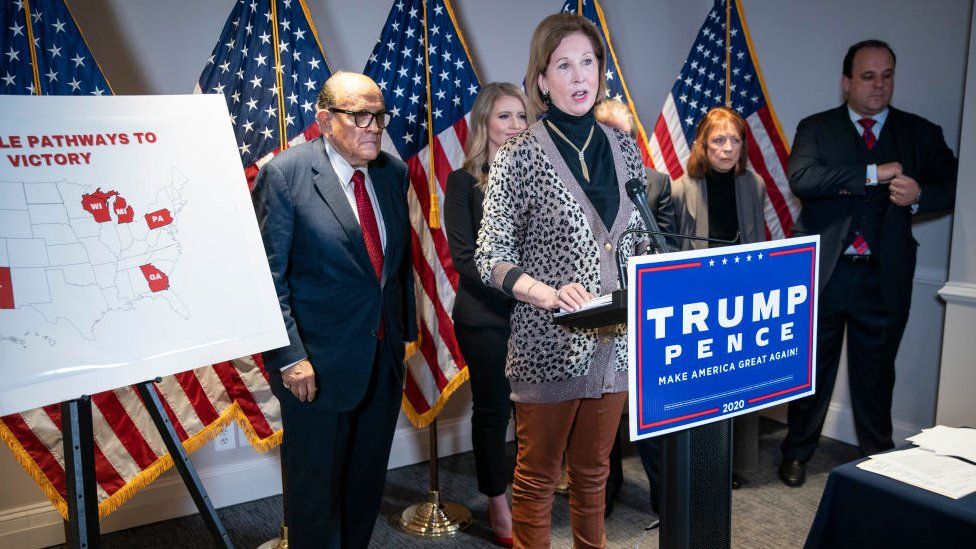 A US judge has issued a blistering ruling against prominent lawyers who represented Donald Trump after his 2020 presidential election defeat.
US District Judge Linda Parker described a lawsuit filed in Michigan by Mr Trump's counsel as a "profound abuse of the judicial process".
Her 110-page ruling, issued Wednesday, sanctioned Sidney Powell, Lin Wood and seven others who alleged voter fraud.
Judge Parker said the lawyers intended to undermine the electoral system.
"This case was never about fraud - it was about undermining the people's faith in our democracy and debasing the judicial process to do so," she said in her ruling.
Judge Parker ordered the lawyers to pay the court costs of their opponents - the city of Detroit and the state of Michigan - and undergo 12 hours of legal education.
She also referred them to the Michigan Attorney Grievance Commission and local disciplinary committees where they are licenced.
Lawyers representing Mr Trump filed a spate of lawsuits across the US after his 2020 election defeat making unsubstantiated claims of widespread voter fraud.
Mr Trump refused to publicly concede defeat to his successor, President Joe Biden, for months. He only acknowledged a power transition would occur after a group of his supporters violently stormed the US Capitol building in January 2021, attempting to stop the result being certified.
Wednesday's ruling is the latest in a string of legal repercussions for those who pushed the former president's case in court.
Ms Powell was among those to baselessly claim that electronic voting systems had switched millions of votes and the Trump campaign later distanced itself from her.
Ms Powell was later sued, along with Mr Trump's former personal lawyer Rudy Giuliani, by Dominion voting systems over the allegations.