Covid-19: Florida doctor 'offered parents mask exemption letters for students'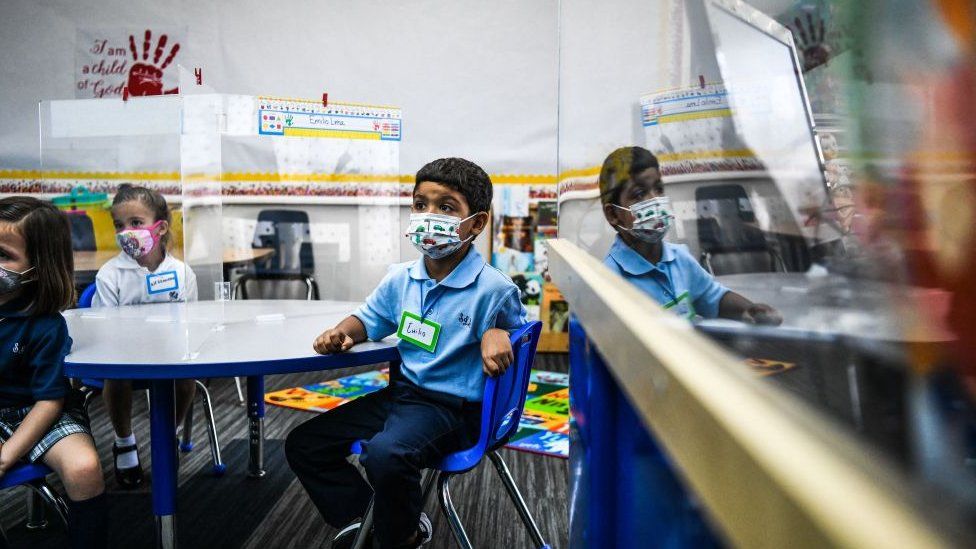 A Florida doctor has been removed from his hospital job amid reports that he offered parents medical letters to circumvent school mask requirements.
Local school rules require masking unless a medical reason is given.
Tallahassee physician Brian Warden was reportedly advertising such medical exemption letters for $50 (£36.46) on a Facebook group for anti-mask parents.
The issue of mask mandates in schools has sparked debates nationwide as the new academic year begins.
Dr Warden's employer, the Capitol Regional Medical Center in Tallahassee, told the BBC that it began the process of removing him from providing services to their patients "immediately" upon learning of his actions.
Dr Warden was reportedly offering the letters on the Parents Against Masks group, according to local media. He said he was not signing letters affiliated with a hospital or medical group.
In one post, the Tallahassee Democrat newspaper reported, Dr Warden advertised that he could provide a letter on signed stationery.
Dr Warden said he was not able to provide comment to the paper.
Florida has been in the national spotlight over the ongoing mask row between school officials, parents and the government.
On Friday, a judge is expected to rule on a lawsuit challenging Governor Ron DeSantis's ban on mask mandates in schools. Mr DeSantis has said he believes that parents, rather than schools, should decide whether students wear masks.
At least eight school districts across the state have defied the governor's order, including its largest school district, Miami-Dade County, and Leon County, where Dr Warden was employed.
Covid-19 cases have surged in Florida due to the contagious Delta variant, with more people admitted to hospital and dying of the virus than at any other point during the pandemic.
Funeral homes have said that they are unable to keep up. News Channel 8 reported one home as saying bodies awaiting cremation were "stacked to the ceiling".
Hospitals have also been stretched thin. The crisis has prompted Orlando's mayor to ask residents to conserve water to preserve liquid oxygen, which is being used to treat coronavirus patients.
The state now accounts for 20% of all paediatric Covid-19 cases.
Though the Delta variant is affecting more younger people, fewer than 2% of children's cases require hospital care, and no more than 0.03% have resulted in death, according to the American Academy of Pediatrics.