Man arrested with bayonet and machete near US Capitol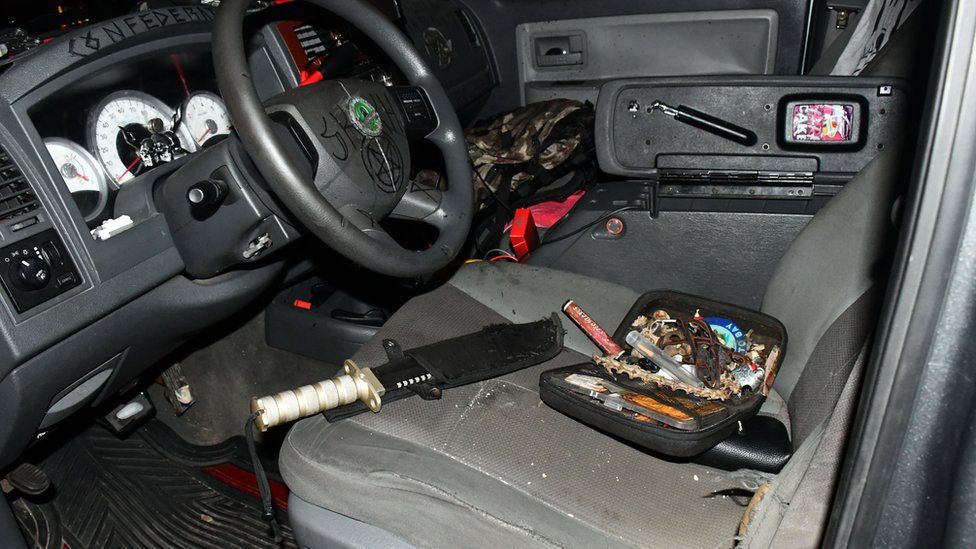 US Capitol Police have arrested a man with a bayonet and machete near the Democratic National Committee headquarters in Washington DC.
The suspect was found two blocks from the Capitol building in a vehicle with swastikas and other extremist symbols painted on it.
When stopped, the man claimed to be "on patrol" and began talking about white supremacist ideology, police allege.
The incident comes amid fears of unrest at an upcoming right-wing rally.
In a statement released on Monday, Capitol Police said that Donald Craighead, a 44-year-old from California, was pulled over after officers noticed the extremist symbols on his truck and a painting of an American flag in place of a number plate.
Officers then noticed multiple knives, including a bayonet and a machete - both of which are illegal in Washington DC - inside the vehicle.
Mr Craighead has been charged with possession of prohibited weapons. It was not immediately clear how Mr Craighead intends to plea or whether he has acquired an attorney.
"This is good police work, plain and simple," said US Capitol Police Chief Tom Manger.
The arrest comes as local authorities prepare for potential violence at the so-called Justice for J6 rally, planned for 18 September by the Look Ahead America group.
The organisers say it is aimed at supporting those arrested for taking part in the Capitol riots on 6 January.
Police plan to install fencing around the Capitol "a day or two" before the event, Mr Manger told reporters on Monday.
Look Ahead America is led by Matt Braynard, the former director of data and strategy for former president Donald Trump's 2016 campaign. In a YouTube video posted in August, Mr Braynard urged rally attendees to remain peaceful and report any violence to local authorities.
Police said it is unclear whether Mr Craighead was planning to attend any upcoming demonstrations or had ties to previous cases in Washington DC.
Also on Monday, top congressional leaders - including Speaker of the House of Representatives Nancy Pelosi - received a briefing from authorities about security preparations being undertaken ahead of Saturday's rally.
"What happened on January 6 was such an assault on this beautiful Capitol," Mrs Pelosi said last week of the planned gathering. "Now these people are coming back to praise the people who were out to kill members of Congress."
Nearly 600 people have been charged in the federal investigations of the 6 January riot.