Gabby Petito and Brian Laundrie: What do we know about the boyfriend?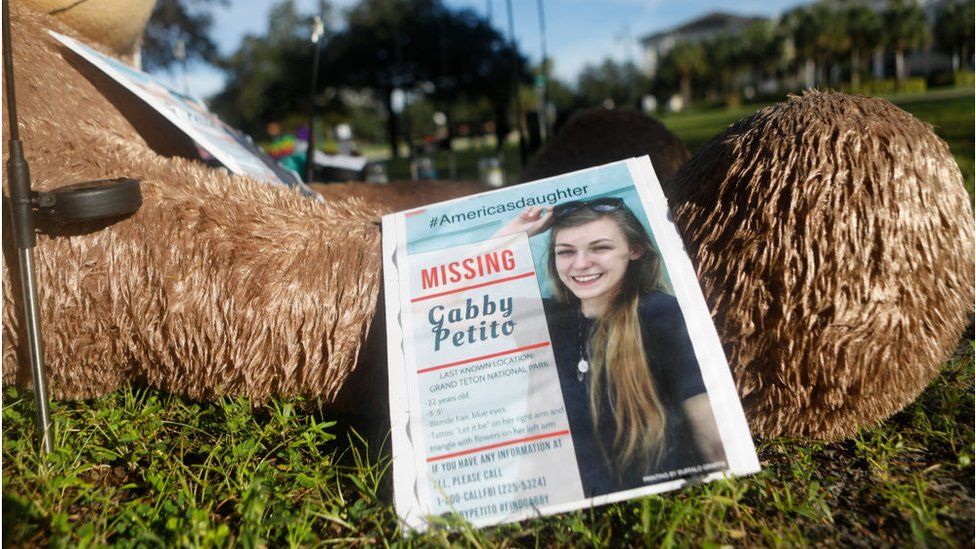 Blogger Gabby Petito embarked on a road trip this July with her fiancé, Brian Laundrie. Nearly two weeks after she was reported missing, Ms Petito's body was found in a national park in Wyoming. Now, the remains of Mr Laundrie, who had been missing for over a month, have been discovered too. What happened?
Last week, a post-mortem examination confirmed the remains found in western Wyoming's Bridger-Teton National Forest this weekend belong to Ms Petito. In his preliminary findings, the coroner ruled her death a homicide.
The 22-year-old was visiting the Grand Teton National Park with Mr Laundrie, 23, as part of a cross-country camper van road trip.
But after a month of travelling, Mr Laundrie returned home to Florida without Ms Petito. His family reported him missing on 17 September. They claimed he left home three days earlier on a hike and never returned.
The FBI subsequently issued a federal arrest warrant, charging him with fraudulently using a debit card after Ms Petito's death. His body was eventually found in a Florida Park on 21 October.
Here's what we know about the case so far.
In July, Ms Petito set off on a road trip from her hometown in Long Island, New York, with Mr Laundrie.
Mr Laundrie and Ms Petito got engaged in July 2020, according to their social media.
The two high school sweethearts documented their nomadic "van life" through national parks in the American West on Instagram and YouTube.
The journey was originally intended to last four months, US media report, but Mr Laundrie returned home to Florida alone on 1 September.
Ms Petito's family reported her missing 10 days later.
What happened to Brian Laundrie?
Mr Laundrie's family reported his disappearance on 17 September, saying he had left for a hike on 14 September and never came back.
Teams spent weeks scouring the Carlton Reserve, a 24,000-acre park in Florida's Sarasota County with police dogs, drones and all-terrain vehicles before his remains were discovered on 21 October.
Federal agents had conducted a nearly eight-hour search of his parents' home in North Port, Florida, where Mr Laundrie and Ms Petito had moved in 2019.
Agents were seen removing several boxes from the house and towing away a silver Ford Mustang.
Before he vanished, Mr Laundrie had eluded authorities and did not share any information with police.
His lawyer Steve Bertolino had originally scheduled a news conference on 21 September, but he later cancelled it after speaking to the FBI. He was quoted by local media as saying it was not in his "client's best interest" to go ahead with the event.
Following the news of Ms Petito's death, Mr Bertolino issued the short statement: "May Gabby rest in peace."
On 24 September, the FBI said a federal arrest warrant for Mr Laundrie had been issued for his "use of unauthorised devices".
The indictment says he used a debit card and PIN number for accounts that did not belong to him between 30 August and 1 September. It did not say whether the debit card belonged to Ms Petito.
What do we know about the couple's road trip?
It is still unclear what happened when Ms Petito, and later, Mr Laundrie, went missing, but some details have emerged from the weeks prior.
On 12 August, police in the southern Utah town of Moab were called to a possible domestic violence incident involving the couple.
Bodycam footage showed Ms Petito crying and complaining about her mental health to officers. She also said the couple had been arguing more frequently.
A police report of the incident said Mr Laundrie claimed Ms Petito hit him after an argument. The officers recommended they spend the night apart but did not file any charges. It is not yet known what happened next.
On 19 August, a video was posted to a YouTube channel registered with Ms Petito's email. The video showed the couple smiling, kissing and running on beaches. It has been viewed more than 3.2 million times.
Regular social media updates from the couple on Instagram abruptly ended in late August.
Ms Petito video called her mother on 24 August to say she was leaving Utah and heading to the Teton mountain range in Wyoming, according to Rick Stafford, the Petito's lawyer.
Her mother, Nicole Schmidt, told CBS New York that she and Ms Petito would usually speak three times a week during the road trip.
On 25 August, Ms Petito posted for the last time on Instagram, with the caption "Happy Halloween". Her photo gallery did not include any location information.
What did the text messages tell us?
In a search warrant application, authorities wrote that text messages sent by Ms Petito to her mother seemed to show mounting tension between the couple.
According to the application, Ms Petito sent an "odd text" about her grandfather that sounded out of character, concerning her mother.
The last time Ms Petito's family heard from her was a text message on 30 August that read: "No service in Yosemite", a reference to the national park in California.
Ms Schmidt has cast doubt over who sent this message. There is no indication - from reported sightings of the pair, their social media posts or information shared with family - that the couple had visited California.
The last place Ms Petito was spotted, according to reports in US media, was outside a hotel in Salt Lake City, Utah on 24 August - about 600 miles (965 km) away from Yosemite.
After a search that drew national public interest, officials discovered human remains now confirmed to be Ms Petito in a remote area of Wyoming's Grand Teton National Park and the Bridger-Teton National Forest on 19 September.
Investigators have yet to disclose how and where the body was found.