South China Sea: US submarine collides with unknown object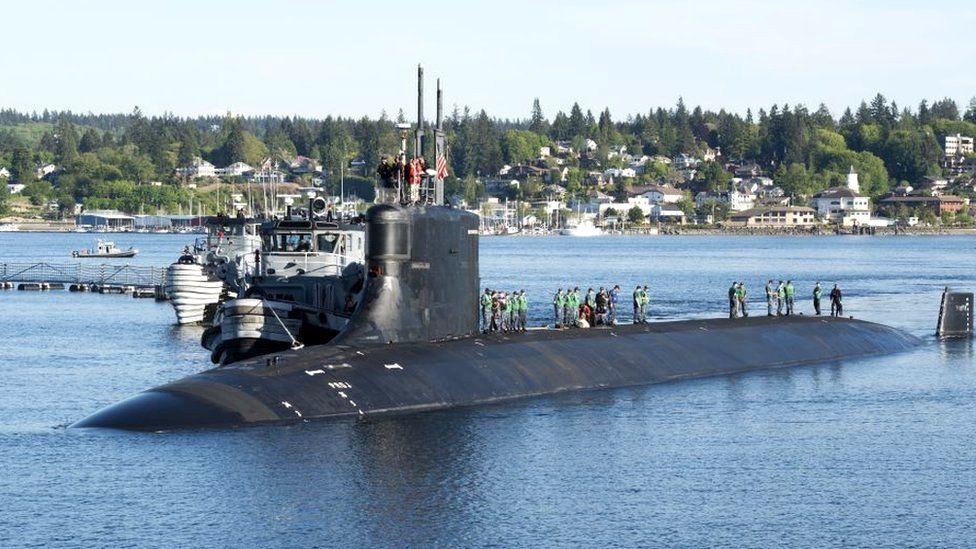 A US nuclear submarine hit an "unknown object" while submerged in waters in the Asia-Pacific region, injuring a number of sailors, US officials say.
It was not clear what caused the incident on Saturday, they said. The submarine remained "fully operational".
Unnamed officials told US media the collision happened in international waters in the South China Sea, and that 11 sailors had been injured.
The incident happened amid rising tensions in the region.
The US Navy said the extent of the damage was still being assessed and that the submarine's nuclear propulsion plant and spaces had not been affected.
The statement did not give details about where the incident took place or the number of people hurt, saying only that the injuries were not "life threatening".
Those officials said the incident took place while the submarine was conducting routine operations and that the Navy did not make the news public before Thursday in order to maintain operational security.
According to AP, the officials said the object the USS Connecticut collided with was not another submarine. One of the officials quoted by the agency said it could have been a sunken vessel or container, or other uncharted object.
Alexander Neill, a Singapore-based defence and security expert, told the BBC the number of injuries caused by the collision suggested the submarine probably "hit something big" and was "going really fast".
The incident, he said, was "uncommon but not unheard of" and had exposed how busy the area was with military activities.
"The South China Sea has been increasingly saturated with naval vessels from a number of different countries. While there's been a lot of show of force by surface vessels you don't see the level of activity under the surface," Mr Neill said.
In comments reported by Chinese state-run daily Global Times, a spokesman for the ministry of foreign affairs said China was "seriously concerned" about the incident, calling on the US to provide further details, including the purpose of the mission.
The submarine was later reported to be heading towards the US territory of Guam.
Why is the South China Sea so contentious?
The USS Connecticut was operating in one of the most contested regions in the world. China claims most of the South China Sea, but surrounding countries and the US disagree.
The Philippines, Brunei, Malaysia, Taiwan and Vietnam have all been disputing China's claim to almost all of the Sea for decades but tension steadily increased in recent years.
The US has backed many of these countries in this territorial dispute.
Meanwhile, the US National Security Advisor, Jake Sullivan, told the BBC he was "deeply concerned" about actions that undermine peace across the Taiwan Strait, which separates Taiwan and China.