New York's Met museum to remove Sackler name from exhibits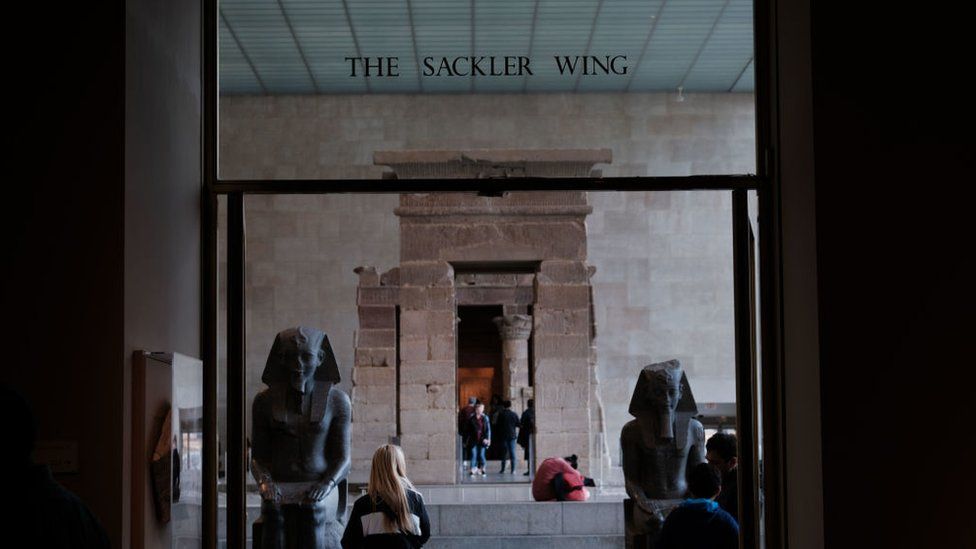 New York City's Metropolitan Museum of Art and Sackler family members have announced the famed museum will drop their name, linked to opioid-maker Purdue Pharma, from its exhibit halls.
The Sacklers founded the company, which manufactured drugs like OxyContin, blamed for fuelling the opioid crisis.
In 2019, the Met announced that it would no longer accept gifts from the family amid increased public scrutiny.
A total of seven exhibition spaces at the Met bear the Sackler name.
In a joint statement released on Thursday, the Met and members of the Sackler family said that the action was "mutually agreed" in order to "allow the Met to further its core mission".
"Our families have always strongly supported the Met, and we believe this to be in the best interest of the Museum and the important mission that it serves," the descendants of Dr Mortimer Sackler and Dr Raymond Sackler said.
"The earliest of these gifts were made almost fifty years ago, and now we are passing the torch to others who might wish to step forward to support the Museum," the family added.
The seven exhibition spaces bearing the Sackler name include a wing housing the famous Temple of Dendur, an ancient Egyptian temple commissioned by the province's Roman governor.
The Met's president and CEO, Dan Weiss, said in a statement that the Sacklers "have been among our most generous supporters".
"This gracious gesture by the Sacklers aids the Museum in continuing to serve this and future generations."
Globally, several prominent museums had already taken similar steps to distance themselves from the family, including the Tate Museum and National Portrait Gallery in the UK and the Louvre in Paris.
In May, the Raymond Sackler family launched a website to address what it said were "many false allegations" blaming the family, Purdue Pharma and one of its products, OxyContin, for "creating" the opioid crisis.
Addiction to both legal and illegal opioids has been a serious, ongoing problem in the US, which had nearly half a million deaths from overdoses between 1999 and 2019, according to the US Centers for Disease Control and Prevention.