Apology to US teachers over 'dash for cash' charity stunt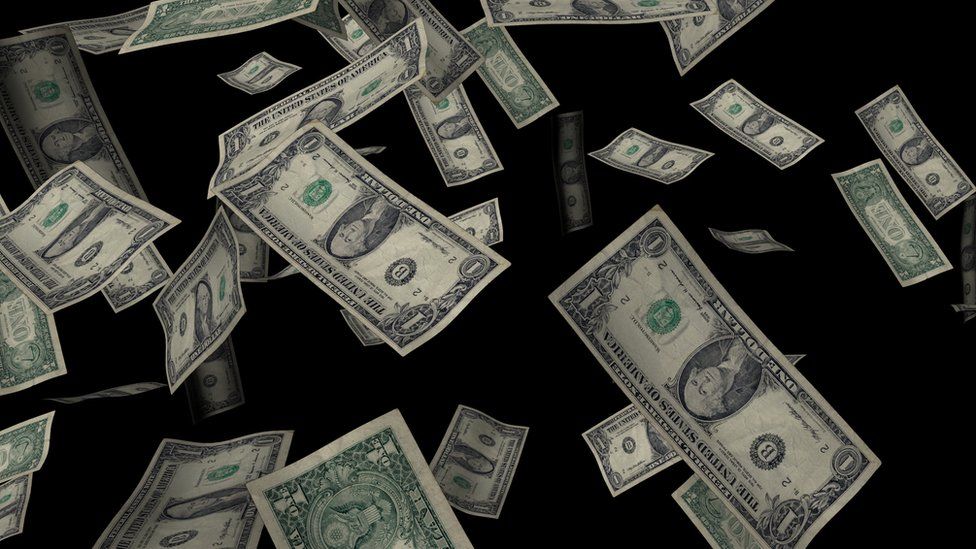 A hockey team and bank have apologised after a charity event for South Dakota teachers went viral and was condemned online as demeaning and "dystopian".
The "Dash for Cash" on Saturday saw willing teachers at a hockey game scoop as many possible $1 bills (£0.8) into their clothing in under five minutes.
The educators, who are among the lowest funded in the US, said they would spend the money on school supplies.
On Monday, the local hockey team and bank that donated the cash apologised.
In a statement, the Sioux Falls Stampede and the CU Mortgage Direct bank said: "Although our intent was to provide a positive and fun experience for teachers, we can see how it appears to be degrading and insulting towards the participating teachers and the teaching profession as a whole.
"We deeply regret and apologise to all teachers for any embarrassment this may have caused."
They added that they received applications from 31 teachers and randomly drew 10 to appear on the ice for the promotion.
The BBC is not responsible for the content of external sites.
Each teacher received at least $500, they said, adding that the teachers were each "profiled and introduced prior to the event". They will each now receive another $500, and another $500 will be given to the other 21 teachers who were not selected.
Teachers had told the Argus Leader newspaper that they would spend the money on standing desks or cameras they would use for uploading teaching materials online.
Critics compared the event to the hit Korean Netflix show, Squid Game, in which competitors fight to the death for a cash prize.
Others condemned it as "humiliating" and pointed out the many ways that teachers have struggled under the pandemic.
According to the newspaper, South Dakota teachers are paid an average of $49,000 per year, making them the lowest paid in the nation.
Teachers in the US are also often expected to spend their own money on teaching tools in the classroom.