US Congress narrowly votes to raise debt limit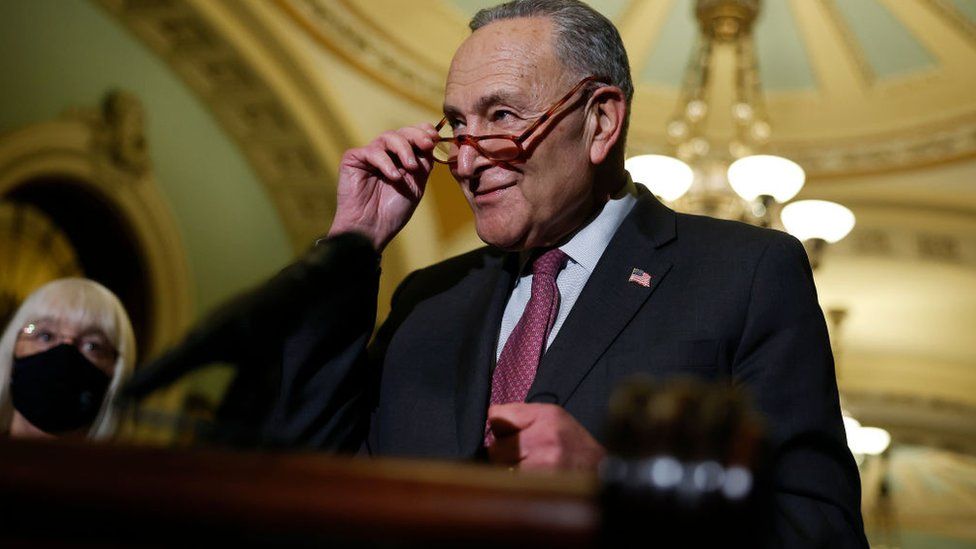 US lawmakers have voted to raise the national debt limit, just days before a potential US credit default.
The measure, which President Joe Biden is expected to sign into law in the coming days, raises the US borrowing limit by $2.5tr (£1.9tr).
Treasury officials had warned that the economy could slip into a recession if it was not raised by mid-December.
The vote comes after a bipartisan deal was struck last week to raise the limit through a one-time-only rule change.
That agreement, which was struck between Senate Democratic Majority Leader Chuck Schumer and Republican Minority Leader Mitch McConnell, saw 14 Republicans vote along with every Senate Democrat to change the rules.
The deal allows Democrats to raise the limit on their own through a simple majority, rather than by 60 votes, which would be needed to overcome a Republican filibuster.
Democrats and Republicans have normally voted together to raise or suspend the debt ceiling, but this year Republicans have said that Democrats should be responsible for doing it on their own.
On Tuesday, the vote narrowly passed the Senate by a vote of 50-49. The House passed the bill by a vote of 221-209.
It will now be sent to President Joe Biden for his signature.
The measure also suspends the debt ceiling until 2023 - after the 8 November midterm congressional elections that could shift the balance of power in Washington.
The bill increases the US borrowing limit to $31.4tr from $28.9tr and brings an end to a months-long row between both parties that continued despite both sides agreeing that a default would severely harm the US economy.
The increased limit is in part needed to pay off the $7.85tr in additional debt added by the Trump presidency through tax cuts and Covid spending.
"This is about paying debt accumulated by both parties," Mr Schumer said in a speech on the Senate floor ahead of the vote.
"The American people can breathe easy and rest assured there will not be a default," he added.
Mr McConnell, whose party had condemned Democrats for their $1.9tr Build Back Better social spending plan, warned Americans in his remarks: "If they jam through another reckless taxing and spending spree, this massive debt increase will just be the beginning."
The US spends more than it takes in through taxes each year, requiring the government to sell bonds as a means of borrowing money.
A 1939 law requires Congress to set a limit for how much debt can be held, leading to dozens of votes since to raise the figure.