Abducted Haiti missionaries describe daring escape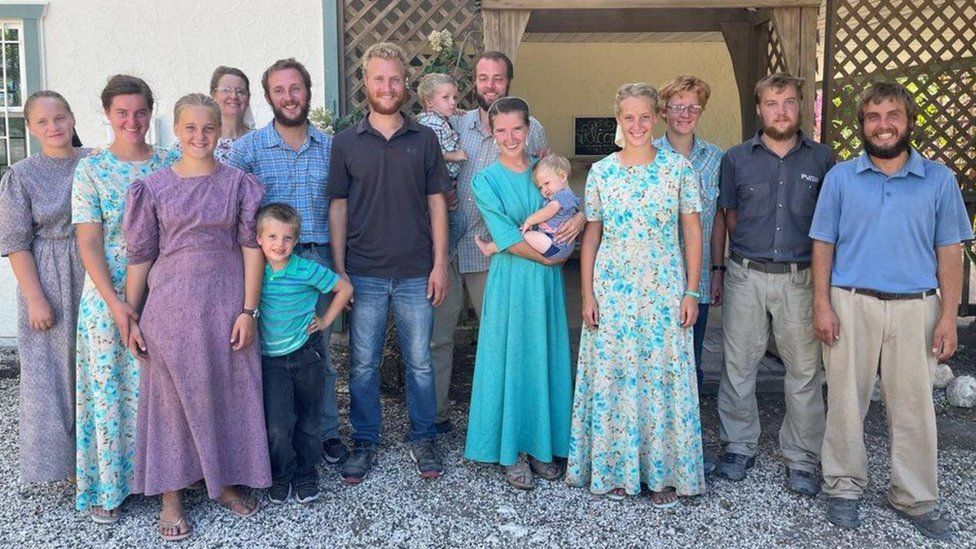 Twelve missionaries who were abducted in Haiti managed to get away on their own, their organisation has said.
The group escaped their captors at night and used the stars for navigation to trek through dense bush for hours, a spokesman said.
Christian Aid Ministries announced the group were finally free last week, after being held captive since October.
The gang that seized them had demanded a ransom of $1m (£740,000) per hostage. It is not clear if any money was paid.
In total, 17 missionaries and their families were abducted, after they had visited an orphanage in the town of Ganthier, east of the capital, Port-au-Prince. Five others had already been released.
Their ordeal brought international attention to Haiti's growing problem of gang abductions.
"When they sensed the timing was right, they found a way to open the door that was closed and blocked, filed silently to the path they [had] chosen to follow and left the place that they were held," spokesman Weston Showalter said at a news conference in Ohio.
Evading "numerous guards", the group travelled in the direction of a mountain that they had seen days earlier, using constellations to guide them. It was not immediately clear how they managed to escape the guards.
The group included a married couple, a 10-month old baby, and children aged three, 14 and 15. There were also four adult men and two women. They travelled through "woods and thickets, working through thorns and briars," Mr Showalter said.
He explained how the group, including all of the children, remained silent during the ordeal and that the infant was wrapped in clothing to protect her from the prickly briars. "Two hours were through fierce brambles. We were in gang territory the whole hike," he said, quoting one of the escapees.
Around dawn they found a person with a phone who helped them call authorities.
The group was later flown back to Florida on a US Coast Guard flight, Christian Aid Ministries (CAM) said. Most have now returned to their families.
At the time of their release, police spokesman Gary Desrosiers told AFP news agency there had been weeks of negotiations between the gang, known as 400 Mawozo, and authorities.
Two group members were freed in November, and another three in early December, but their identities have not been revealed.
Speaking at the news conference, David Troyer, director of CAM, said "people who sought to help us provided funds to pay a ransom and allow the negotiation process to continue", although he did not explain whether any payment had been made.
CAM, based in the US, describes itself as a channel for Amish, Mennonite, and other Anabaptist groups to minister to physical and spiritual needs around the world.
The gang provided food and clean drinking water to the missionaries, the church said, and baby formula for the infant. However the water for cleaning was contaminated, leading some of the escapees to get skin sores around their mosquito bites.
Mr Showalter denied initial reports that the group's driver was a Haitian local. He said the driver was a Canadian, and that he is now also free.
"The hostages spoke to the gang leader on several occasions, boldly reminding him of God and warning him of God's eventual judgment if him and the gang members continue in their gangs," Mr Showalter said, adding that the group maintained a 24-hour prayer vigil while in captivity.
There has been no independent confirmation of Mr Showalter's account by either US or Haitian officials.
CAM, which supplies Haitian children with shelter, food and clothing and says it has worked in the country for over 30 years, is one of many non-profit organisations providing aid in Haiti, one of the poorest countries in the world.
Haiti's powerful crime gang
Kidnapping is one of the main activities that the 400 Mawozo criminal gang uses to finance itself.
In April, its members abducted a group of Catholic clergy who were later released, and it is unclear if a ransom was paid.
Haiti has one of the highest rates of kidnapping in the world, as powerful gangs exploit the lawless situation to profit from ransom payments.
The rise has come in the wake of President Jovenel Moïse's assassination in July, as rival factions fight to gain control of the country in the face of a struggling police force.