US animal shelter shocked after 800 parakeets handed over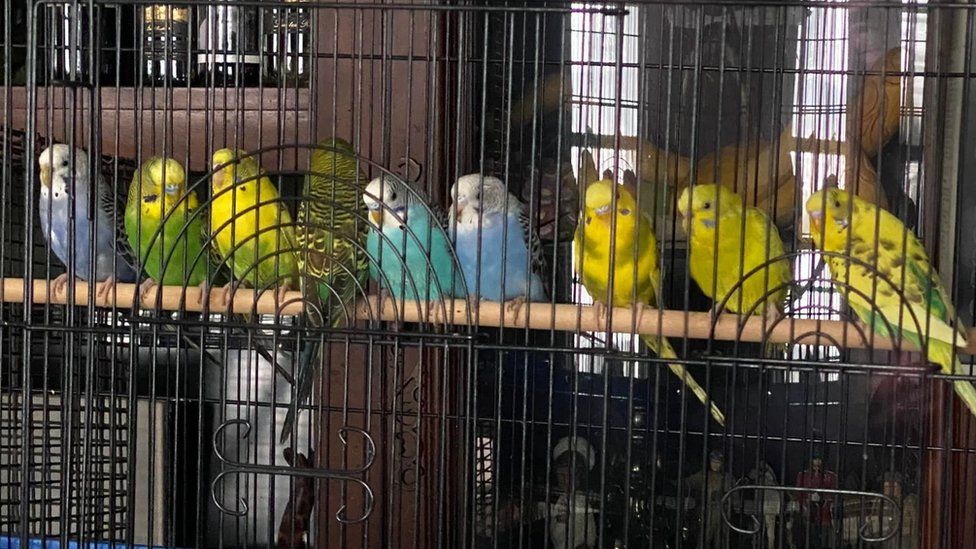 A US animal shelter said it was in shock after more than 800 parakeets were surrendered to them.
"A Christmas present we were not expecting," the Detroit Animal Welfare Group wrote on Facebook.
The birds, also known as budgerigars (budgies) were delivered in two batches by the son of their owner who had kept them in one room, in what the shelter called "a very unhealthy situation".
"The irresponsibility of the owner is infuriating," the group wrote.
A first batch of 497 birds - crammed into seven cages - were dropped off on 23 December. The owner's son then returned the day after Christmas Day with a further 339.
"We were in shock," the group wrote, "but could not turn them away."
Kelly LeBonty, the rescue group's director, told the Detroit Free Press that the son said his father had initially planned to breed only a handful of birds, but had ended up spending $1,200 (£890) a month on them.
"They were barely moving. We had to get them out and into different cages," she said.
The parakeets - a species of parrot - will be put up for adoption after they are assessed by a veterinarian, the group said.
It added that "owning a parakeet is a 6-15 year commitment".
"As any pet they should be part of the family."