Homer Plessy: Pardon for 'separate but equal' civil rights figure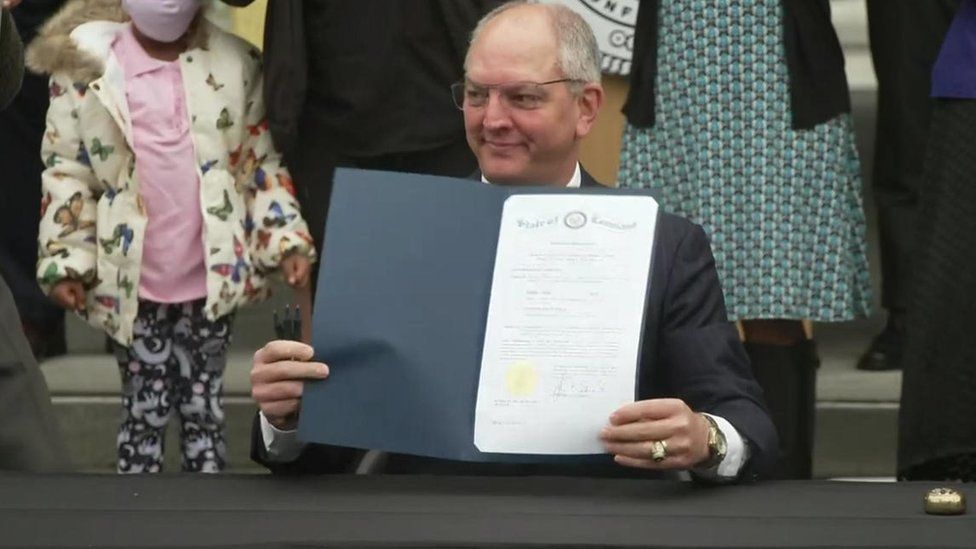 The governor of Louisiana has pardoned Homer Plessy, a 19th century black activist whose arrest 130 years ago led to one of the most criticised Supreme Court decisions in US history.
Plessy was arrested in 1892 after he purchased a ticket and refused to leave a whites-only train car in New Orleans.
In 1896, the top US court ruled against Plessy, clearing the way for Jim Crow segregation laws in the American South.
The pardon was spearheaded by the very office that sought charges against him.
After Plessy was removed from the train, his case - Plessy v Ferguson - wound up in front of the Supreme Court. The court ruled that accommodations can exist for different races - a doctrine dubbed "separate but equal".
Their decision stood for decades, until the landmark 1954 Brown v Board of Education case helped begin to dismantle racial segregation laws.
Plessy, a shoemaker who was one-eighth black, died in 1925 with the conviction still on his record.
The pardoning ceremony on Wednesday was held outside the former train station where he was arrested.
It was attended by Louisiana Governor Bel Edwards, as well as Plessy's descendants and those of John Howard Ferguson, the Louisiana judge who found Plessy guilty of violating the state's Separate Car Act of 1890. The law at the time required railway companies to provide "equal but separate accommodations" for black and white travellers.
"The 1896 Plessy decision ordained segregation for the explicit purpose of declaring and perpetuating white supremacy, as immoral and factually erroneous as that was - and is," said Gov Edwards.
"Mr Plessy's conviction should never have happened," he continued. "But, there is no expiration on justice. No matter is ever settled until it is settled right."
Orleans Parish District Attorney Jason Williams, whose office historically prosecuted the case, had fought for the posthumous pardon.
"While Homer Plessy's actions made him guilty of a crime under law, it was the law that was the real crime," said Mr Williams.
Keith Plessy, a distant relative of Plessy, told the Times-Picayune newspaper at the ceremony: "I feel like my feet are not touching the ground today, because the ancestors are carrying me."