Ukraine tension: US and Russia hold 'frank' talks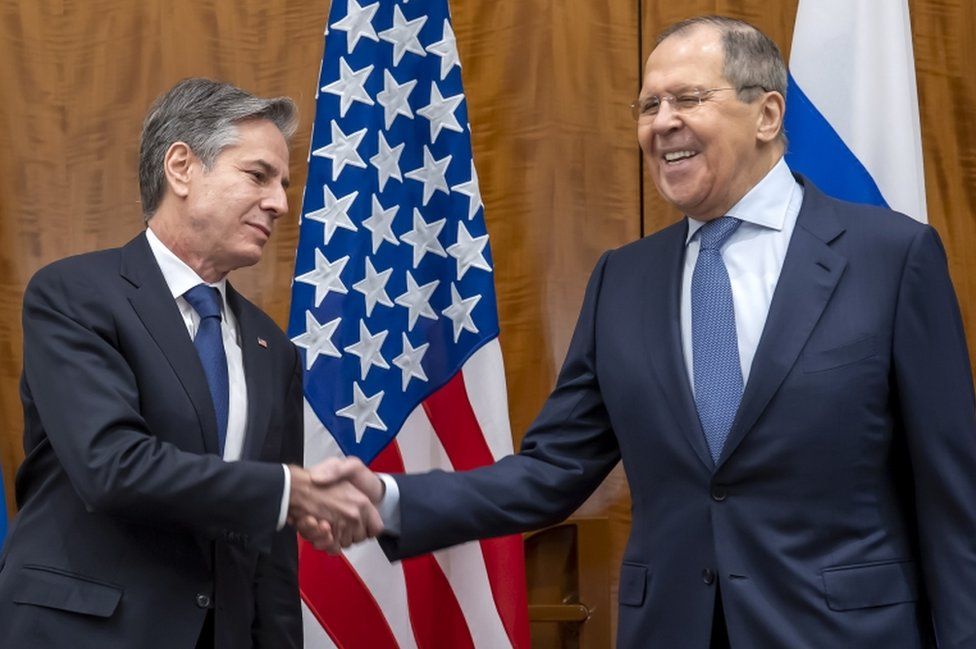 Russia's foreign minister and his US counterpart have held what they called "frank" talks to try to reduce the chance of a wider conflict in Ukraine.
Sergei Lavrov repeated denials that a huge Russian force assembled near Ukraine's borders would be used to invade Ukraine.
Antony Blinken said America would respond severely to any invasion.
Pro-Russian rebels control large parts of eastern Ukraine since a ferocious war erupted nearly eight years ago.
Some 14,000 people were killed and at least two million fled their homes before fragile peace agreements were brokered.
The US and its allies have threatened new sanctions if the Russian military takes action.
Washington is expected to put its position in writing next week, and then further discussions will be held.
With an estimated 100,000 Russian troops deployed near Ukraine, President Vladimir Putin has issued demands to the West which he says concern Russia's security, including that Ukraine be stopped from joining Nato.
He wants the Western defensive alliance to abandon military exercises and stop sending weapons to eastern Europe, seeing this as a direct threat to Russia's security.
For Mr Blinken, the talks were "frank and substantive" while for Mr Lavrov, they were also "frank" with an agreement to "have a reasonable dialogue".
"I hope emotions will decrease," Mr Lavrov added.
Mr Blinken warned his Russian counterpart of a "united, swift and severe" response if Russia invaded.
Speaking after the talks, he said the US was prepared to pursue possible means of addressing Russian concerns in the spirit of reciprocity.
Mr Blinken also urged Russia to stop what he called its aggression towards Ukraine, saying the troop build-up gave it the ability to attack Ukraine from the south, east and north.
He said the US knew from experience that Moscow, which annexed Ukraine's Crimea region back in 2014, also had an "extensive playbook" of non-military ways of furthering its interests, including cyber attacks.
He confirmed the US would continue deliveries of "security assistance" to Ukraine in the coming weeks. America sent anti-tank guided missile systems to Ukraine last year, as well as small arms and ammunition.
Mr Blinken said the talks had also touched on Iran and negotiations over its nuclear capabilities, which he called an example of how the US and Russia can work together on security issues.
For his part, Mr Lavrov described the talks as open and useful but he accused Nato of working against Russia. He reiterated Moscow's position that it had "never threatened the Ukrainian people" and had no plans to attack Ukraine.
He also accused the Ukrainian government of using "state terrorism" against the rebels in the east and "sabotaging" the Minsk peace agreements on the conflict there.
Russia's foreign minister said the US would send "written responses" to all of Russia's proposals next week but Mr Blinken only said America hoped to share its "concerns and ideas in more detail in writing next week".
When anything is possible
In a way, the spectacle is already a win for Russia, regardless of how the crisis is resolved. This is a diplomatic conflict of Russia's making. Their force movements have prompted a week of furious activity on the part of the Americans and their allies at a time when the US would much rather be focusing on what it views as an era-defining competition with an ascendant China.
Instead, Russia is once again at the centre of global attention - at least for the moment. The high-stakes negotiations in Geneva hearken back to a time decades past.
As Mr Blinken heads back to the Geneva airport for his flight home to Washington, it's hard to say what, if anything, has changed in these three days of crisis diplomacy. Both sides are still talking, but talk without results only goes so far.
Russia could use the US written response next week as pretext for further escalation. In Ukraine, US diplomats don't know what to expect - more cyber-warfare, a "minor incursion" or tens of thousands of Russian troops pouring into the country from three sides and paratroopers landing in Kyiv. Anything, they say, is possible.
The US seems determined to try to keep the Russians talking until the spring rains make tank invasions impractical. As for what Russia wants, both Mr Blinken and Mr Biden have been consistent in their conclusion: it ultimately depends on what's going on in Russian President Vladimir Putin's head.
The talks between the two diplomats came just a day after Russia unveiled plans for naval drills involving more than 140 warships and more than 60 aircraft, seen as a show of strength.
Also on Thursday, the US said Russian intelligence officers had been recruiting current and former Ukrainian government officials to step in as a provisional government and co-operate with an occupying Russian force in the event of an invasion.
Mr Blinken arrived in Geneva after a trip to Kyiv to show support for Ukraine, and talks with Britain, France and Germany in Berlin.
Several European nations have now moved to bolster Nato's military deployment in eastern Europe. Spain is sending warships to join Nato naval forces in the Mediterranean and the Black Sea, and Denmark also said it would send a frigate to the Baltic Sea.
French President Emmanuel Macron has offered to send troops to Romania.
Earlier this week, Britain announced it was supplying Ukraine with extra troops for training and defensive weapons.
In a speech on Friday, UK Foreign Secretary Liz Truss called on Mr Putin to "desist and step back from Ukraine before he makes a massive strategic mistake" that would lead to terrible loss of life.
President Biden had triggered questions about the consistency of the US line on Ukraine on Wednesday, when he bleakly predicted that Russia would "move in" on Ukraine, but appeared to suggest a "minor incursion" could attract a weaker response from the US and its allies.
The message drew a rebuke from Ukrainian President Volodymyr Zelensky, who tweeted: "There are no minor incursions. Just as there are no minor casualties and little grief from the loss of loved ones."
Mr Biden then sought to clarify by saying any Russian troop movement across Ukraine's border would qualify as an invasion and that Moscow would "pay a heavy price".
Your device may not support this visualisation