Canada's NDP agrees to support Trudeau's Liberals until 2025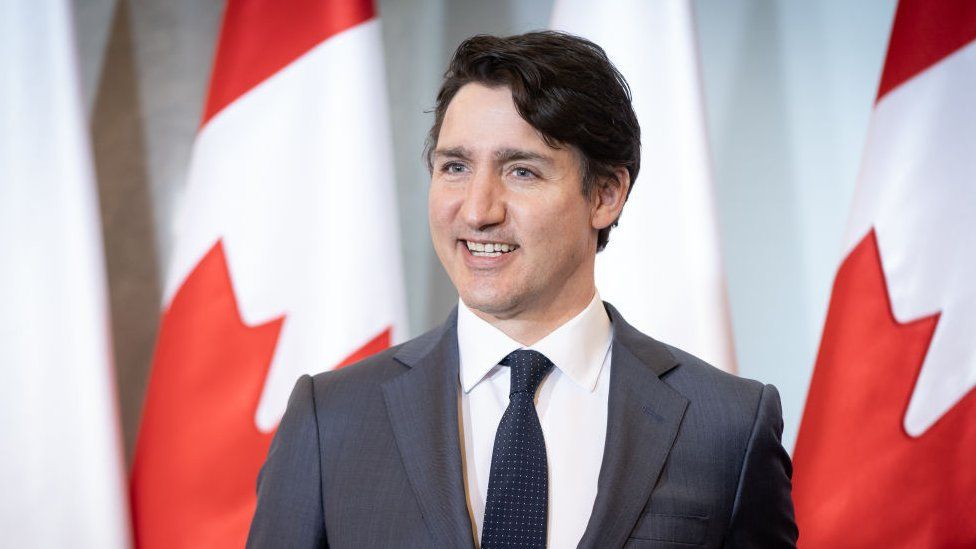 Canadian Prime Minister Justin Trudeau's Liberal minority government has reached a deal with the New Democratic Party (NDP) to stay in power until 2025.
In exchange, the Liberals will support the left-leaning NDP on several of the party's key priorities in parliament.
Mr Trudeau said on Tuesday that he believes the agreement will provide "stability" for Canadians.
The move has been strongly criticised by Canada's Conservative Party.
Speaking at a news conference on Tuesday, Mr Trudeau said that the deal - which he termed a "supply and confidence" agreement - begins today and will continue through the end of Canada's current parliament in 2025.
"What this means is that during this uncertain time, the government can function with predictability and stability, present and implement budgets and get things done for Canadians," he said.
The deal differs to a coalition, where parties share power. Instead, the Liberals - who failed to win a majority in the past two elections - will continue to govern as a minority, but with assurances the NDP will support them in confidence votes.
While Mr Trudeau predicted that the two parties would continue to disagree in some areas, he said they had identified some key policy areas in which they share similar objectives, including healthcare, housing and the environment.
"These are things that fit within our universe of priorities, but are easy to move forward in a constructive way that assures that, on a broad range of issues, parliament gets to focus on delivering for Canadians," he added.
Last year, NDP leader Jagmeet Singh ruled out a formal agreement with the Liberals, but said that he was willing to support Mr Trudeau.
At a separate news conference on Tuesday, Mr Singh said that his party views the agreement as the best way to "help people", particularly when it comes to developing a national dental care programme for low-income Canadians and a national prescription drug programme, and on issues like climate and housing.
He said the NDP will continue to oppose Mr Trudeau's government when necessary and will be carefully tracking the results of the agreement.
"If they [the Liberals] fall short on what we've agreed, then the deal doesn't continue," he said. Mr Singh, however, expressed optimism about the deal and compared it to a marriage.
"I'm not going into this hoping it will fail," he said. "I want this to work, but we're going into this eyes wide open. We have full accountability. We have the ability to withdraw support."
Ahead of Mr Trudeau's announcement, Candice Bergen, leader of Canada's Conservative Party, slammed the Liberal-NDP agreement as a "callous attempt by Trudeau to hold on to power".
"This is little more than backdoor socialism," she said in a statement. "This is an NDP-Liberal attempt at government by blackmail. Nation-building is replaced by vote-buying; secret deal-making over parliamentary debate; and opportunism over accountability."
The Bloc Quebecois leader called the deal a "false majority" that betrayed last year's federal election vote.