Marjorie Taylor Greene: I did not call for violent capitol insurrection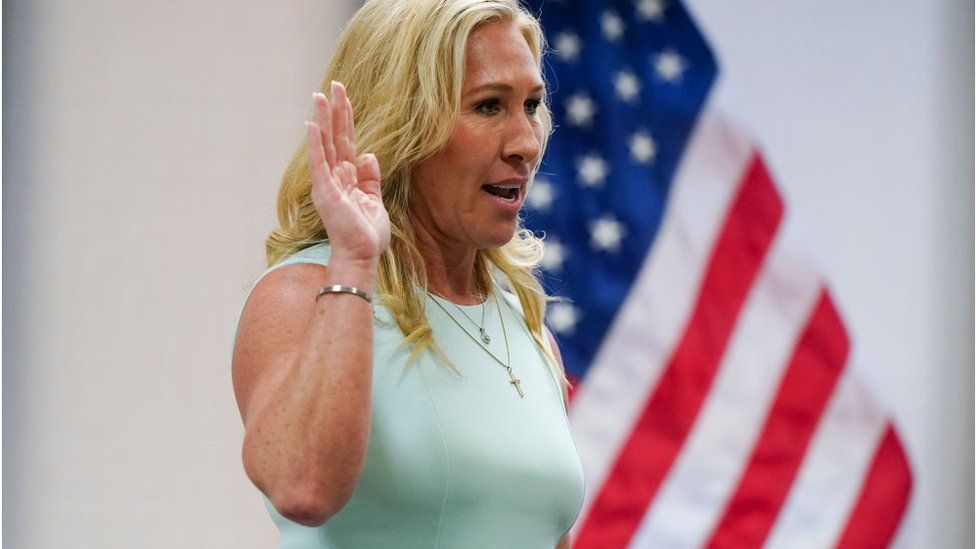 A US congresswoman has denied calling for an "insurrection" in Washington as part of a trial challenging her right to stand for re-election.
Marjorie Taylor Greene is being tried under a Civil War era law that bars officials from holding office if they violate their oath to protect the US.
The Georgia Republican, a close ally to Donald Trump, is one of the party's most right-wing members in Congress.
Democrats claim she played a key role in the 6 January US Capitol riot.
On Friday, Ms Greene, 47, became the first sitting lawmaker to testify under oath about her alleged role in the attack in 2021, as Congress was meeting to cement Joe Biden's election victory over Mr Trump.
She testified to the Georgia courtroom that she "had no knowledge of any attempt" to illegally interfere with vote counting in Congress that day.
She also repeated false claims that Mr Trump actually won the election.
The case centres around a provision of the 14th Amendment to the US Constitution - the "Insurrectionist Disqualification Clause" - which prohibits elected representatives from seeking office again if they "engaged in insurrection or rebellion against the same, or given aid or comfort to the enemies thereof".
Democrats may seek to use the same argument to bar Mr Trump from running if he attempts to throw his hat into the 2024 presidential election.
In a filing ahead of the trial, lawyers for Ms Greene said that she "vigorously denies that she aided and engaged in insurrection to obstruct the peaceful transfer of presidential power".
In court, Ms Greene said: "I don't support violence of any kind," and denied having ever called for violence in her social media posts and media appearances.
Prosecutors allege that she made coded calls to arms on public platforms.
For example, on 5 January, one day before the riot, Ms Greene said in an interview: "This is our 1776 moment", in what lawyers said was a reference to the year that the US declared independence from Britain, triggering a war.
Under oath, she said that she had no memory of that statement and denied that references to 1776 amounted to a secret call for violence. The Georgia state seal hanging in the court, she noted, has the year "1776" written on it, prompting a laugh from the judge.
Her lawyers have described her support for the 6 January riot as protected speech under the US Constitution's First Amendment, which covers the right to free expression.
The effort to ban Ms Greene from running is being led by Free Speech for People, a group that advocates for campaign finance reform. A similar suit against North Carolina Republican Madison Cawthorn was dismissed by a federal judge last month.